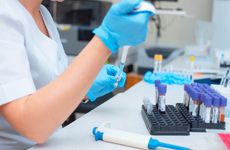 NEW YORK – Diagnostic test developers targeting oncology applications were the apple of investors' eyes in 2019, driven in part by advances in technology and a more favorable investment environment, according to diagnostic industry analysts.
In 2019, they noted, investors spent heavily on companies developing tests for cancer therapy selection, therapy monitoring, and screening for early-stage disease.
The number of companies seeking financing in the in vitro diagnostics industry overall has remained steady year over year, "but there's been a greater concentration recently in oncology and noninvasive screening," Bryan Roberts, a partner at venture capital firm Venrock, said in an interview.
Roberts said he's seen a "flurry of activity" associated with liquid biopsy technologies and companies trying to replicate or surpass the achievements of companies such as Foundation Medicine, a subsidiary of Roche, and Exact Sciences.
Overall, the biggest financing deals in 2019 were executed by companies involved in cancer screening, Roberts said, noting San Francisco, California-based test developer Freenome closed $160 million in Series B financing in July to support further development of its early cancer detection blood test.
Additionally, blood-based cancer detection firm Thrive Earlier Detection had announced its launch in May, supported by a $110 million Series A financing round, which Canaccord Genuity analyst Mark Massaro said is the "largest Series A deal in the history of this sector." Cambridge, Massachusetts-based Thrive plans to commercialize a circulating tumor DNA and protein testing method initially developed at Johns Hopkins University.
Colorectal cancer test developer Exact Sciences was an investor in Thrive's Series A financing, Massaro noted, adding that the developer of Cologuard has blazed a trail for many developers of tests for noninvasive early cancer screening — firms hoping to obtain regulatory clearance and reimbursement for their tests and to be included in clinical guidelines. "These are very difficult things to do, but Exact has done it and other companies are trying to follow," Massaro said.
He added that among the big fund raisers in 2019, Archer Dx announced earlier this month that it had closed a $55 million Series C financing round, having already raised $60 million in Series B financing in May.
Archer may be among the first test companies to go public in 2020, Massaro added.
With the proceeds from its financing deals, the firm expects to advance development of Stratafide, a companion diagnostic test for which the firm has received Breakthrough Device Designation from the US Food and Drug Administration.
"Companies developing and providing companion diagnostics are finally realizing a lot of value in healthcare because they are aligning themselves with industry sectors with ample investment funding, such as pharma and biotech," Massaro said.
It's worth noting that in this past year, screening for early detection of cancer attracted large rounds of both private and public financing. There were several notable IPO deals, as well, he said.
Early cancer detection test developer Grail recently raised $125 million out of a planned $250 million equity financing offering, according to a Form D notice filed with the US Securities and Exchange Commission.
From their IPOs, skin cancer test developer Castle Biosciences, based in Friendswood, Texas, netted $66 million and immune medicine platform developer Adaptive Technologies, based in Seattle, Washington, raised $300 million.
Further, Chinese molecular diagnostics firm Burning Rock closed a Series C financing totaling RMB 850 million (US$126 million). The new funding adds to RMB 300 million that Burning Rock said it raised in a Series B round in 2016, RMB 150 million it netted in a Series A+ in 2015, and RMB 43 million in a Series A in 2014.
According to the company, proceeds will primarily be used to support its development of early cancer detection products and to expand its sales and marketing force for its companion diagnostics business.
In Europe, Dutch diagnostics firm SkylineDx said it has received a €20 million ($21.9 million) investment to further develop its melanoma test. The funding will be used to perform clinical testing of an assay designed to predict the risk of a melanoma patient's cancer metastasizing in lymph nodes without the need for biopsy.
In Asia, Singapore-based Lucence announced the closing of a $20 million Series A financing round that it anticipates will allow it to expand access to its liquid biopsy test to more patients in Asia and North America. It added that it plans to conduct new prospective clinical studies to evaluate its technology for the early detection of multiple cancers.
Clinical genomics informatics firm PierianDx closed a $27 million Series B financing round in October. The St. Louis, Missouri-based firm offers products and services for analyzing, interpreting, and reporting clinical next-generation sequencing data with a focus on cancer.
Industry analysts pointed to a few important levers guiding funding toward oncology diagnostics.
"We now have a number of high valuation advanced-oncology diagnostic companies," said Alexander Vadas, a managing director and partner at LEK Consulting, who has a focus on diagnostics, research tools, and personalized medicine. "Investors are more comfortable with advanced oncology diagnostic tests — usually assays that require interpretation and may often be done first as a laboratory-developed test and later achieve regulatory clearances."
A "more favorable" reimbursement environment has contributed to greater investment in oncology test companies, Piper Jaffrey Analyst William Quirk, said in an interview.
Reimbursement strategy is an ongoing challenge for diagnostic firms, but the pathway for firms in the oncology testing space is "relatively well understood," he said.
Reimbursements for diagnostic tests used for treatment selection and monitoring are measured in thousands of dollars, while reimbursements for tests used for early detection and screening are measured in hundreds of dollars, Quirk said, noting that, at the same time, a far greater number of people need tests for early-stage cancer screening than for later-stage therapy selection or monitoring.
Enabling technologies
Overall, companies supplying products and services that use next-generation sequencing and liquid biopsy technologies are attracting a lion's share of funding because they enable "breakthrough" advances in treatment monitoring, therapy selection, and early cancer detection, Quirk said.
Sequencing instrument developer GenapSys, based in Redwood City, California, announced in November that is had raised $90 million in a Series C funding round to drive the commercial launch of its first instrument, the GenapSys Sequencer.
The instrument division of Chinese genomics giant BGI Group MGI said in May that it had raised more than $200 million in an initial financing round. The Shenzhen-based firm plans to further strengthen its R&D and the production of new sequencing instruments.
Synthetic biology, a source of enabling technologies for diagnostic industry participants, "continues to see quite a bit of private capital flow," Quirk said.
In that space, Twist Bioscience is looking to deliver new products based on its synthetic DNA manufacturing platform. The firm is also planning a stock offering worth up to $200 million, following up on its 2018 initial public offering that raised $70 million.
Further, engineering biology startup Sherlock Biosciences, based in Cambridge, Massachusetts, and which is looking to use its technology for diagnostic applications, launched in March with initial financing of $35 million.
In the context of diagnostics technologies attracting investment, Vadas said he sees a move by industry participants "beyond sequencing of cell-free DNA to multiomics approaches that incorporate the sequencing of cell-free DNA but include proteomic biomarkers." Both Thrive and Freenome are working on these technologies, he noted. However, multiomics approaches combined with the convergence of oncology and immunology are going to require exceptionally large datasets, an indicator of the scale of investment needed to commercialize test offerings, he said.
Companies are also looking to use proteomics technologies alone to attract funding. Based on the expectation that large-scale proteomics has the potential to make scientific, clinical, and market impact at the same or higher levels than genomics has made over the past decade, proteomics firm Seer, based in Redwood City, California, announced this month that it has closed a $55 million Series D funding round.
While cancer diagnostic testing is benefiting from a range of technologies, mainly one area — pathology — is seeing an impact from machine learning, Venrock's Roberts said. New York-based Paige, which is developing clinical-grade artificial intelligence technologies for pathology laboratories, recently closed a $45 million Series B financing round, bringing its total capital raised to more than $70 million.
Infectious disease testing
While there has been "a greater pivot toward oncology for large investments over the last couple of years," infectious disease and other areas of diagnostic testing are still attracting funding, Quirk said.
In 2019, some infectious disease testing companies benefited from funding from US Department of Health and Human Services Biomedical Advanced Research and Development Authority. One of them, Inflammatix, announced recently that it has inked a contract worth up to $72 million with BARDA to further develop and commercialize its sample-to-answer HostDx molecular testing system for infectious disease applications. Under the terms of its agreement, Burlingame, California-based Inflammatix will receive $6 million in the first phase of a cost-sharing contract.
Outside of BARDA grants, in November, Australian molecular diagnostics firm Genetic Signatures said it had raised $25 million to grow its sales teams in the US and Europe and to market its portfolio of multiplexed molecular diagnostic tests for infectious diseases.
Massaro said he believes the main challenge for infectious disease companies in attracting large investment deals is that, unlike oncology testing companies, "they're not aligned with pharma and biotech firms."