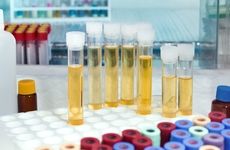 NEW YORK (GenomeWeb) – A team of investigators at Oslo University Hospital in Norway has developed a digital PCR-based assay for detecting urinary bladder cancer recurrence that they hope to finalize by year end. 
The test surveys patient urine samples for methylation markers associated with the disease, and is being developed as an alternative to invasive cystoscopy, the current standard of care.
"If we could replace invasive cystoscopy with a noninvasive urine test, that would be of interest for the patient group and have a huge commercial value because it would really decrease the costs of the disease," said Guro Lind, head of Oslo University Hospital's epigenetics group, who is leading the test development effort.
While urinary bladder cancer does not have the high mortality rate or prevalence of some other cancers, it is still the fourth most common cancer type in men in the US, and is one of the more expensive cancers to treat due to a recurrence rate of up to 70 percent in patients who have undergone surgery to have their tumors removed.
Lind said that about 1,700 people develop the cancer in Norway each year, and roughly 11,000 people have been diagnosed with the disease in the Scandinavian country, which has a population of 5.2 million. These patients have to be monitored for years, and typically undergo between 15 and 20 cystoscopy procedures — where a tube is inserted through their urethra and the bladder is observed by a urologist — during the time they are at risk of recurrence. Urologists also use special tools to obtain samples from areas where possible recurrence has occurred. 
"Bladder cancer patients are one of the most expensive cancer types to manage in society, because they have such a high frequency of recurrence," said Lind, noting that cystoscopy is both "highly uncomfortable for the patient, and resource-demanding for the hospital."  
Lind and fellow investigators have for years been working on developing a noninvasive test for urinary bladder cancer that would rely on a number of select biomarkers obtained from urine samples to replace invasive cystoscopy. In 2010, the Oslo University Hospital team worked with investigators at the Portuguese Oncology Institute in Porto, to identify three epigenetic markers for the detection of bladder cancer, the results of which were detailed in a Clinical Cancer Research paper that year. However, Lind said that the real-time PCR approach that was used to test for those markers was not sensitive enough to ensure a transition to clinical use. It's one of the reasons her team has decided to adopt a digital PCR platform for the current assay it is developing.
"With the real-time technology, there is the risk that your cancer cell signal can be drowned out by all the normal cell signals," said Lind. "Digital PCR technology allows for the partitioning of your sample into thousands or millions of droplets, so you run the PCR on all the droplets at the same time, reducing all the competitive signals," she said. "That means that the rare samples can be detected in an absolute, quantitative way, and that's why we were very intrigued by this technology."
According to Lind, her group is currently using Bio-Rad Laboratories' droplet digital PCR technology, specifically its QX200 instrument. Based on the Hercules, California-based firm's water-emulsion droplet approach, ddPCR enables the fractionating of a DNA sample into 20,000 droplets. After PCR amplification is carried out in each droplet, positive droplets are read, providing absolute target quantification.
"We have spent the last year and a half to optimize the technology that allows us standardization of the method we require for analysis," said Lind. That optimization also required some bioinformatics work to develop an algorithm to better separate positive and negative droplets. "We had to generate an algorithm for an automatic scoring threshold, because the software that comes with the technology is challenging for the threshold," she said.
Lind noted that using next-generation sequencing as a diagnostic platform was never envisioned, on account of "cost and convenience," as well as the sensitivity of Bio-Rad's ddPCR technology.
While the group has not published on the specific markers that will make up its future urinary bladder cancer panel, Lind said that it had been using DNA methylome sequencing to identify potential tags that it will further validate over the summer. While the investigators had originally looked for methylation changes in known cancer genes, Lind said that the tags with the greatest diagnostic potential have actually been found in regions that had no link to cancer development.
"We are using an unbiased approach where we look for biomarkers anywhere in the genome, and it turns out that those that are best reporting are in intragenic regions," said Lind, pegging the group's success thus far to its strategy for identifying biomarkers and its technology choice.
For the first series of test validation, Lind said her group will run the assay on 100 patient samples and as many controls. Upon demonstrating proof of principle, her team will later validate the assay in larger cohorts through academic collaborations.
Once the Norwegian investigators debut a final assay at the end of this year, they will look for a commercial partner to continue its development and ultimately make it available to clinicians. The IP related to the test is held by Oslo University Hospital and will be licensed through Inven2, a company that commercializes inventions developed at Oslo University Hospital and the University of Oslo. "We hope by the end of the year, the test will be developed to the extent that it is interesting for a third party," said Lind.
Should Oslo University Hospital's ddPCR-based assay reach the clinical market, it will contend with offerings from a host of research teams and companies trying to address the same underlying cost and discomfort of routine cystoscopy procedures in urinary bladder cancer cases.
For instance, Pacific Edge, a Dunedin, New Zealand-based molecular diagnostics firm, continues to commercialize Cxbladder Monitor, a multiplexed PCR-based test that can be used to profile the expression of five messenger RNA markers associated with the disease. Nucleix, a Rehovot, Israel-based firm, in March garnered a CE-IVD mark for its Bladder EpiCheck test, which relies on multiplex PCR to test urine for the presence of methylation markers linked to urinary bladder cancer recurrence.
Other institutions and firms have focused on creating tests for early detection rather than recurrence. Researchers at the Danish Cancer Society Research Center, for instance, discussed the development of a ddPCR-based approach for early-stage bladder detection at the Association for Molecular Pathology's Global Congress held in Berlin in April. PapGene, a Baltimore, Maryland-based firm, received a $2.2 million National Cancer Institute grant last September to develop a noninvasive, sequencing-based recurrence test. Also last fall, Cepheid launched Xpert Bladder Cancer Monitor, a CE-IVD-marked test for early-stage diagnosis of the disease that runs on its GeneXpert real-time PCR-based molecular diagnostics system. 
Lind said that her team's choice of using DNA methylation markers should set its assay apart from others on the market or in development. "I'm a strong believer in DNA methylation biomarkers, because they occur more frequently among patients than mutations, and many appear quite early in cancer development," she said. "Gene expression tests are more cumbersome," Lind added. "DNA is typically less degraded, so it's more convenient for clinical labs to work with DNA than RNA."