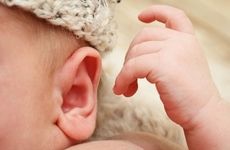 CHARLOTTE, N.C. (GenomeWeb) – Sequencing-based genomic testing could be a useful complement to traditional newborn screening for detecting hearing loss in children who are missed by current methods and providing guidance for treatment and care of those who screen positive.
 At the American College of Medical Genetics and Genomics annual meeting here last night, Cynthia Morton of Brigham and Women's Hospital and Harvard Medical School pointed to several initiatives, including a research study called SEQaBOO (Sequencing a Baby for an Optimal Outcome) her own team is conducting, that are exploring the utility of genomic testing in newborn hearing screening.
Up to 1 in 300 children are born with some type of hearing loss, making it one of the most common birth defects. About 50 percent of severe childhood hearing loss cases is believed to have a genetic cause, and another 25 percent or so is due to the mother being infected with cytomegalovirus, which she passes on to her unborn child.
Of the hearing loss cases with genetic causes, about 70 percent are non-syndromic and 30 percent are syndromic. The number of genes known to be involved in hearing loss keeps climbing, Morton said, and has reached more than 150 currently.
Newborn hearing screening right after birth is standard in the US, using functional hearing tests such as automated auditory brainstem response or otoacoustic emissions. However, many screen-positive infants don't receive follow-up testing once they leave the hospital to clarify whether or not they have hearing problems. In addition, some infants develop hearing loss later on, and by school age, 1 in 100 children have impaired hearing, suggesting that functional screening at birth misses some types of hereditary hearing loss.
The hope is that genetic screening might be able to identify children at risk of hearing loss who are missed by current newborn screening, and to help those who screen positive obtain a molecular diagnosis, which might impact their treatment and care.
For example, a 2016 study from Taiwan that involved more than 5,000 babies who received standard newborn hearing screening, as well as genetic screening for four common deafness mutations, found that more than half of those with a mutation passed their hearing test, even though their hearing deteriorated later on.
Morton said that another study, conducted in China that involved a million newborns and is currently under review, had similar findings, making the case for genetic newborn screening for hearing impairment.
Results from a genetic test may not only predict hearing loss later on but also impact treatment. For example, Morton said, hearing-impaired children with a mutation in the GJB2 gene tend to do well with sound amplification, whereas for those with mutations in other genes, such as PJVK, amplification does "more harm than good." In addition, some genetic syndromes appear at birth to be non-syndromic hearing loss and could be discovered sooner with genetic screening.
Her team's ongoing SEQaBOO study, which is funded by the National Institute on Deafness and Other Communication Disorders and involves Brigham and Women's Hospital, Boston Children's Hospital, and the Massachusetts Eye and Ear hospital, is investigating how genomic information can help with the care and management of newborns with hearing loss.
The goal is to enroll about 500 newborns who did not pass their initial newborn hearing screen, along with their parents, and more than 200 have been signed up so far. These families will receive whole-genome sequencing to identify pathogenic variants in hearing loss genes and, as an option, secondary findings in the ACMG-59 gene list. The results will be used in conjunction with the standard of care, and their clinical impact will be assessed through annual surveys. In addition, the study will look into parents' attitudes toward and knowledge about genomic medicine.
Morton said there are other whole-genome sequencing projects underway that might result in a better understanding of the genetics of hearing loss, including Genomics England and the Gabriella Miller Kids First Pediatric Research Program.
However, she said, while whole-genome sequencing for newborns might become the standard sometime in the future, for now, what is needed is limited genetic screening in addition to the current functional hearing screening. Such genetic tests need to be inexpensive and easily interpretable, she said, noting that she is pushing ahead with getting them implemented at Brigham and Women's Hospital.