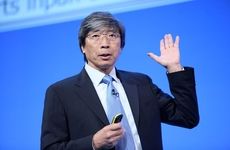 CHICAGO (GenomeWeb) – NantHealth, fresh off a tough 2017 that saw the company cut 300 jobs and face a series of lawsuits related to its 2016 initial public offering, is betting on new technology and assays to carry it into the future.
In recent weeks, the Culver City, California-based firm said that it has submitted its GPS Cancer test to the US Food and Drug Administration for tumor-normal sequencing and is working on two new liquid biopsy cancer assays that it plans to formally launch later this year. In addition, it has developed a platform, called NantAI, for computer-based tumor cell identification from tissue slides.
The new assays and platform, along with parent company NantWorks' cancer vaccine clinical trials, are part of CEO Patrick Soon-Shiong's decades-long quest to cure cancer. Soon-Shiong, who in an unrelated move recently reached a $500 million deal to buy two major California newspapers, talked about the new tests and platform last month at the JP Morgan Healthcare conference in San Francisco and at the Precision Medicine World Conference in Mountain View, California.
NantHealth soon expects to seek FDA approval for Liquid GPS Core, a test that detects and monitors specific mutations in circulating free DNA from patient plasma. The company claims that this test, which relies on real-time quantitative PCR, has outperformed published results for the Guardant360 cancer liquid biopsy test. Liquid GPS Core is already available but will be formally launched in the near future, according to the company.
Another test, Liquid GPS Expression, measures circulating free RNA in patient plasma to determine the expression of cancer- or treatment-related genes. The test is designed to quantify the expression of biomarkers predictive of drug response and could guide the use of therapies or monitor patient response to therapy. Liquid GPS Expression, which also uses real-time quantitative PCR, already is on the market, though a formal launch is pending. According to the company, it is the only cfRNA test available to date.
Last month, NantHealth submitted a portion of its GPS Cancer test for solid tumors to the FDA, specifically a tumor-normal sequencing test that analyzes the exome and reports somatic mutations, though it could also be used to call germline variants.
The FDA in November 2017 authorized New York's Memorial Sloan Kettering Cancer Center's MSK-IMPACT next-generation sequencing tumor profiling assay as an in vitro diagnostic test. That test, the first NGS-based tumor profiling ever approved by the agency, analyzes 468 genes, while the exome test for which NantHealth is seeking approval looks at 19,000 genes.
"It is impossible to precisely determine the tumor mutation burden of the whole genome if you're only measuring [a few hundred] genes," Soon-Shiong said. "You need to actually measure the 19,000 genes."
However, Foundation Medicine has shown that its targeted gene panel test can do determine tumor mutational burden without measuring all 19,000 genes. "Around 500 genes is a nice sweet spot," Artur Veloso of the Novartis Institutes for Biomedical Research said in 2016. "You really don't need more genes than that."
Similar to MSK-IMPACT, NantHealth's Cancer GPS uses an approach that sequences both the patient's tumor and normal tissue, which Soon-Shiong reiterated is a better way to avoid false-positive results than computational approaches that rely on other reference genomes for filtering. He also pointed out that the company was granted four US patents last year that cover tumor-normal sequence analysis.
"If you use the reference genome rather than yourself as your control, it turns out that you end up with 90 percent false positives," which could lead to improper treatments, Soon-Shiong claimed. He noted that a 2015 paper from Johns Hopkins researchers found a similar error rate and said that NantHealth has submitted its own paper for publication in an unspecified academic journal that will show this high rate of false positives from tumor-only sequencing.
He also stressed that analyzing DNA is not enough but that it is also important to measure gene expression and protein pathways involved in cancer. "We do whole-exome, tumor-normal, and RNA," he said. "Going even further, we do quantitative proteomics, all in the same patient."
According to the company, NantHealth has presented data at several American Society of Clinical Oncology meetings showing that 10 to 20 percent of true somatic mutations in tumor-associated or cancer-driving genes are not expressed, making them irrelevant because drugs attack mutations at the protein level rather than the DNA level. Conversely, altered expression of tumor-associated proteins may be driving cancer in the absence of a genomic alteration, which would not be identifiable at the DNA level.
In other NantHealth news, Soon-Shiong last month unveiled an automated artificial intelligence platform, called NantAI, that combines unsupervised machine learning and machine vision for computer-based tumor cell identification from tissue slides. The company has not yet set a release date for that platform.