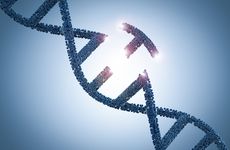 NEW YORK – Mammoth Biosciences announced on Monday that it has received Emergency Use Authorization from the US Food and Drug Administration for a high-throughput SARS-CoV-2 assay utilizing CRISPR technology.
Called the DETECTR Boost SARS-CoV-2 Reagent Kit, the assay enables high-throughput, sample-to-answer testing with PCR-equivalent performance and minimal hands-on time, the firm said in a statement.
It is authorized for use on a variety of swab samples with the Agilent Bravo BenchCel DB liquid handling platform. Agilent and Mammoth intend to comarket the assay.
"This emergency use authorization is another important step towards our mission to harness the full potential of CRISPR to improve lives," said Janice Chen, cofounder and chief technology officer of Mammoth Biosciences.
Mammoth's SARS-CoV-2 DETECTR Reagent Kit was authorized in September 2020 for use in high-complexity labs. The firm raised $195 million in September 2021 through Series C and D financing rounds.
The project was supported by the National Institutes of Health Rapid Acceleration of Diagnostics program as well as the National Institute of Biomedical Imaging and Bioengineering, National Institutes of Health, and Department of Health and Human Services.