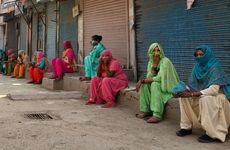 NEW YORK – India's Center for Cellular and Molecular Platforms (C-CAMP) has launched the second phase of a national diagnostics program. Called InDx 2.0, the effort is focused on building capacity and resources to support domestic production and deployment of tests for infectious diseases and environmental surveillance.
Bangalore-based C-CAMP announced the effort as a national diagnostics catapult earlier this month. It's the second phase of the center's "indigenization of diagnostics," or InDx, program. InDx 2.0 is being supported by the Bangalore Life Sciences Cluster, the Rockefeller Foundation, the Bill & Melinda Gates Foundation, and FIND.
Established in 2009, C-CAMP is a life sciences innovation hub supported by the Indian government. According to CEO Taslimarif Saiyed, the center created the InDx program in 2020 in response to the COVID-19 pandemic, as India faced a shortage of real-time PCR tests.
"One of the things that was required to understand the spread of COVID-19 was testing, and at that time, with a population of 1.5 billion, India had almost nothing in terms of ready-made products to detect SARS-CoV-2 infection," Saiyed said. "There was a huge need on the ground to build more tests than were available."
While India is a major producer of generic drugs and vaccines, in the past it has relied on major global suppliers of molecular tests, such as Thermo Fisher Scientific or Abbott Laboratories, Saiyed said. With such dominant players active in the Indian market, local companies couldn't compete in terms of affordability and at scale, he noted. The pandemic however, turned this dynamic on its head, as it was apparent that India needed to invest in its own resources to meet new demand.
This led directly to the creation of the C-CAMP-led InDx program. With support from the government as well as the Rockefeller Foundation, InDx commenced in the summer of 2020, working to identify local players with diagnostics development or manufacturing capacity, and to help them build high quality reagents and kits. It did this by linking up these domestic companies with experts in various government and academic institutes, who could help them attain the level of quality necessary to be used in lieu of real-time PCR kits sold by global manufacturers. 
Such centers of excellence, be it in chemistry, enzymes, or biologics, could then vouch for the quality of new tests and enable domestic companies to produce better tests and scale production. Companies were also able to validate their tests using samples from Indian patients with COVID-19. "They were compared to the gold-standard [tests]," he said, "and ready for regulatory approval."
According to a statement from C-CAMP, InDx 1.0 was a success. A year after its launch, the program had enabled the production of 1 million RT-PCR kits for SARS-CoV-2 per day, manufactured by more than 200 domestic small- and medium-sized companies and labs in the national diagnostics ecosystem. More than 40 such RT-PCR kits and 12 lateral flow tests have received regulatory approval as well, the center said.
Saiyed said that India had SMEs that were considering going into molecular testing, but the InDx program gave them the additional encouragement to move into production at scale. "There are companies that have been turned around and have done $10 million a year in revenue," he said. "Of course, it was a COVID-19 bump, and now they have to go back and compete," he added.
Moving into other indications is now a focus of the second phase of the InDx program, which has the additional backing of the Gates Foundation and FIND. "We wanted to ensure that the platform would remain and make it a national diagnostics catapult that can do other infectious diseases that are important for India and other" low- and middle-income countries, said Saiyed.
He declined to discuss the budget for InDx 2.0, noting that the effort is still seeking funding.
According to Sanjay Sarin, VP of access at FIND, India is not unique among LMICs in that its molecular diagnostics sector has been highly dependent on imports to meet national needs. He also said that diagnostics innovation is "relatively more difficult and also less fetching, as vaccines and pharmaceuticals take the lion's share in the overall healthcare business."
Sarin said that FIND decided to support InDx 2.0 because it aligns with its goal of working with LMICs to develop local capacities for diagnostics development and manufacturing. He said that InDx 2.0 has a "strong focus" on developing and leveraging in-country capabilities to meet the diagnostic needs of both India and the region and falls directly in line with FIND's priorities.
He also credited the catapult effort for focusing on the entire product development cycle, from development through trialing, regulatory support, and assisting developers with their go-to market strategies.
"This end-to-end approach will ensure not only indigenous product development, but at the same time will support development of pathways to support in-country adoption" Sarin remarked.
Moving forward, C-CAMP envisions the creation of a nongovernmental quality mark, similar to certification from a standards organization, for diagnostics that would lend credibility to domestically produced molecular tests. It also intends to add to the number of centers of excellence it has involved in the program around India. Currently, there are about a dozen of such centers engaged in the InDx program, he said. While the diseases targeted by InDx 2.0 have not yet been decided, Saiyed said they would likely be those that have a high impact in tropical countries, such as dengue and chikungunya. Saiyed said InDx is "closing in on some names," but intends to keep the effort "dynamic, but focused."
Another area of interest for InDx 2.0 is environmental surveillance, specifically the development of molecular platforms for monitoring the prevalence of certain diseases in untreated wastewater.
And while RT-PCR continues to be a technology of interest, Saiyed said that InDx 2.0 is platform agnostic and has supported companies manufacturing lateral flow assays, for example.
All of these efforts, Saiyed maintained, are helping build capacity and confidence in the country's fledgling molecular diagnostics sector. "In the past, there were always global players who were accepted, and the market was not big enough for new players to penetrate nationally," he said, adding that available tests were affordable enough that the urgency to grow local companies was minimized.
The goal now is that Indian companies can become global players, with kits that can gain CE-IVD certificates or US Food and Drug Administration approval. "A significant confidence and ambition has come in," said Saiyed. "We can contribute high quality, affordable tests, just as India has done for generic drugs and vaccines," he added.