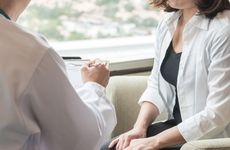 CHICAGO (GenomeWeb) – Results presented over the weekend at the American Society for Clinical Oncology annual meeting have closed the file on a long unanswered question for Genomic Health's Oncotype DX breast cancer risk test — namely how doctors should interpret and act upon an intermediate result.
The study, which was shared in a plenary session and also published in the New England Journal of Medicine today, concluded that women with Oncotype DX recurrence scores from a low-risk threshold of 11 up to a high-risk threshold of 25 appear to benefit equally when treated with endocrine therapy alone compared to hormonal therapy with added chemotherapy, as long as they are over 50 years of age.
"We knew from previous studies that the assay was prognostic — that individuals with a low recurrence score had a very low risk of recurrence with endocrine therapy alone and could safely forgo chemo. And we knew it was predictive — that [high RS] patients showed a real benefit when chemo was added," Albert Einstein College of Medicine professor Joseph Sparano said today while presenting the data at ASCO.
But the mid-range scores, which represent about two-thirds of all patients being treated, were a "major gap," Sparano said. "What we were trying to do here was thread the needle."
Overall, TAILORx enrolled a little over 10,000 women, about 69 percent of whom had scores in the defined intermediate range of 11 to 25.
Patients in this subgroup were randomly assigned to receive chemotherapy followed by hormonal therapy or hormone therapy alone. (Those with RS 10 and under all got endocrine therapy alone and those with scores over 25 all got combined treatment).
The practice-changing implication of the new results is that the Oncotype DX test readout can now be understood as defining an essentially binary high-low risk landscape, as opposed to the three-tier reporting structure that has characterized the assay so far.
Whereas doctors and patients previously faced a challenge in deciding how to act on a mid-range Oncotype DX recurrence score, now women with both low, and what would previously have been considered intermediate scores, can be lumped into one category.
Researchers presenting the study estimated that the new classification architecture means that the percentage of individuals with early stage hormone-receptor positive, HER-2 negative tumors who can confidently avoid chemo is about 70 percent overall.
During a press conference discussing the results, Dana Farber oncologist Harold Burstein said that the decision to use or omit chemotherapy is one of the most challenging that clinicians face in treating these early breast cancers.
As a result, the new clarity that the TAILORx results lend to this decision are evidence of the importance of this type of long-term randomized trial, despite the fact that Oncotype DX has already been available in the clinic for close to a decade.
"There is a huge difference between saying 'Well you might benefit a little bit' and saying 'There is no benefit for you' ... and this trial now shows that the vast majority of women who have this test can be told they don't need chemotherapy, and that can be said with tremendous confidence and reassurance," he explained.
In practice though, the impact that the new results actually have on prescribing may be more complicated. One reason for that is some women in the "intermediate" 11-25 RS group used in the trial are already being treated as low-risk in the clinic.
The current standard is that an Oncotype DX RS up to 18 is considered low-risk. As a result, the group truly affected by the new study conclusions might better be defined as those with scores between 18 and 25, since that is the practical population for whom clinicians now have a definitive strategy that they didn't before.
Genomic Health Chief Scientific Officer and Chief Medical Officer Steve Shak estimated that the study results directly affect close to 40 percent of women who are eligible for Oncotype DX testing.
And although this also implies that the company's previously used cutoff point of 18 likely missed directing many women away from unnecessary treatment over the years, the new results provide persuasive evidence for avoidance in a much larger group going forward.
Another complicating factor is that the RS threshold for high-risk is also different in the clinic than what was defined in the TAILORx trial — 31 versus 25 — which means that the analysis doesn't provide the same crystal clear guidance to clinicians who might still be wondering how to treat patients with scores in that liminal range.
But according to Shak, other data the company has amassed over the years illustrates that there is steadily increasing benefit from chemo as RS increases from 25 to 30. Benefit might not be as great in that subgroup as it is for those with scores over 31, but it's enough to support shifting to a binary cutoff at the TAILORx-defined RS 25.
Women under 50 also present a more complex picture in the newly reported TAILORx results. Unlike older women who all had negligible added benefit from chemo up to a risk score cutoff point of 25, researchers saw in an exploratory analysis that there was still a small benefit from chemotherapy in women under 50 with risk scores above 15.
Individuals with scores from 16-20 had about 9 percent fewer events affecting invasive disease–free survival, including 2 percent fewer recurrences when treated with chemotherapy. The 21-25 RS group saw 6 percent fewer IDFS events.
Under the existing clinical interpretation scheme for Oncotype DX, some of these younger women — specifically those with RS of 16 or 17 — might have been erroneously considered low-risk. Now doctors should be aware that "chemo should be spared with caution in this subgroup," Sparano concluded.
Speaking as a discussant for the TAILORx data at the ASCO plenary session, the University of North Carolina Breast Center's Lisa Carey said that there is biological rationale for a unique benefit from chemo in pre-menopausal women, potentially through suppression of ovarian function, which is known to improve outcomes, or perhaps through other unexplored pathways.
A final complicating factor for the results is the fact that the choice to use or avoid chemo still rests on individual oncologists on a case-by-case basis. Doctors can choose to add chemo even for patients with the lowest recurrence scores if they and their patient desire to do so.
Genomic Health continues to study the impact of its test on physician decision-making. A recent study, for example, found that in a group of 1,527 surveyed patients with stage I-II cancers, nearly all of those with recurrence scores above 30 were advised to have chemo. Recommendations to avoid chemo in those with scores up to 18 ranged between 50 and 80 percent depending on the clinical subgroup.
Future research may shed important light on how the distillation of the Oncotype DX report from a three-tier score structure to a binary one based on the new TAILORx data may impact the way physicians utilize the results.
During the meeting plenary session, UNC's Carey reflected on the immediate implications for patient care, which she said essentially move the cutoff point for recommending a patient forego chemotherapy from RS 18 to RS 25 in women over 50, and define a new potential cutoff point for younger women of RS 16 or RS 21 or somewhere in between.
Genomic Health President and CEO Kim Popovits has said before that the company expected this new report of the intermediate TAILORx data to drive adoption of its test in a competitive market.
"As a reference point, when the secondary endpoint of TAILORx, looking at patients with risk scores less than 11, was reported in … 2015, we saw a 5 percent increase in tests delivered," she said during a conference call in March.
In recent years, the competition in early breast cancer risk testing has escalated with multiple companies now marketing assays, several of which are poised to compete with Genomic Health in markets like the UK's national health service, where it used to hold a monopoly.
The firm remains, however, the only one to have participated in the type of randomized controlled trial that TAILORx represents.
During the press conference discussing the report, ASCO Chief Medical Officer Richard Schilsky said that the validation process that Oncotype DX went through, from early retrospective studies all the way through a randomized trial, should serve as an example for the larger industry.
"We talk a lot at these meetings about tests and whether they are well validated or not," he said. "And … I think [this is] a paradigm for how diagnostic test development should be done."
That said, some clinicians could feel comfortable extrapolating the TAILORx results as a general indication of efficacy or utility for early breast cancer risk tests in general. In comments made during a review period for an update that the UK's National Institute for Health and Care Excellence (NICE) instigated earlier this year, for example, representatives from NanoString, which markets the Prosigna breast cancer risk test, posited that if one test demonstrates the ability to predict chemotherapy benefit, the same might be assumed for other similar tests.
Genomic Health's Shak said though that the company is confident that leaders in the field understand well that not every prognostic factor is predictive.
In his view, TAILORx continues to serve as a distinguishing factor for Oncotype DX apart from other competing assays. For example, he said, the data supporting avoidance of chemo now in up to about 70 percent of women with these early cancers might give pause to doctors considering other tests that classify up to 50 percent of patients as high-risk.
Genomic Health is now faced with changing how it reports Oncotype DX results based on the finalized TAILORx intermediate RS analysis.
Shak said the firm will do this in two steps. The first change will be an addition of a cover sheet on reports that highlights the new data and its implications for patients — similar to what the company did when earlier TAILORx results pertaining to women with recurrence scores below 11 were published.
Later in the year, he said, the company will follow this up with a more complete update.