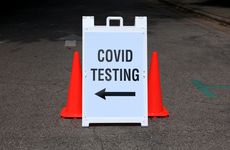 The story has been updated to confirm that the FDA is also winding down its reviews of Emergency Use Authorizations for Mpox tests. 
NEW YORK – After issuing Emergency Use Authorizations for more than 400 COVID-19 tests and seven Mpox tests, the US Food and Drug Administration said Wednesday that it is nearing the end of EUA reviews of new in vitro diagnostics.
Timothy Stenzel, director of the FDA's office of in vitro diagnostics and radiological health, said during a virtual town hall meeting for developers of tests for COVID-19 and Mpox that the agency is finishing reviews of tests already submitted for authorization and anticipates submissions for only a small number of additional tests.
After three years of hosting the town hall meetings for test developers, the FDA Center for Devices and Radiological Health plans to host its last scheduled meeting in the series March 22, although Stenzel left the door open for more meetings "should the need arise."
FDA officials had said in a September policy update that they intended to review only a small subset of new EUA requests for diagnostic tests, and they encouraged developers of all types of tests to pursue clearance through de novo or 510(k) premarket review pathways.
The most recent policy update, issued by the FDA last month, indicates that, as of Aug. 15, the agency had issued EUAs for about 440 COVID-19 tests and granted authorization for other molecular COVID-19 tests through traditional device premarket reviews. Agency officials wrote in that policy document that they intend to review EUA requests for a small number of tests from experienced developers whose tests employ innovative technologies, fulfil unmet needs, or otherwise show potential for substantial public health benefits.
"Traditional marketing pathways remain available to all developers, and FDA encourages developers of tests that fall outside the scope of the priorities outlined in this guidance to pursue those routes," agency officials said in the document.
President Joe Biden said in January his administration plans to end the national emergency declaration for the COVID-19 pandemic on May 11. During Wednesday's conference call, Toby Lowe, associate director for regulatory programs in the CDRH office of in vitro diagnostics and radiological health, noted that EUAs granted by the agency will remain valid, and the agency's EUA guidance will remain in effect after May 11 because they were issued through an agency EUA declaration that is separate from the public health emergency declaration.
"We don't plan to take any action that would leave Americans without the tests that they need," she said. "We recognize that manufacturers of tests that were issued EUAs will need an appropriate period of transition."
Agency officials plan to give 180 days' notice before ending the EUA declaration, at which time all EUAs issued under the emergency declaration would no longer be in effect.
The US Department of Health and Human Services also announced Dec. 2 that, given a low number of new Mpox infections, it would not renew the public health emergency declaration for Mpox beyond Jan. 31. The EUA declaration for Mpox is also separate from that public health emergency declaration.
Some firms have received marketing clearances that will let them continue marketing their COVID-19 tests beyond any emergency declarations.
BioMérieux subsidiary BioFire Diagnostics received de novo clearance for its FilmArray Respiratory Panel 2.1 COVID-19 test in March 2021, becoming the first firm with a COVID-19 test transitioned from EUA status. The firm also received 510(k) clearance for its BioFire COVID-19 Test 2 in November 2021.
More recently, DiaSorin and Roche nabbed 510(k) clearances in September and October, respectively, for SARS-CoV-2 PCR assays, and BioMérieux secured 510(k) clearance earlier this month for its BioFire Spotfire System and Spotfire Respiratory (Spotfire R) Panel for detecting and identifying COVID-19 and other viral or bacterial infections.