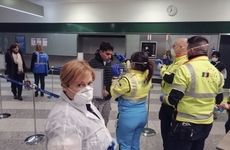 NEW YORK – Even as new funding was recently announced to fight the rapid spread of SARS-CoV-2 in Europe, some worry that not enough is being done, particularly in the testing realm.
This week, the Innovative Medicines Initiative unveiled a €45 million ($49 million) call for new diagnostics and therapeutics to combat SARS-CoV-2, joining a number of other European efforts to support the development of rapid tests for the detection of the virus.
Yet while the number of cases and associated deaths in Europe continues to spike — Italian authorities announced on Wednesday that 79 people have died from the virus there to date — some believe that more could be done to help deliver diagnostics to the European market.
So far, funding agencies have made financing available, and calls for new tests and drugs have gone out in recent weeks. Last month, for example, UK Research and Innovation's Medical Research Council announced it would make £20 million ($26 million) available for rapid research into the virus, including the development of genetic tests and new technology platforms.
The Wellcome Trust also announced £10 million in funding last month to support virus research, including the development of new assays. In January, the European Commission announced the availability of €10 million for research into the virus, including the development of point-of-care diagnostics, while the Foundation for Innovative New Diagnostics (FIND) recently issued an expression of interest to companies developing tests for SARS-CoV-2 to have their assays evaluated using a standardized, independent protocol.
In the case of IMI, a Brussels-based, European Commission-led, public-private partnership that supports pharmaceutical and diagnostics development, new tests are certainly a priority.
Pierre Meulien, executive director of the initiative, said via email that IMI is looking to support the development of rapid diagnostics, as most testing for the virus in Europe is currently done using laboratory-developed molecular tests run in centralized facilities.
Rapid tests are "essential and of utmost importance to manage the outbreak, isolate patients at risk, and treat people accordingly," Meulien said. "It's crucial to differentiate and identify respiratory pathogens with similar clinical symptoms and to detect emerging pathogens such as SARS-CoV-2," he said. "This can be achieved through point-of-care testing."
Such point-of-care tests would allow doctors to diagnose patients on the spot, meaning that those who have the virus can be treated immediately, while others can carry on with their daily lives, and receive treatment for the infection that they do have, for example, the flu, he said.
IMI officially launched the call on March 3, after making a preliminary announcement last week, and the submission deadline for proposals is March 31. Meulien said proposals will be assessed and ranked and money will be allocated until no funding is left. It is unclear how many projects will be funded.
Last month, the Oslo, Norway-based Coalition for Epidemic Preparedness Innovations announced a call for vaccine development proposals related to the SARS-CoV-2 outbreak. For this reason, Meulien said that IMI decided not to issue a similar call for vaccines. He added that IMI is in contact with other research funders in the field and attended a recent World Health Organization meeting on setting research priorities for the new virus.
Industry responds
Even as funders make money available to support the development of new tests, test makers in Europe and elsewhere are working on new assays. Qiagen — which is in the midst of being acquired by Thermo Fisher Scientific — for instance, said last month that it was preparing an expanded version of its QiaStat-Dx Respiratory Panel to cover SARS-CoV-2. bioMérieux has also announced that it is developing two tests for the virus, one on its Argene real-time PCR platform that should be ready by the end of the month, and a second on its Biofire FilmArray platform, which is in development.
Jerick Parrone, senior communications manager for MedTech Europe, a Brussels-based European trade association that represents in vitro diagnostics and medical device manufacturers, said that the industry has been working to "develop and distribute crucial medical technologies" for providers.
Parrone underscored in an email that the European IVD industry is "already at work to develop tests that rapidly diagnose and detect people who may or may not be infected."
He said that industry will "continue to work diligently" with the European Commission and the World Health Organization to meet the challenges of the crisis.
"Obviously, there are a huge amount of companies developing their own tests," said Emily Adams, a senior lecturer in diagnostics for infectious disease at the Liverpool School of Tropical Medicine (LSTM) in the UK. She said that LTSM has been cooperating with a number of companies to develop rapid tests that can move diagnostics for SARS-CoV-2 out of centralized labs, where they are currently being run, and to the point of care.
In particular, LSTM is working on projects with Mologic and Genedrive, two firms that have experience in developing rapid tests for infectious diseases.
"We've been trying to work with companies that already have a CE-IVD marked platform," said Adams. "That means they have a background in the regulatory process and the assay is the only thing that has to be performed on emergency use only as opposed to the entire thing."
Currently, most central labs in Europe are using homebrew real-time PCR assays on nasopharyngeal swabs and other types of samples to diagnose the virus. Emergency authorization of these tests for clinical use is granted at the national level, meaning that each country can decide on what assays are allowed to be used. According to Adams, LSTM is preparing together with Genedrive an application for the £20 million UKRI MRC call.
"We are working on diagnostic development of decentralized testing, tests that you can do in holding stations, cruise ships, or hotels that are locked down," she said. "We hope we will be able to rapidly triage people for a more gold standard test and reduce panic in locations where there are outbreaks," Adams added.
Genedrive CEO David Budd confirmed the company is working with LSTM on a test development and assessment plan. "We would of course like to develop a test, and a point-of-care platform could supplement all the central lab high-throughput screening," he said.
Manchester, UK-based Genedrive in November secured a CE-IVD mark for its handheld, real-time PCR test platform and an assay for antibiotic-induced hearing loss. The company also offers a CE-IVD marked assay for the hepatitis C virus.
Mologic, based in Thurleigh, north of Bedford, UK, is developing, in the meantime, a self-test that relies on both saliva and whole blood drawn by finger prick. Joe Fitchett, medical director at Mologic, described it as an integrated antigen-antibody test. Mologic has developed numerous assays for infectious disease using lateral flow technology.
"Current tests for the virus overwhelmingly rely on laboratory-based molecular assays from upper and lower respiratory samples," said Fitchett. "Capacity for definitive laboratory diagnosis, however, is finite, and mild cases would benefit from community testing, ideally at point of need or as a self-test," he said.
According to Fitchett, Mologic has launched an accelerated development program for its test to support triage, surveillance, and outbreak response. While the company pursues its goals, Fitchett argued that more could be done to support the development of rapid diagnostics.
"Coordination among development companies has been poor and weighted heavily on laboratory-based molecular tests," said Fitchett. "Now is the time to deepen R&D for community-based molecular tests," he said. "Molecular lateral flow offers great promise but needs commitment and sustained investment."
Across the board, he maintained, there have been few industry consultations for diagnostics, especially for new technologies. "Academics and public health institutions have demonstrated how much can be achieved and so quickly by ensuring openness of data and activities," said Fitchett. "To this day, there is no target product profile for rapid diagnostics, or indeed laboratory diagnostics," he said. "This is unacceptable at this stage of the outbreak."
He noted that the CEPI was "quick off the mark" when it announced funding for vaccines in January. "We need the same thinking for rapid diagnostics," said Fitchett.
One firm this week said that it has a decentralized platform that could be used for SARS-CoV-2 testing is Auckland, New Zealand-based Ubiquitome, which highlighted its technology at the Molecular Medicine Tri-Conference. Called Liberty16, the mobile, open real-time PCR device runs on a light, small, and rechargeable lithium battery for two to three hours.
Europe on lockdown?
According to a World Health Organization report published March 3, there were approximately 2,800 cases of SARS-CoV-2 in the European region, including more than 2,000 in Italy. LSTM's Adams said that now that the virus has spread beyond China, more information will become available about the disease that may improve the way authorities manage the outbreak.
"There will be much more information to be gained by looking at transmission in a European setting, and so I think we'll get a better idea of epidemiology, transmission dynamics, what it means to be a mild and asymptomatic case," Adams said.
She also noted that the WHO remains the core authority coordinating responses to the pandemic worldwide. "They are best placed to help Europe coordinate its own response," said Adams. "High-level coordination at the European level is essential," she said. "Whether that is possible, I don't know."
Going forward, she expects more laboratory-developed tests to be used to diagnose the virus. While European authorities are looking to contain the spread of SARS-CoV-2 — by limiting transportation and putting some areas under quarantine — she said it is unlikely that a widespread lockdown will occur throughout Europe.
"I can't see us locking down Birmingham," she said. Adams noted that following the UK's exit from the European Union on Jan. 31, it remains in a transition period until the end of the year. Brexit, therefore, hasn't yet been a factor in managing the crisis.
Rangarajan Sampath, CSO at FIND, said Europe is relatively well positioned to handle a pandemic compared to lower-resource countries. "The healthcare system here is extremely strong," said Sampath. "Europe is in a better position as a group," he said.
That being said, the choice of how and where to test samples is handled at the national level, and so it is unlikely that there will be a standard test used to diagnose patients. "Each country has its own system, reference labs, so there is no standardization there … because in Europe there are so many more resources, and regions choose their own tests, so sometimes these decisions are not made on our evaluations but what they are familiar with," said Sampath.
Of course, that could all change should the virus spread to the level seen in China, where there have been close to 3,000 deaths and more than 80,000 confirmed cases since the virus was first reported in December.
"It's hard to judge European effectiveness because it didn't hit as hard here as it did in China," said Sampath. "I do know that [European] clinics have done a fantastic job of being able to diagnose, and probably have a better knowledgebase, but this is also driven by scope and magnitude of what you are dealing with," he said. "If you are dealing with what China is dealing with, I don't know any country that is prepared for that."