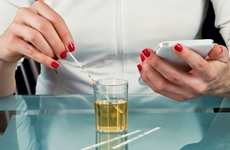 NEW YORK – Relatively few tests marketed for use at home have been cleared by the US Food and Drug Administration, but test developers in 2019 continued to innovate, collaborate, and raise funds in anticipation of future successes.
According to diagnostic test developers, more at-home tests, sometimes referred to as self-tests, need to demonstrate affordability and have levels of performance as high as, or better than, laboratory tests to achieve regulatory clearances and market acceptance.
The main challenge associated with achieving faster adoption of sample collection and testing in the home for sexually transmitted diseases, for example, is few current tests are available that are "accurate enough for a person to perform at home or purchase over the counter," said Charlotte Gaydos, an STI testing expert and professor in the division of infectious diseases at Johns Hopkins University.
Industry participants point to success in a few applications of at-home testing. Pregnancy tests approved by the FDA have been available since the mid-1970s, and at-home testing for HIV is well established.
A study published recently in JAMA Internal Medicine noted that "providing free HIV self-tests helped increase awareness of infection among participants and their social network members."
OraSure Technologies' HIV self-test, which has been available internationally for several years, is getting high adoption in African countries and elsewhere, driven in part by the platform's affordability and use of an oral swab instead of a fingerstick for sample collection.
And Chembio Diagnostics announced an important company milestone in November, saying it had received World Health Organization prequalification for its Check HIV Self-Test, a single-use immunochromatographic lateral flow test for the detection for antibodies to HIV types 1 and 2.
The type of technology on which the firm's test is based, lateral flow, is popular for at-home test developers.
"In lateral flow technology we have a very mature, capable platform that is almost infinitely adaptable to different sample types, users, and applications," said Brendan O'Farrell, president of Carlsbad, California-based DCN Diagnostics, a contract development firm for rapid and at-home tests. He added that diagnostic industry developers can employ the testing format to "build very user friendly, intuitive devices to facilitate proper sample handling, running of the test, and interpretation of the data."
Current lateral flow immunoassays take sophisticated technology and convert it to a test strip that almost anyone can operate. However, most lateral flow platforms are not sensitive enough for broad use in clinical testing.
Attempting to remedy this problem, University of Houston spinout Luminostics is developing a luminescent nanoparticle lateral flow platform as an alternative to less-sensitive fluorescence technology. The platform has a lateral flow design, but its photoluminescent phosphor nanoparticle materials contribute most to the platform's potential for future deployment in testing at home, in doctors' offices, and in global health clinics, according to the firm.
Bala Raja, Luminostics' CEO and co-founder, said in an interview that innovations in biosensing technologies are among the most important advances in "new home-use tests being developed in recent years." That applies to testing that "consumers can perform themselves," obtaining a result in a few minutes at home, he said, but not to tests done in laboratories and involving collection of samples at home.
The near-term applications within Luminostics' sights include assays that would enable testing for sexually transmitted diseases, a space that presents specific needs that lend themselves to at-home use. In this space, "women and men want to avail of home testing and home collection for curiosity, privacy, and confidentiality," Gaydos said.
Gaydos' research lab has developed a program called I Want The Kit that aims to remove the taboo and stigma from STI testing and help counter the epidemic by allowing patients to collect samples at home. Residents of Maryland, Washington, DC, and Alaska can collect samples at home and mail them to the Johns Hopkins University laboratory for chlamydia and gonorrhea testing, which is licensed by the State of Maryland and certified by CAP.
What's disturbing, she noted, is the availability of unregulated collection kits ordered online for use in the home as part of a lab testing process. Some of the companies "are out to make money and not trustworthy," Gaydos said.
The most common sexually transmitted infection, HPV, is the target of Atila BioSystems, a Mountain View, California-based molecular diagnostics startup.
Efficiently detecting HPV in samples that patients collected themselves at home is somewhat dependent on using a test that performs amplification. This is because there may be a lower concentration of virus in vaginal samples, which is what a patient typically collects, compared to endocervical samples that can be collected by clinicians.
Atila has developed a genotyping test for HPV that can detect 15 high-risk human papillomavirus subtypes and allow a single technician to test up to 800 patient samples in one day using a low-cost, portable instrument called AmpFire. The firm said that because its test can be run from dry swab samples, the sample can safely be collected by the patient at home, and the dried collection brush can be simply placed in the mail.
Although there are few cleared at-home tests, the FDA recently gave the nod to Medford, Massachusetts-based Seventh Sense Biosystems for a device that enables blood collection by laypersons for laboratory testing and for wellness testing use at home.
Tim Richards, Seventh Sense Biosystems COO, said in an interview that the firm's push-button blood collection device, Tap, "creates significant access to diagnostic and wellness information by anyone and anywhere."
He added that the device provides a bridge for patients and uses "between the existing diagnostic and laboratory space, as well as a simplified front-end collection method for future at-home diagnostic systems."
The digitization of devices and their adoption for health and wellness reflect an overall willingness to adopt at-home and self-testing approaches, Jan-Willem Hoste, chief operating officer of point-of-care test developer Antelope Dx, said in an interview.
To achieve adoption of self-testing devices in medical diagnostic applications, "we need devices that can track biomarkers that caregivers are using and can trust," Hoste said, adding that one of the main challenges is to "develop technology that has the performance and reliability adequate to obtain FDA and CE-IVD approval for self-tests, and that can be produced at a cost of goods and with an ease of use" suitable for a consumer.
Antelope is developing an at-home test to diagnose Chlamydia trachomatis and Neisseria gonorrhea and a second test, targeting use involving healthcare professionals, that aims to determine whether a suspected infection is bacterial.
Ghent, Belgium-based MyCartis announced earlier this year that along with Ghent University it was spinning off its point-of-care testing business and forming Antelope.
Industry collaboration
Outside of sexual health, there are many other promising medical diagnostic applications for at-home testing.
"Fever panels, discrimination between viral and bacterial infection, and hormone tracking for a variety of applications … could all deliver data that is useful in the moment," O'Farrell said.
However, questions remain about what to do with the data obtained from testing, test reimbursement, and whether the result can be trusted and actionable for a medical practitioner, he added.
Among companies working on some of these issues, Fulgent Genetics announced a partnership with telehealth firm PWNHealth earlier this year. The partners aim to provide oversight for a new line of genetic tests marketed to consumers. Fulgent has launched Picture Genetics, a trio of at-home genetic tests for consumers, and PWNHealth is providing physician review and genetic counseling for the tests.
Companies in this space are also collaborating to advance test development. For example, Nijmegen, Netherlands-based Enzyre said recently that it has entered into a research collaboration agreement with Takeda Pharmaceutical to develop a diagnostic test that will enable hemophilia patients to determine their coagulation status at home.
Meanwhile, a paper-based test strip embedded with biochemistry that measures the amounts of key hormones present in a urine sample is the basis of a fertility monitoring tool that Mount Sinai Health System spinout Oova is piloting through a partnership with Thorne Research. Oova's technology provides an approach for women to measure and monitor the concentration of luteinizing hormone and progesterone — two key fertility markers.
Exact Sciences, well known for its at-home stool-based colorectal cancer test, has set its sights on improving the early detection of pancreatic cancer, a disease that is often diagnosed too late for most patients. The company has announced that it is conducting a study in collaboration with the Mayo Clinic for pancreatic cancer detection from blood.
A potential competitor, St. Louis, Missouri-based Geneoscopy, is developing an at-home CRC diagnostic kit that is modeled on Cologuard, but that looks for RNA biomarkers in stool rather than DNA biomarkers.
Test financing
Some of the funding raised in this past year supported development and marketing of at-home tests.
In May, at-home health testing firm LetsGetChecked announced it closed a $30 million Series B financing round that it will use to continue scaling up its direct-to-consumer diagnostics brand in the US, Canada, and Europe. Founded in 2014, LetsGetChecked's portfolio of testing procedures includes testing for wellness, cancers, sexual health, fertility, genetics, and pharmacogenomics, among other conditions.
In 2018, the FDA cleared Healthy.io's at-home, smartphone-based 10 parameter urinalysis kit, Dip.io, to test for urinary tract infections and for use in prenatal care, and in September 2019, the Tel Aviv, Israel-based firm said that it closed a $60 million Series C funding round to accelerate global expansion and product development.
Meanwhile, E25Bio raised $2.3 million in seed funding to develop a rapid diagnostic technology that people can use at home to detect active dengue, Zika, and chikungunya viruses. Founded in 2018 based on technology licensed from MIT, E25Bio is developing a paper-based diagnostic test platform that can reduce testing time to detect mosquito-borne illnesses from days to minutes.