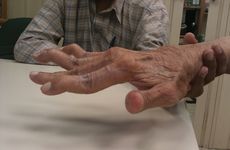 NEW YORK (360Dx) – Myriad Genetics' subsidiary Crescendo Bioscience presented data last week at the European League Against Rheumatism (EULAR) annual meeting in Madrid that indicates the company's Vectra DA rheumatoid arthritis test can help identify patients at risk of radiographic progression.
A meta-analysis of six previous studies of the test, the presentation did not contain new data on Vectra DA, but David Chernoff, Crescendo's senior vice president of medical and scientific affairs, said he believed the study was significant for the company in that it demonstrated the assay performed consistently across more than 800 patients in studies done in a number of different geographies.
While the studies indicate Vectra DA scores are associated with risk of radiographic progression, the EULAR presentation does not address questions about the test's clinical utility, which has proven to be an issue in recent months — at the end of 2016, Medicare contractor Palmetto GBA issued a draft local coverage determination proposing that it end coverage for Vectra DA, based on factors including a lack of prospective clinical utility data on the test.
The comment period for the draft LCD ended on March 23, 2017, and the draft LCD is "still in the discussion phase," Chernoff said. He added that the company is currently recruiting subjects for a 12-month prospective trial that will follow roughly 265 RA patients who have not been treated with biologics but are candidates for receiving more intensive treatment due to insufficient response to first-line treatment with methotrexate.
The study will look at whether assessing patients with Vectra DA versus conventional measures achieves the same or better clinical outcome while reducing costs. Chernoff said he expected it would take around a year and a half to complete. He added that the company may undertake additional studies depending on what feedback it receives from Palmetto.
In the meantime, he suggested that the recently presented meta-analysis helps bolster the case for the test. Vectra DA is a blood-based assay that measures the levels of 12 proteins associated with rheumatoid arthritis, yielding a test score between one and 100 that is intended to help doctors determine whether a patient has high, moderate, or low RA disease activity.
The test is meant to improve upon or add to existing measures of RA activity, like the DAS28-CRP, which combines measures of joint pain with the biomarker C-reactive protein. According to the meta-analysis, patients with high Vectra DA scores were 5.1 times as likely to develop radiographic progression in one year than those with low to moderate scores. Patients identified as being at high risk based on their DAS28-CRP scores were 1.4 times as likely to show radiographic progression as those identified as low risk by the same test, while those identified as at high risk by their CRP scores alone were 1.6 times as likely to progress.
This, Chernoff said, indicates that Vectra DA picks up likely-to-progress patients who would be missed by conventional testing.
In many cases, Vectra DA agrees with conventional tests like DAS28-CRP, he noted. "But about 20 percent to 30 percent of the time, the Vectra test disagrees with the clinician's assessment."
And the data from previous clinical studies and the recent meta-analysis indicate that in a certain percentage of these cases, the test picks up disease activity missed by traditional measures, Chernoff said. "That is really the power of this."
It is still uncertain how these findings translate into clinical practice, however. Patients with high Vectra DA scores are more likely to exhibit radiographic progression than those with low or moderate scores, but, nonetheless, the majority of patients with high Vectra DA scores will not go on to show radiographic progression.
In the six studies included in the meta-analysis, the test's positive predictive value for identifying patients who would exhibit radiographic progression at one year ranged between 18 percent and 32 percent. That means that the large majority of patients with a high Vectra DA score will not, in fact, show radiographic progression.
Chernoff noted, however, that this was the case for a number of tests used in clinical practice to manage various conditions. He cited the example of the Framingham Risk Score, which doctors use to predict patient risk of cardiovascular events. In the case of that test, he said, patients are considered candidates for statin therapy if their 10-year risk of a cardiovascular event exceeds 7.5 percent.
In comparison, based on the meta-analysis, a high Vectra DA score indicates that a patient's one-year risk of radiographic progression is in the 20 percent to 30 percent range. The company noted that the addition of traditional clinical measures to the Vectra DA score could push the PPV higher.
However, that comparison does not take into account the potential costs, monetary and otherwise, of treating false-positive patients, factors that will be addressed to an extent by the company's ongoing clinical utility study. For heart disease, statins can cause side effects like fatigue and muscle aches, which are "generally well tolerated," Chernoff said.
The potential side effects of RA therapies, on the other hand, are "more significant," he said. "All of these drugs that we're talking about [for RA], particularly the monoclonal classes, TNF-α inhibitors and beyond, are quite immunosuppressive. When somebody is put on those drugs, one has to be careful with respect to infections, making sure the person doesn't have TB or fungal infections."
Additionally, the antibody-based therapies, in particular, are quite expensive, costing in the range of $50,000 per year, Chernoff said.
These factors might suggest why cardiologists appear relatively comfortable using a test like the Framingham Risk Score to guide something like statin therapy, but rheumatologists have not fully embraced using Vectra DA for identifying patients at risk of radiographic progression missed by conventional tests who should receive more intensive treatment.
Chernoff acknowledged the difference between the two scenarios, but said he and Crescendo believed that rheumatologists would become more comfortable using the test in this way as they grew more familiar with it.
"One of the challenges of rheumatology, and I'm a rheumatologist, is that we're far behind everybody else [in fields like oncology and cardiology] in our ability to use stratifiers [like Vectra DA] to predict the future," he said. "Whenever you're first out there, people are skeptical, as they should be, of new data. New ideas take a while to percolate through, but we feel it's an important message to show that all these studies, done all over the place, show the exact same thing."