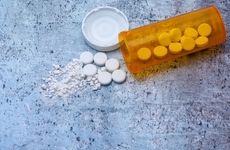 NEW YORK (360Dx) – Researchers at Indiana University School of Medicine, the Indianapolis VA Medical Center, and the Scripps Research Institute are developing gene expression-based biomarkers for a blood-based diagnostic test to measure and quantify pain.
The test could have a positive impact on the opioid epidemic, the researchers said, leading to more precise and alternative treatments for patients experiencing pain.
Earlier this week, they published a study in Molecular Psychiatry involving several hundred participants, which identified and validated gene expression biomarkers of pain and evaluated them in independent patient cohorts.
The researchers identified blood-based gene expression biomarkers that were predictive not only of pain state but also of future emergency department visits for pain, according to Alexander Niculescu, a psychiatry professor at Indiana University School of Medicine and the lead author of the study.
The researchers used three independent cohorts — discovery involving major psychiatric disorders; validation involving major psychiatric disorders with clinically severe pain disorders; and testing involving an independent major psychiatric disorders cohort for predicting pain state and for predicting future emergency department visits for pain.
Using Affymetrix gene expression arrays, they found, for example, that the MFAP3 gene, which had no prior evidence in the literature for involvement in pain, had the most robust empirical evidence and was a strong predictor of pain in the independent cohorts. GNG7, CNTN1, LY9, CCDC144B, and GBP1 were among the other genetic biomarkers with best evidence for association with pain, the researchers said.
In developing the test so far, the research team has tracked the clinical progress of about 200 psychiatric patients — with depression, anxiety disorders, and more severe conditions — who met with clinicians for about 600 patient visits over 15 years.
The researchers began their work by genome-wide gene expression testing and over time reduced the list of genes whose expression had potential associations with pain from 20,000 to 60 that they then tested in independent cohorts for predictive ability.
Every six months, or less, subjects enrolled in the study returned to give blood samples and complete a battery of tests.
Over time, the researchers tracked changes in patients' pain levels and test results, and with help from electronic medical records, the study team also tracked clinical outcomes, including emergency room visits and hospitals visits, Niculescu said.
The researchers looked at molecular biomarkers in the blood that reflect disease severity and used a prescription database to match the pain biomarkers with profiles of drugs and natural compounds. The blood test could, therefore, be used to help physicians match the biomarkers in the patient's blood with potential treatment options, the researchers said. The best treatment is frequently a non-opioid drug or compound, and as a result, the blood test could be an asset for healthcare professionals fighting the current opioid epidemic in the US, Niculescu said.
Indiana University is looking to license the technology and is in discussions with an undisclosed company interested in commercializing a test and taking it through regulatory approvals, he said. 
His goal is to make the blood test as broadly available as possible. "That's why we wanted to identify biomarkers from a readily accessible source, such as blood, so you can use a liquid biopsy as opposed to doing [painful and invasive procedures] that patients generally want to avoid," he said.
The authors anticipate that the test will be first offered by a CAP-accredited, CLIA-certified laboratory and later made available at the point of care in hospitals and doctors' offices, a process that could take anywhere from three to five years, Niculescu said.
"Pain is subjective, and it is difficult for physicians to objectively assess the severity of the symptoms," said Tadafumi Kato, a professor and team leader in the Riken Brain Science Institute in Saitama, Japan, who was not involved in the study. If an objective test for assessing pain can be developed, "it will be useful," he said.
Kato noted that although the study verified the correlation of genes with pain in psychiatric patient populations "it is not known whether the present findings [could be] applicable to general clinical situations, such as terminal care," and further studies are needed to verify this.
David Clark, associate chief of staff for research at the VA Palo Alto Health Care System, said that the study by Niculescu and his colleagues "is very unique."
"A good deal of power is conferred to the approach by using…measures of pain over time and having multiple populations available for study," said Clark, who is not associated with the study.
Also noteworthy is the "list of known molecules and, in some cases, medications that could be used to modify the activity of the identified targets," he said. "While we do not know yet whether the associated genes are really causal in the pain experience, some testable hypotheses were generated."
Clark said he believes that the best immediate use for the identified biomarkers is probably for the identification of analgesic targets and for better understanding the mechanism of pain. "To use these markers to predict pain reliably will take substantial additional study," he said.
Niculescu also said that additional larger studies are needed to establish normative levels and thresholds in the general patient population and in sub-populations. The IU-led team anticipates correlating specific sets of biomarkers to pain types, such as migraines and lower back pain, among others, Niculescu said.
"Just like any other set of clinical markers, this has to [eventually] go through proper [US Food and Drug Administration] channels and be developed in a solid fashion so that it can be useful for clinicians," he said.
With the identified biomarkers, clinicians should be able to not only do a better job of matching patients with appropriate medications, but also monitor a patient's response to treatment, he said.
Further, while over-prescription of opioids has resulted in patients becoming addicted, some physicians are reluctant to prescribe these medications even when patients need them. The blood test could be used in those circumstances to help physicians respond appropriately, Niculescu said.
The biomarkers could also help physicians preparing patients for surgeries to make decisions about prescribing pre-emptive medications that would prevent chronic post-surgery pain, he added.
"Frankly, patients in pain don't need a biomarker to tell them that they are really suffering, but a clinician can really benefit from having something objective to know which medication — and preferably which non-addictive treatment — they should prescribe, know whether the patient is responding to the medication, and understand what the risk is of future events associated with pain for a particular patient," Niculescu said.
Niculescu has co-founded MindX Sciences whose mission is to provide better assessment, tracking, and prediction of feelings, thoughts, and actions with an initial focus on suicide.