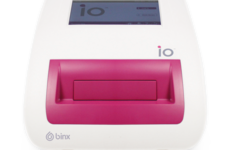 NEW YORK (GenomeWeb) – Aiming to drive greater adoption of tests for sexually transmitted diseases, Binx Health believes it is well placed to benefit from an expansion of services at US health clinics with the development of its rapid point-of-care testing platform, according to CEO Jeffrey Luber.
The Boston-based firm — formerly called Atlas Genetics — recently received a CE IVD mark for its chlamydia and gonorrhea (CT/NG) test running on its Binx io point-of-care platform.
Such a test, which currently covers the two most prevalent sexually transmitted infections and delivers results in about a half hour, can help drive an increase in testing in an infectious disease market where only around 40 percent of people taking a test return for their results, Luber said in an interview. 
While it can take up to 12 days to get the results from a test sent to a laboratory for processing, the firm's POC platform enables users with no laboratory training to run the test and obtain a level of accuracy matching that of a central lab test, he added.
The point-of-care platform — which uses PCR amplification and electrochemical detection — can be placed in many locations, including physician offices, clinics, and retail stories such as CVS, Walgreens, and Walmart that are expanding their healthcare footprints, Luber said.
The firm puts the size of its initial target market in the US — people aged 15 to 35 ­— at between $5 billion and $8 billion annually based on US Centers for Disease Control and Prevention data about the size of the testing population.
"You've got 76 million sexually active young people in the US, and according to the CDC, screening rates are at about 12 percent," Luber said. "Low rates of screening is not a failure of healthcare, because if you are enthusiastic enough to get an STI test, you can go to your doctor and get one. You can get treated, and most STIs are highly curable."
Low screening rates and challenges with people returning to obtain test results stem from the current business model for most STI testing, Luber said, adding, "Not enough people are availing themselves of the traditional, laboratory-based approach to testing."
Highly accurate molecular testing at present is largely confined to laboratories, but MDx products are making some inroads in point-of-care settings. In a move to compete with emerging urgent care centers within retail settings, for example, NorthShore University HealthSystem in Chicago has expanded a pilot project to launch immediate care centers that use point-of-care tests, including the Roche Cobas Liat PCR-based platform.
The challenge to achieving adoption for point-of-care STI testing companies stems from the need to obtain regulatory clearance, said Barbara Van Der Pol, president of the American STD Association and the director of a diagnostic lab at the University of Alabama at Birmingham School of Medicine.
"Currently, we don't have good-quality point-of-care tests available in the US for this application," said Van Der Pol, who is an advisory board member of several diagnostic companies including Binx Health.
With colleagues at the University of Alabama, Van Der Pol recently completed a study conducted over about a year in the university health clinic using the Binx health platform to test for chlamydia and gonorrhea. The university students attending the health clinic collected samples that were immediately tested using the diagnostic platform while the students talked to a clinician. "What we found was that by implementing this shift in how we manage patient flow within a clinical setting, we could have the results available for most people in an average of 12 minutes."
In the study, 85 percent of the students were willing to wait for the result, she said.
The potential availability of the test in the US has implications for achieving compliance in many segments of the sexually active population, including among university students, high-school students, others who are difficult to track after they are tested, and people who are willing to get tested in vehicles equipped with clinics, she said.
Van Der Pol noted that the availability of point-of-care tests that enable broader screening would complement the use of laboratory tests that she also runs in her lab from almost all companies in the STI testing market. It also has implications for the allocation of federal funding for STI testing and treatment because better reporting of testing information provides a stronger basis for allocating funds, Van Der Pol said.
In their study, which is pending publication, the Binx Health platform performed as well as the laboratory tests, and untrained users were easily able to run the tests, she said.
Same company, new name
Founded in 2005, Atlas Genetics was spun out of Bath University in the UK and uses technology developed in its department of chemistry. In October 2018, Atlas was renamed Binx Health and announced a mission to redefine "new categories of convenient testing where people live, work, and shop."
On the heels of receiving the CE-IVD mark, the firm recently completed a multi-center clinical study — including 17 US healthcare sites and 5,000 patients ­— in preparation for applying to the US Food and Drug Administration for clearance of its CT/NG test.
Binx Health is applying for clearance under the agency's 510k pathway with a point-of-care designation, which would permit its use in laboratories cleared to run tests that are deemed to be moderately complex, Luber said.
The firm also has plans to initiate a study to obtain a CLIA waiver that would enable placements in physician offices, clinics, and additional settings, Luber said.
Such a clearance requires that the test be able to operate in push-button fashion in the hands of an untrained user. A mobile option of the test enables physician-ordered, medical guideline-based testing online, the firm said.
Among the market dynamics in favor of the Binx Health POC test obtaining adoption, reimbursement codes already exist for its testing for chlamydia and gonorrhea, so the firm didn't have to devote resources to obtaining new codes.
Further, the firm has seen the value of publishing the results of studies involving its platform in peer-reviewed publications, Luber said.
For example, in a pilot study published last year in the journal Sexually Transmitted Diseases, a team at Johns Hopkins University tested Binx Health's rapid point-of-care test for Chlamydia trachomatis at clinics in Maryland and Ohio.
The investigators reported that the study — consisting of 296 patients — provided an accurate positive result 93 percent of the time and an accurate negative result 99 percent of the time from vaginal self-obtained swabs. That study validated the sensitivity and specificity of the test and showed that most women are willing to wait in the doctor's office for the result of a rapid POC result in order to be treated promptly, according to Binx Health.
The platform also could be expanded beyond STI testing. Almost any kind of molecular testing done by PCR could be implemented, Luber said.
"We're starting in STIs, but we're going to move into women's health, and then we're going to move into family health because the machine has got that kind of power," he said. "Over time, we could expand — probably with partners and by doing some research collaborations — into other areas of STI testing."
Women's health is a suitable target market because "frankly women are the healthcare decision makers for their families," he said.
The first new test in its development plan is a multipanel assay that includes testing for trichomonas- and mycoplasma-based infection in addition to chlamydia and gonorrhea.
Given the growing importance of being able to rapidly identify the correct bug causing an infection and then prescribing the correct antibiotic, the firm is working on a gonorrhea-resistance test, he noted, adding that his vision involves eventually broadening the test menu to potentially include point-of-care tests for bacterial vaginosis, respiratory conditions, strep B, and urinary tract infections.