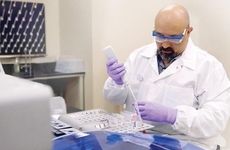 NEW YORK (360Dx) – While known primarily as a blood plasma-based products firm, Grifols has progressively built up its diagnostics business. Now, those investments are showing up in both the firm's top and bottom lines.
On Friday, the company reported revenues in its diagnostics division rose by 11 percent during the first half of 2017 to €351.1 million ($410.8 million), compared to €316.8 in the first half of 2016. For the second quarter of 2017, diagnostic sales were up 16 percent year over year, the firm said.
Representative of Grifols' emphasis on the diagnostics space, which began in earnest about three years ago, is its $1.85 billion cash purchase earlier this year of Hologic's share in an existing joint-business for NAT-based blood screening.
According to Dawn Rossin, Grifols' president of global diagnostics marketing, the deal was a bottom-line play to drive greater profitability. In addition to changing the company's cost position and profitability model, Rossin said, "it gives us freedom to operate and allows us to control our own destiny related to what we're going to do from a product development standpoint." Specifically, the deal gave the firm control over manufacturing and its manufacturing capabilities. It also gave Grifols the ability to drive efficiencies, which could further enhance the firm's current cost position from where it is today, she noted.
For top-line growth, Grifols diagnostics business is pursuing a mix of initiatives that include not only sales of nucleic acid-based blood screening products but also sales of specific antigens to diagnostic test developers and of tests for blood typing, a business that is a small but a fast-growing part of its portfolio, according to Grifols.  
"What you're seeing is not just one, but multiple initiatives impacting our sales growth," Rossin said.
While the Hologic deal is a bottom-line play, earlier asset acquisitions are now helping to accelerate top-line growth, Rossin noted.
Notable among them are the deal to purchase Novartis' share of an existing joint business, a transfusion diagnostics unit, for $1.68 billion, completed in 2014, and its 60 percent investment in 2013 in Progenika, which develops and produces molecular diagnostics and DNA chips for disease diagnosis and prognosis.   
The growth spurt in Grifols' diagnostics division began with the Novartis deal, which provided it Novartis' diagnostic products for transfusion medicine and immunology, including its nucleic acid amplification techniques, instrumentation, and equipment for blood screening, specific software, and reagents. As part of the deal, Grifols also acquired a production plant in Emeryville, California that it recently expanded and commercial offices in the US, Switzerland, and Hong Kong.
The firm's executives said at the time of the deal that "The acquisition of Novartis' diagnostic business is a step further into our vision to become a world leader also in the diagnostics field."
The transaction boosted the weight of Grifol's diagnostics business to 18.5 percent of company revenues that year, up from 4.8 percent in 2013.
Rossin also highlighted the firm's investment in Progenika as a sales accelerator within clinical diagnostics and transfusion medicine.
Grifols sells Progenika kits that detect a patient's levels of biological drugs and their levels of antibodies to drugs. Grifols has CE marking for the assay, and is marketing the test in Europe and other countries that accept the label. It is also offering testing as a service in the US from its CLIA-approved lab.
Grifols also offers a blood-group genotyping test, developed by Progenika, that optimizes blood types for patients. It is presently providing the test as a research-use-only assay and as a service from its CLIA lab, while simultaneously pursuing US Food and Drug Administration clearance.
Another benefit of the Progenika business is its scientific and test development expertise, Rossin said, adding that Grifols is leveraging its expertise in developing a proof-of-concept test for blood screening using Singulex's single-molecule technology. 
In 2016, to further bolster its diagnostics business, albeit in the long term, Grifols invested $50 million in Singulex and licensed rights to use the firm's single-molecule counting technology — which allows for the detection of single molecules such as proteins and metabolites in complex biological samples — for use in blood donor and plasma screening.
The two companies have begun work on developing immunoassays to screen blood that has been donated for infectious pathogens, including HIV, hepatitis C virus, and hepatitis B virus, Singulex said.
"The technology allows you to have an extremely sensitive immunoassay, with better sensitivity potentially than any serology assay on the market," Rossin said.
The Singulex-Grifols project is planned with an eye to launching a product beyond a five-year horizon, she noted, and the proof-of-concept test is being designed to be complementary to its other blood and plasma screening tests used in transfusion medicine applications.
Another growth initiative is an exclusive long-term agreement inked with Beckman Coulter in June for the global distribution of Grifols' hemostasis instruments, reagents, and consumables.
Although the deal materialized this year, it had been in the planning for a while. A few years ago, Grifols began analyzing ways of expanding its hemostasis product portfolio.
"We are a manufacturer of hemostasis automated instruments, reagents, and consumables, and we began to realize that while going it alone was one option, exploring partnerships was another," Rossin said, "and that's where Beckman Coulter comes in."
The deal helps Grifols, whose diagnostics products are mostly in transfusion medicine, while Beckman Coulter has "a lot more infrastructure in areas specific to hematology and hemostasis that we don't have," Rossin added.
She noted that although the deal is a good fit for both companies, it will take time for products to launch, especially in some countries where they need to register products and where Grifols doesn't play.
The firms expect that under the distribution agreement, the first commercial systems will be available in Europe in early 2018. The products will remain Grifols-branded, but be exclusively distributed by Beckman Coulter.
In April, in another deal referenced by Grifols as a contributor to top-line growth, the firm said it extended its arrangement with OraSure Technologies to supply antigens for OraSure's OraQuick HCV Rapid Antibody test. The assay is approved for qualitatively detecting hepatitis C virus antibodies in whole blood obtained using a fingerstick or venipuncture.
The agreement is part of Grifols' antigen supply business, which received a boost from the acquisition of assets from its former joint business with Novartis, Rossin said. Unlike the Beckman Coulter agreement, the antigen supply business is driving current sales, she noted.
Even as Grilfols expands its reach in the diagnostics space, transfusion medicine remains a primary focus, and transfusion medicine products comprise 95 percent of Grifols' diagnostics portfolio. On Friday, Grifols reported that in the first half of this year, within the transfusion medicine segment, the increase in sales of nucleic acid technology systems for virological screening of blood and plasma donations was driven in part by greater market penetration in the Asia-Pacific region, and the rollout of a Zika virus screening test in the US, which obtained FDA authorization for Investigational New Drug use in 2016. Since May, the test has also been available in blood banks that accept the CE mark.
For the NAT segment, Grifols is developing new tests for emerging viruses. In the second quarter of the year, the FDA granted IND status for a new test for babesiosis to be applied in US blood banks. The test detects the presence of the four species of the Babesia parasite that can be transmitted to humans.
The firm said that in the first half of 2017, sales of antigens used in the production of diagnostic immunoassays, which are being marketed within the framework of a joint-business agreement with Ortho Clinical Diagnostics, also contributed to the diagnostics division upturn in revenues.
Within its blood typing product line, the firm launched a fully automatic, mid-sized analyzer that performs pre-transfusion compatibility tests in the US. The system optimizes workflow efficiency and improves daily workloads by allowing laboratories to adapt the system to their specific needs, Grifols said.
And during the second quarter, Grifols expanded its specialty diagnostic testing portfolio by adding a new diagnostic test based on the human genomic DNA ID RhD XT, which enables the molecular detection of the most relevant variants of the RhD gene that determine Factor D, which is of importance in pregnant women. In May 2017, the company's CLIA-certified laboratory in San Marcos, Texas, launched a series of test for this product line to monitor biological therapies under its TDMonitor brand.