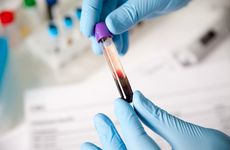 NEW YORK (GenomeWeb) – Liquid biopsy technologies gained one of their first solid footholds in the clinical care of cancer patients this past year. At the same time, researchers turned their eyes to proving utility in other niches, and funders poured support behind companies who hope to translate these approaches to the early detection and even prevention of cancer.
Late 2016 saw the first US Food and Drug Administration approval of a blood-based tumor mutation assay, Roche's Cobas EGFR Mutation Test v2 as a companion diagnostic for AstraZeneca's Tagrisso (osimertinib) in lung cancer. But it was over the last year that clinicians really began to demonstrate an acceptance of liquid biopsy in the care of lung cancer patients, establishing this niche as a proving ground for the technology.
Non-small cell lung cancer makes sense as a first step in clinical adoption of non-invasive tumor tests. Taking tissue from late-stage lung cancer patients carries serious risks, and perhaps equally as important, there are numerous molecularly targeted therapies now available for this subset of cancers, which all require the identification of genomic mutations to inform their use.
In years past objections to liquid biopsy centered on data that had shown discordance between the genetic features discovered in circulating cell-free DNA and those from tumor tissue samples in the same patient. Sometimes mutations appeared in cfDNA that hadn't been seen in a biopsy, or liquid biopsies failed to detect mutations known to be present in tumor tissue.
Clinicians now appear to be moving past these concerns, recognizing that, at least in NSCLC, the benefit of being able to test patients who can't be biopsied or who need a rapid result outweighs the drawbacks of a missed or mistaken mutation.
For the first time, practice guidelines specifically mention liquid biopsy as an option, with the National Comprehensive Cancer Network specifically stating that plasma biopsy should be considered in NSCLC if tissue biopsy is not feasible.
But discussion at scientific meetings over the last year has also suggested that in practice, blood-based lung cancer tests are increasingly being ordered not just for patients for whom biopsy is impossible, as defined by the FDA's language in regard to the Roche Cobas assay, but also as a rapid diagnostic alongside or before tissue-based testing.
Liquid biopsy firm Biocept, for example, launched a marketing campaign during the year to try to encourage clinicians to order a liquid test alongside tissue testing at the time of diagnosis as a standard practice.
Researchers also began to share some of the first direct evidence in 2017 that liquid biopsy testing and subsequent targeted therapy improve patient outcomes in a way that looks consistent with what was seen in pivotal pharmaceutical trials that used tissue-based genetic testing.
Multiple assays
Despite the fact that the Roche EGFR assay is the only liquid biopsy test yet approved by the FDA, researchers and clinicians reported in 2017 that they are embracing other approaches that they believe either interrogate EGFR more sensitively or that offer broader profiling of multiple mutations or genes.
Clinicians and researchers at Dana Farber, for example, have embraced droplet digital PCR to create in-house assays, while others are using commercial tests from companies like Inivata.
During the Association for Molecular Pathology's annual meeting this fall, representatives from Cancer Genetics, discussed their adoption of ThermoFisher's Oncomine Lung cfDNA assay, which provides the backbone for a test CGI calls Liquid::Lung-cfDNA.
And MD Anderson announced a collaboration with Guardant Health this year aimed at moving liquid biopsy into the standard of care, under which it pledged to name Guardant's clinical test, Guardant360, as the "test of choice" for its physicians.
In May, Medicare contractor Palmetto GBA also released a draft local coverage determination for Guardant360, proposing limited coverage for the test in patients with advanced NSCLC who are not eligible for tissue-based testing — either because their biopsy tissue is insufficient, or because a biopsy is not possible for medical reasons.
This type of reimbursement nod could accelerate the use of the more comprehensive Guardant assay over single-gene tests like the Roche Cobas kit and similar homebrewed laboratory tests.
Establishing utility elsewhere
With testing of advanced lung cancer patients gaining a foothold in the clinic, researchers turned a significant amount of attention over the last year to demonstrating validity and utility of liquid biopsy technologies in other cancer types, treatment niches, or clinical indications.
One area that received significant attention was the use of blood-based tests to monitor patients' response to ongoing therapy, or to measure the efficacy of curative treatments in early disease, providing a risk assessment for later recurrence.
While clinical researchers have largely said they view these efforts as experimental, multiple companies have already begun to market tests using circulating tumor DNA, CTCs, or other analytes to scan the blood of patients for early signs of a recurrence.
Cynvenio Biosystems, for example, launched a blood-based monitoring service to track disease status or to surveil for early signs of recurrence in breast cancer patients.
Earlier in the year, a team from Denmark and the Netherlands reported on development of ddPCR assays to aid disease surveillance in patients with bladder cancer by picking up progression and metastasis earlier and more sensitively. And Resolution Biosciences shared data from a study of a new assay for small-cell lung cancer, aimed at monitoring the disease burden of patients in treatment as a way of assessing therapeutic effectiveness.
Another area that seems to be relatively low-hanging fruit for blood-based tumor testing is the analysis of cancers of unknown primary origin. In August, a UC San Diego-led team published a study using the Guardant360 test, which they concluded could make it possible to uncover treatable genomic alterations in a significant number of patients presenting with CUP.
Meanwhile, companies like Foundation Medicine, Personal Genome Diagnostics, and Guardant are also making strides to demonstrate the potential of circulating DNA analysis in predicting response to immunotherapies.
Foundation said in September that it is advancing a blood-based version of its tumor mutational burden test as a companion diagnostic to Roche/Genentech's immunotherapy drug Tecentriq (atezolizumab) in first-line treatment of non-small cell lung cancer patients.
PGDx said in February that it is developing a similar test that requires sequencing a much smaller panel of genes to infers a patient's overall tumor mutation load. And Guardant has mentioned its own plans in this area as well.
Early detection
As blood-based methods move into clinical use through these narrower channels, the year also saw a crystallization of ambitious efforts, and significant funding coalescing around projects that seek to take this basic concept of liquid biopsy and move it into the sphere of early detection of cancers or even pre-cancers.
The biggest names in this endeavor, Grail and Freenome, both netted large investments last year. Freenome nabbed a total of about $72 million in Series A funding, and Grail reported a $900 Million series B.
Guardant Health also said in May that it had raised $360 million to support an effort to sequence 1 million cancer patients, as well as other ongoing studies that it is conducting to try to validate its own approach in detecting incipient or early cancers. The firm's CEO and Co-founder Helmy Eltoukhy said this week that the company's "Project LUNAR" studies are progressing apace.
Grail's $900 million in funding, meanwhile, is supporting efforts in product development and the validation of its tests for early-stage cancer detection, including what it calls the Circulating Cell-free Genome Atlas study.
The company shared the first data this year that speaks to some of the methodology it is developing and implementing in a presentation by Memorial Sloane Kettering researchers at the June meeting of the American Society for Clinical Oncology.
Freenome Chief Scientific Officer Imran Haque recently authored a commentary piece with Weil Cornell biophysicist Olivier Elemento discussing the rationale behind the approach Freenome has taken, which it has said involves machine-learning techniques to train detection methods that combine patterns in circulating tumor mutations with other measures of the presence of a tumor, such as immune response markers, and metabolic changes.
Published as a preprint at bioRxiv, the perspective presents a reanalysis of published data on cell-free DNA and ctDNA allele fractions, concluding that under conservative technical assumptions, high-sensitivity cancer detection by ctDNA mutation detection alone would require either more blood volume than practical for a routine screen, or sequencing methodologies that "will likely remain out of economic reach for routine population screening without multiple-order-of-magnitude decreases in sequencing cost."
"When you bring a product to market, you have to be able to make guarantees for its claims," Haque said in an interview this week. "If you say your test has a limit of detection of 0.01 percent and you get a sample in which you can't do that, you are obligated to issue a no-call."
"If you are saying you can detect one M&M in 1,000, you have to [start with] a jar with 1,000 M&Ms."
Although firm's like Grail have discussed less about the possibility that they are combining ctDNA analysis with other measures, there is little reason to expect that other companies in the space — Grail, Guardant, and others — are proceeding without considering that circulating mutations alone may not be the best way of picking up incipient tumors.
Academia has also been investigating combination strategies. For example, in a study published in September in the Proceedings of the National Academy of Sciences, researchers from Johns Hopkins University reported that combining circulating DNA sequencing with measurement of four blood-based protein biomarkers enabled them to detect early-stage pancreatic cancer in 64 percent of a cohort of patients compared to only 30 percent for ctDNA analysis and 49 percent for protein analysis.
Another open question as early detection companies put the large caches of money raised this year to work, is whether it will be practical or possible to develop broad pan-cancer screening strategies, or if tests will be broken down by the different cancer subtypes.
Haque said that Freenome isn't discussing its own findings in this regard, but said that regardless of the biochemistry aspect of the question, there are practicalities to be considered with the existing systems for test reimbursement and regulation still structured for a division of cancer into biological subtypes.
There was some evidence this year that Grail may be moving in the direction of subdivided tests, despite having espoused a pan-cancer strategy when it launched. In August, researchers presented results from a large, prospective study in the New England Journal of Medicine, suggesting that monitoring for circulating, cell-free tumor DNA biomarkers can help in detecting tumors in individuals who do not yet show symptoms of nasopharyngeal cancers.
Authors of the study are connected with Chinese molecular diagnostics firm Cirina, which was acquired by Grail earlier this year, leading some industry analysts to speculate that Grail could be targeting the launch of a nasopharyngeal cancer-specific test in Asia.