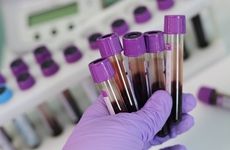 NEW YORK – Guardant Health said this week that it is making progress with its application to the US Food and Drug Administration for pan-cancer approval of its liquid biopsy profiling assay Guardant360, which it intends to file this year.
The firm also saw publication this week of a study assessing the accuracy of the blood-based microsatellite instability (MSI) assessment that Guardant already provides as part of its non-FDA approved testing. Appearing in Clinical Cancer Research, the report concluded that MSI results from Guardant360 were the same as the standard-of-care tissue test in more than 98 percent of a cohort of more than 1,000 patients.
MSI analysis has become a crucial aspect of a new arm of pan-cancer, or tumor-agnostic precision oncology, especially after the FDA's 2017 approval of a tissue-agnostic, biomarker-guided indication for Merck's Keytruda (pembrolizumab).
Thus far, when FDA has approved comprehensive sequencing tests, like Foundation Medicine's tissue-based assay FoundationOne CDx, it has marked only some of the genes covered by the test as holding officially endorsed companion diagnostic indications. 
Such distinctions may come into play for test reimbursement, as under the Centers for Medicare and Medicade's finalized national coverage determination for next-gen sequencing assays, it pays for tests that garner FDA approval regardless of cancer type, but in consideration of specific product labeling.
In Foundation's case, MSI was not one of the CDx indications initially listed in the FDA's test approval documentation for FoundationOne CDx. But the company has been working with Merck since 2018 to establish an MSI indication for the test to guide treatment with pembrolizumab. The firm also received breakthrough device designation from the FDA last year for its own liquid biopsy assay, with plans to pursue approval of that test not only for mutations but also for MSI and tumor mutational burden.
Guardant has not specified whether its own bid to the FDA, which it intends to submit in the third quarter of this year, specifically includes an MSI CDx indication. But the company has been putting significant work into building evidence for its platform's ability to measure MSI.
"It is not something that is straightforward to do in blood," Guardant CEO Helmy Eltoukhy said during a conference call Discussing Guardant's Q2 earnings this Tuesday. "There was a lot of work that the team did to be able to provide [this kind of] data this robust in this setting," he added.
In the recently published study, researchers from a variety of institutions — led by MD Anderson's Jason Willis — compared MSI status determined using Guardant360 to tissue-based MSI status recorded in patient medical records for 1,145 samples representing 40 cancer types.
To develop a way to glean MSI from the limited coverage of Guardant's liquid biopsy sequencing panel, the company used healthy donor samples to identify informative loci that could be effectively captured, sequenced, and mapped, and which were associated with little variation within microsatellite-stable samples. Overall, the team picked 90 microsatellite loci for inclusion in the final test version: 89 mononucleotide repeats and a single trinucleotide repeat.
Guardant's digital sequencing methodology and error correction mechanisms also come into play in the technique, allowing highly accurate differentiation of cancer-related signal from background noise.
When they applied the resulting discriminator to samples with tissue-based MSI status determined by immunohistochemistry, PCR, and NGS methods, investigators found that the results from Guardant360 were the same as the standard-of-care tissue test in more than 98 percent of cases.
In the report, Guardant also described results it has seen in 28,459 consecutive advanced cancer patient clinical samples tested for MSI in its clinical lab. According to the authors, 278 samples in this cohort, comprising 16 different tumor types, were identified as MSI-high, corresponding to an overall pan-cancer prevalence of approximately 1 percent, similar to that previously reported for tissue.
Although the distribution of results among cancer types reflected tissue-based findings, the Guardant team reported a susbstantial diagnostic yield for their blood-based MSI assessment outside of the tumor types for which MSI is commonly tested. "More than half of the identified cases occurred in tumor types in which MSI testing is very uncommon and thus identified patients that would otherwise never have been tested," the authors wrote.
The authors claim the study also provides the first report of immune checkpoint inhibitor therapy outcomes in MSI-high patients as determined by liquid biopsy, rather than tissue. In a cohort of 16 MSI-high gastric cancer patients treated with immune checkpoint inhibitors, investigators recorded an objective response rate of 63 percent and disease control rate of 81 percent, consistent with what would be expected from earlier studies using tissue testing.
Eltoukhy said that Guardant sees MSI as having paved the way for what is expected to be a new era of tumor-agnostic biomarkers and tumor-agnostic oncology practice.  Following its approval of pembrolizumab in 2017, FDA went on to approve a second tumor-agnostic precision oncology drug, Loxo Oncology's TRK inhibitor larotrectinib (Vitrakvi) for the treatment of patients with solid tumors characterized by an NTRK gene fusion. And the hunt is on for the next breakthrough of this kind.
"We think that [MSI and other tumor-agnostic features] are something that is going to continue to drive clinical adoption of comprehensive genomic profiling technologies," Eltoukhy added.
Guardant is not alone in recognizing this. In addition to Foundation Medicine, sequencing firm Personal Genome Diagnostics also got a breakthrough device designation in 2018 for a blood-based NGS assay that putatively includes both mutation analysis and MSI assessment.
Memorial Sloan Kettering has also included MSI analysis in its liquid biopsy assay MSK-ACCESS, which received New York State approval this June. Under the FDA's new treatment of NGS tests, it has accredited the New York State Department of Health as a third-party reviewer of IVDs, meaning lab tests that have been approved by NYSDOH do not need to submit a separate 510(k) application to the FDA, but can have their dossier forwarded automatically to the agency for possible clearance.
According to Guardant officials, the company remains on track to file for pan-cancer FDA approval in coming months. This certainly holds financial weight for the company. But discussing the prospect during the  earnings call, Eltouky said that the expected finalization of its pan-cancer local coverage determination from Medicare contractor Palmetto by the end of this year has also "decoupled a lot of the reimbursement issues that were initially coupled with FDA approval."
If finalized, the Palmetto decision would provide coverage for Guardant360 for advanced solid tumors when tissue-based genomic analysis is not possible or when tissue testing for non-small cell lung cancer hasn't identified actionable mutations, for patients considering treatment with a drug with a biomarker-defined indication that is FDA approved or is recommended by the National Comprehensive Cancer Network.
Since MSI is an FDA-approved biomarker for treatment with pembrolizumab, that would imply that use of Guardant360 in this indication would be covered, as long as patients meet the other described criteria.
During the firm's earnings call, Guardant CFO Derek Bertocci estimated that about a third of the Medicare-eligible patients that Guardant already tests are covered by its existing lung cancer-specific LCD. The new pan-cancer LCD should increase that "significantly," he added.
But because it stands to expand coverage beyond the LCD-specified subset of patients for whom tissue-based genomic analysis is not possible, CMS' NGS national coverage determination — which would be triggered for Guardant by FDA approval of the test — should offer an even bigger boost, increasing coverage to about 85 percent of the company's Medicare-eligible test volume, which is about 38 percent of its total volume.
"As far as the private payers it will take time," Bertocci added. "They tend to lag a bit in terms of adopting new technologies. So that is probably a slower evolution over an extended period."