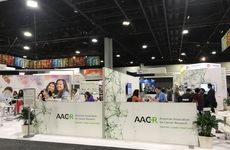 ATLANTA (GenomeWeb) – Although researchers are cognizant of the challenges that face them in proving validity and utility for their methods in the clinic, experiments with blood-based biomarkers for early cancer detection, diagnosis, and risk stratification continue to multiply, featuring genomics, other molecular signals, cell-based assays, and even the use of machine learning in legacy platforms like flow cytometry.
In a scientific session at the annual meeting of the American Association for Cancer Research on Sunday, investigators presented data from a diverse set of efforts as audience members and session leaders discussed the challenges that various approaches may face in advancing to the clinic.
Boston University professor Avrum Spira challenged attendees to be critical of where in the clinical workflow biomarkers discussed in the session would be located, and how they might change clinical management of patients. A second question to consider, he added, is "what is the biological plausibility underlying the marker and its association with the outcome being measured?" Other important questions include what the weight of the evidence being shared might be. "What is the training and testing set used … and is the performance significant enough to change clinical management?" he asked.
Guardant Health's presentation of early sensitivity and specificity results for its combined somatic and epigenetic circulating cell-free DNA approach in colorectal cancer garnered significant attention at the meeting. But a number of other promising efforts were highlighted, including the use of individualized ctDNA assays to monitor treatment and relapse, development of combined protein signatures, urine-based genomic testing for risk prediction, and machine learning to improve cell-based assays.
In one discussion, Aarhus University researcher Emil Christensen shared data from a study, conducted with Natera, assessing its Signatera assay technology in early risk stratification and therapy monitoring for patients with bladder cancer.
The group recruited 68 patients with localized advanced bladder cancer and performed whole-exome sequencing to identify an individualized panel of 16 somatic mutations that would then be used to test blood samples for each subject. Overall, investigators assayed more than 600 blood samples from patients before and during chemotherapy, before bladder removal surgery, and at various time points afterward.
According to the authors, the presence of ctDNA in a patient's Signatera result was highly prognostic at diagnosis and before initiation of therapy. As patients were treated with chemo, clearance of ctDNA mutations mirrored pathological down-staging and correlated with a reduced risk of disease recurrence. In contrast, individuals for whom ctDNA mutations persisted during therapy were less likely to be pathologically down-staged, and more likely to recur.
After bladder removal surgery, the team saw that ctDNA was present before 92 percent of the metastatic relapses in the cohort, with a lead time over radiologic imaging of 100 days on average.
In another presentation, Andi Cani, a researcher at the University of Michigan, reported on he and his colleagues' effort to improve on their existing urine-based prostate cancer risk prediction assay — Mi-Prostate Score — by integrating targeted next-gen sequencing of a panel of transcriptomic biomarkers.
The original MiPS assay combines serum PSA, with the measurement of urinary TMPRSS2:ERG fusion and PCA3 lncRNA. Hoping to improve on the performance of MiPS, the team used RNA-seq data to identify a group of about 90 additional markers, which they dubbed NGS-MiPS.  These included the content of the original assay, alongside isoforms of common PCa gene fusions, and a variety of other mRNA and lncRNA targets.
Assay training work allowed the team to narrow it to a 29-transcript assay that outperformed both PSA and the original MiPS test in two small validation cohorts.
University of Missouri investigator Yariswamy Manjunath also discussed an effort at his institution to validate a circulating tumor cell detection method for differentiating between benign lung nodules and likely cancers in individuals undergoing low-dose CT screening.
He and his coauthors studied blood samples from 136 individuals enrolled in a prospective observational trial screening high-risk subjects with LDCT, using a strategy combining microfilter isolation and immunofluorescent staining of extracted CTCs for not just EpCAM, but also CD14/45, PD-L1, vimentin, and N-cadherin.
According to the group, setting a threshold of 12 or more CTCs yielded an accuracy of 96.1 percent in discriminating patients diagnosed with lung cancer from those who were not.
Other talks during the session included a presentation by Anixa Biosciences on its application of machine learning to flow cytometry to create an algorithm for differentiating aggressive versus benign prostate tumors via immunophenotype patterns in myeloid-derived suppressor cells and lymphocytes. University of Pittsburgh authors also reported on a combined protein assay — measuring MIF, OPN, and IL-8 autoantibodies alongside CE125 to improve the ability to detect early-stage ovarian cancer.
Discussing the promise of the various projects described in the session, Memorial Sloan Kettering oncologist Luis Diaz echoed Spira's introduction cautioning that the group of studies represent early-stage efforts "akin to preclinical or early-phase development of a drug."
For screening, especially potential future pan-cancer screening, "the challenge for all of us is to continue to push in this early preclinical development for the highest specificities we can and then to take the most promising findings and bring them to [much] larger cohorts," Diaz said.
But emerging in these and other efforts, he added, is also a recognition of how the challenge or ease of clinical translation depends on the specific clinical application. "All of this has to be distilled down to a clinical action that has a meaningful impact on outcome," Diaz said.
"In diagnosis and stratification it's slightly different," he added. "In the case of low dose CT, the stringency of that test is very different from screening because that is stratifying from a procedure that everyone is going to get anyway, which is biopsy."
Similarly, efforts like the Michigan team's in prostate cancer benefit from the fact that existing risk stratification tools like PSA offer so much room for improvement. And for Guardant, a specific application to colorectal cancer — where a screening paradigm and follow-up (in the form of colonoscopy) is already established — may mean a lower bar for sensitivity.