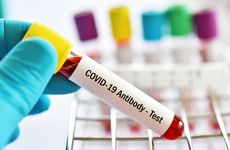 NEW YORK ─ As the world enters the third year of the COVID-19 pandemic, the clinical role of tests to detect antibodies against SARS-CoV-2 continues to remain an open question, though some believe that they could have use in vaccination efforts.
Compared to PCR and antigen tests that detect SARS-CoV-2 infection, serology tests, also known as antibody tests, have had a limited role in testing during the pandemic, largely because they detect an infection that has already passed when detecting current infection is so critical.
Additionally, not enough is known about whether antibody levels or which antibody levels correlate with immunity, further curtailing antibody test adoption.
"We saw great promise for antibody testing early in the pandemic, and quite honestly much of it has evaporated," said Nathan Ledeboer, medical director of the clinical microbiology and molecular diagnostics laboratories at Medical College of Wisconsin. "Many laboratories, our own included, built a lot of capacity for antibody testing, and the request for testing never came."
But others also see serology tests as potentially having a significant role in the future for managing COVID-19. To date, nearly 90 SARS-CoV-2 serology tests have received Emergency Use Authorization from the US Food and Drug Administration. None are authorized for diagnosing the disease. Rather, they are for use to detect the presence of antibodies against SARS-CoV-2 to determine whether an individual has had a recent or prior infection with the virus.
"A significant number of people stand to benefit from knowing their antibody levels," which reflects both the clinical and research value of the tests, said Kerstin Wagner, executive VP of global marketing and sales operations for diagnostics at Erlanger, Germany-based Siemens Healthineers.
IVD manufacturers continue to develop, launch, and seek authorization for antibody tests, which use patient blood to detect antibodies produced by the immune system. Of most interest, currently, are assays that measure quantities of neutralizing antibodies. If enough evidence emerges from research studies to show that antibody levels correlate with immunity, that could drive greater uptake, according to numerous IVD industry experts.
According to Wagner and others, antibody tests are being used to determine SARS-CoV-2 prevalence in segments of the population; inform treatment for COVID-19 patients who are immunocompromised or otherwise vulnerable to infection; provide results of antibody levels for people and their physicians who believe that antibodies may confer protection or immunity from the virus; and to track antibody levels in long-haul COVID-19 patients.
Siemens received US Food and Drug Administration Emergency Use Authorization for its semi-quantitative laboratory-based serology tests in August 2020. The Advia Centaur SARS-CoV-2 IgG (COV2G) and Atellica IM SARS-CoV-2 IgG (COV2G) were the first authorized tests to estimate the quantity of a patient's antibodies produced against SARS-CoV-2 infection.
Siemens said that most of the antibody assays it produces are being run on its test systems in large reference laboratories and academic labs. One such reference laboratory, Secaucus, New Jersey-based Quest Diagnostics, said it has conducted about 7.8 million serology tests since it began to provide SARS-CoV-2 testing in early 2020, 7.5 percent of its overall testing for SARS-CoV-2.
Quest makes "SARS-CoV-2 antibody testing available for clinicians and patients who would like to gain insight into whether or not they have been exposed to SARS-CoV-2 and have developed antibodies, or if they've developed a potential immune response to a spike vaccine," a company spokesperson said in an email.
Ortho Clinical Diagnostics' head of medical, clinical, and scientific affairs, Ivan Salgo, said that his firm's laboratory-based serology tests for SARS-CoV-2 are being used to "detect antibody responses to infection, support broad population screening, and support the understanding of immune response to the SARS-CoV-2 virus."
Last July, the FDA granted EUA to Ortho for its Vitros Anti-SARS-CoV-2 IgG Quantitative test, a chemiluminescent immunoassay for the qualitative and quantitative detection in the laboratory of immunoglobulin G against SARS-CoV-2 in serum and plasma.
The firm had obtained CE marking in March for its Vitros Anti-SARS-CoV-2 Total 2 Antibody assay and Vitros Anti-SARS-CoV-2 IgG 2 Antibody assay for the qualitative and semi-quantitative detection of COVID-19 antibodies in laboratories.
According to Salgo, a broad range of customers are using Ortho's antibody assays including large multisystem healthcare facilities, government agencies, blood banks, and community hospitals. Antibody assay utilization slowed, he said, as more PCR and antigen tests became available during the pandemic, but serology testing "remains an important tool for clinicians and researchers." With vaccinations on the rise and more people wanting to know whether they need a vaccine, "antibody tests are seeing a resurgence," he said.
Many manufacturers launched antibody tests early in the pandemic anticipating that being able to gauge the immune response would play a significant role in disease management. Now, "there is less excitement about antibody testing," but it can still have an important role during the pandemic, Wagner said. Manufacturers are continuing to develop and launch tests to quantify levels of neutralizing antibodies to serve current uses and with the belief that enough evidence may emerge that antibodies confer protection, she added.
Lagging expectations
Nonetheless, antibody testing has significantly lagged early adoption expectations, and despite hopes to the contrary, the assays have never been suitable for SARS-CoV-2 diagnosis.
According to the FDA website, "In the early days of an infection when the body's adaptive immune response is still building, antibodies may not be detected. This limits the test's effectiveness for diagnosing current COVID-19 and is one reason serology tests should not be used to diagnose or exclude acute COVID-19 infection."
Also hindering the adoption of such tests was a flood of antibody tests for SARS-CoV-2 of questionable quality early on during the pandemic.
In March 2020, an FDA policy permitted developers to market their tests without an EUA if the assay was validated and the FDA was notified, among other conditions. The agency introduced the policy to facilitate early access to serology tests for laboratories and healthcare providers, and developers of at-home or point-of-care serology tests still had to have their tests authorized by the FDA.
An FDA official who requested anonymity said recently that local, state, and federal government officials at the time began declaring that antibody tests "were essentially a passport to opening up the economy."
"This, of course, was not true because the test can't tell you that you have effective immunity," he added.
The pace of antibody test authorizations has markedly slowed, but the FDA believes the assays can still play a role in disease management. "Studies are underway to address questions that will better inform the appropriate use of these tests, such as whether the presence of antibodies conveys a level of immunity that would prevent or reduce the severity of re-infection as well as the duration for which immunity lasts," the FDA noted on its website.
Since it launched its EUA policy at the beginning of the pandemic, the agency has authorized 402 tests and sample collection devices, including 268 molecular tests and sample collection devices, 87 antibody and other immune response tests, 43 antigen tests, and four IVDs for managing COVID-19 patients as of Jan. 6, 2022.
The most recent new EUA for an antibody test for COVID-19, however, dates back to October. Though no assay is currently authorized by the US FDA to detect or measure vaccine response, "there is wide discussion in the literature regarding the role of antibody tests in the vaccinated population," Salgo noted.
A recent study, published in Science, reported that a US National Institutes of Health-funded initiative to understand the immune responses associated with vaccine-acquired protection against SARS-CoV-2 provided evidence that antibody levels correlate with how well a vaccine prevents infection. By measuring antibodies against the SARS-CoV-2 spike protein in participants in a Phase III trial of the Moderna COVID-19 vaccine, researchers found that the higher the antibody level, the greater the vaccine protection against COVID-19.
Additionally, in November, the World Health Organization and the Medicines Patent Pool announced a licensing agreement to facilitate the rapid manufacture and commercialization of COVID-19 antibody testing technology developed by the Spanish National Research Council, or CSIC. CSIC's technology has yielded a test that has the potential to distinguish the immune response of people who had been infected with SARS-CoV-2 from those who have been vaccinated, the WHO said, adding the technology should support research into the level and length of immunity against the virus and the efficacy of available tools.
An uphill climb
Still, manufacturers of such tests may find it challenging to gain significant traction moving forward, according to some experts.
"Many people are surprised we didn't see more antibody testing during the pandemic, but a few confounding issues led to less uptake than was originally expected," said Mara Aspinall, managing director and cofounder of life sciences investment firm BlueStone Ventures and a former CEO of Roche Tissue Diagnostics.
"First, there were too many tests and too many people talking about antibody tests as useful with not enough evidence as to how and why," she said. "That created confusion about the market and questions about quality."
Global regulatory strategies added to the confusion, she said, and "we still have a lot of tests out there that do not detect neutralizing antibodies, which is probably not effective."
Further, manufacturers need a standardization tool that enables users to compare the performance of different antibody tests, Aspinall said.
And overall, an antibody test should not even be necessary to decide whether to obtain a vaccine or booster, given that vaccinations and boosters have been shown to increase antibody numbers, she said.
Jennifer Dien Bard, director of the clinical microbiology and virology laboratory at Children's Hospital Los Angeles, noted that antibody testing generally "has not been as useful as we anticipated. For individuals, antibody testing is really a curiosity," she said, adding that its "very limited capacity" for disease diagnosis may not change during this pandemic.
For people who know that their antibody levels decline over time and rise upon exposure to the virus, an antibody test should not be needed to decide about vaccination, she added.
Dien Bard and her colleagues are using antibody assays, however, to test immunocompromised individuals and have found that these patients can have prolonged SARS-CoV-2 infections that continue for up to 300 days.
Erin Graf, director of clinical microbiology at Mayo Clinic, said she has found antibody testing useful to identify patients who have not mounted antibodies despite having been vaccinated or previously infected. "The majority of those patients are elderly or immunocompromised," she said.
By comparison, a serology test doesn't provide useful information or change anything for individuals who have mounted an antibody response through vaccination or previous infection, she added.
T-cell response
In addition to antibody response, the response of another component of the body's immune system, T cells, has garnered the interest of diagnostic test developers and researchers. T cells are believed to have longer lasting and possibly confer greater immunity against many infections, including COVID-19.
Last March, the FDA granted EUA to Seattle-based Adaptive Technologies for its T-Detect COVID-19 Test to determine whether an individual had been infected with SARS-CoV-2 in the past. The assay leverages immune repertoire sequencing technology to identify individuals with an adaptive T-cell response to SARS-CoV-2, indicating recent or prior infection.
Following that, Qiagen obtained CE marking for its QuantiFeron SARS-CoV-2 assay, which measures T-cell responses to SARS-CoV-2 and aids in the assessment of immunity in individuals who have received COVID-19 vaccination. Meanwhile, the Oxford Immunotec business of Waltham, Massachusetts-based PerkinElmer has been developing a test to measure T-cell response to SARS-CoV-2.
Still, there are far fewer T-cell tests available for COVID-19 than antibody tests, and while uncertainty remains about the utility of serology testing for SARS-CoV-2, even skeptics are not yet quite ready to write them off completely.
"So many things in this pandemic have zigged and zagged, and we're learning along the way," Aspinall said. "I'm not ready to say antibody tests are not going to be useful, but today we don't have reliable enough data or reliable enough tests, and that makes antibody testing problematic."