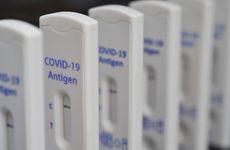 NEW YORK — Rapid, self-administered SARS-CoV-2 tests represent an effective means of preventing viral transmission in work and social settings, according to a report published Friday in JAMA Network Open.
In the study, the researchers said that at the start of the SARS-CoV-2 pandemic, testing capacity hampered efforts to control outbreak management. While real-time PCR-based tests can accurately diagnose infection, their cost and long turnaround times have limited their use for widespread infection surveillance.
More recently, the number of COVID-19 cases waned during the spring and into the early part of the summer, and the demand for PCR-based COVID-19 tests plummeted. But with the Delta variant driving up the number of cases, their demand is on the rise once more.
For their part, direct antigen rapid tests, or DARTs, are low cost, provide results quickly, and can be performed at home, enabling newly infected individuals to isolate immediately.
To help validate the effectiveness of DARTs and their ability to prevent the spread of SARS-CoV-2 infectious in coworking sites, a multi-institute team that included researchers from E25Bio, Harvard University, Mount Sinai School of Medicine, and BioInnovation Labs conducted a study of 257 individuals who self-collected a total of 2,951 nasal swab samples for both DART and real-time PCR testing.
The study participants were affiliated with three coworking laboratories in Cambridge and Boston, Massachusetts. The prevalence of COVID-19 in this region during the time of the study was between less than 1 percent and 8 percent.
Nasal swab specimens were collected twice weekly over a six-month period. DART testing was performed at home, while real-time PCR testing was conducted at a lab. Symptom information was collected contemporaneously.
The investigators found the sensitively of DART within zero to 12 days of symptom onset to be 78.9 percent, with a specificity of 97.1 percent. The duration of SARS-CoV-2 nucleocapsid and RNA detection for individual infections ranged from one to 12 days, with peak levels observed between two and six days of symptoms The sensitivity of DART was calculated for each day. DART sensitivity was 96.3 percent within days zero to three of symptom onset.
Notably, 15 of the study participants developed COVID-19, and twice weekly DART detected all of the infections. Eleven of the COVID-19 patients tested positive on Day One or Day Two, and one was presymptomatic on the day of their initial DART positive result. In one case, SARS-CoV-2 infection was detected via real-time PCR a day before DART, while in another case DART detected infection a day before real-time PCR testing.
According to the study's authors, the findings indicate that twice-weekly DART testing can allow coworking sites to safely operate during the SARS-CoV-2 pandemic.
Most of the positive participants reported that they did not recognize symptoms of COVID-19 until they received a positive result, they noted. Therefore, relying on symptom self-reporting can miss or delay detection and allow viral spread, they wrote. "Frequent at-home testing with DART allows infected individuals to be identified and quarantined immediately … [preventing] viral transmission in in-person work environments or other social settings."
The study's results further suggest that although rapid antigen tests may have lower sensitivity than PCR-based tests, serial use of them can be an effective strategy to contain the spread of SARS-CoV-2. Some experts have also advocated for population-scale testing for the virus, possible only with DARTs.
"Lockdowns and other COVID-19 mitigation strategies could be avoided completely with a combination of vaccine mandates and high-frequency antigen testing protocols implemented for all in-person activities," Laura Holberger, VP of strategic partnerships at BioInnovation Labs and a study co-author, said in an email. "We recommend that antigen tests be used in conjunction with a mobile application like the one used by the researchers, which allows users to easily upload test results to assist contact tracing and quarantine efforts."