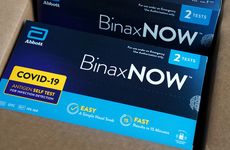 NEW YORK — At-home antigen tests for COVID-19 provide consistently accurate results across multiple SARS-CoV-2 variants and may be considered an important tool for slowing the transmission of the virus, according to a study published in this week's JAMA Network Open.
While rapid antigen-based diagnostics are now widely used to detect SARS-CoV-2 infection, changes in the virus, such as the sequence variations and quicker course of action seen with the Omicron variant, have raised questions about the accuracy of these tests. Additionally, molecular testing continues to be the gold standard for COVID-19 diagnosis, offering superior accuracy over antigen assays.
Aiming to gain insights into the analytical and clinical accuracy of rapid antigen-based diagnostic tests, a team of University of Washington scientists analyzed the performance of two rapid antigen tests that have received Emergency Use Authorization for at-home use from the US Food and Drug Administration: InBios International's SCoV-2 Ag Detect Rapid Self-Test and Abbott Laboratories' BinaxNow COVID-19 Ag Card.
The study involved around 800 adults with COVID-19 symptoms who were tested at multiple locations in King County, Washington, from February 2021 to January 2022 during the phases of the pandemic before the Delta variant was the dominant SARS-CoV-2 virus strain, while Delta was the dominant strain, and while the Omicron variant was dominant. Each study participant provided two anterior nasal swab specimens, one for onsite testing using the InBios test and one for RT-PCR testing.
The researchers found that the diagnostic accuracy of the InBios test was consistent across SARS-CoV-2 variants, with positive percent agreement ranging from 81.2 percent to 90.7 percent. The negative percent agreement remained high throughout the study period, with a cumulative diagnostic specificity of 99.8 percent, the study's authors wrote. The InBios test also showed improved sensitivity for swab specimens with a lower cycle threshold by RT-PCR testing, which correlates with a higher viral load.
In the assessment of analytical accuracy, the visual signals of the SCoV-2 Ag Detect Rapid Self-Test were positively associated with viral concentration, and the estimated limit of detection for both rapid nucleocapsid antigen tests was at or below a 50 percent tissue culture infectious dose of 62.5. "In a similar assessment, the dilutions across variants for the BinaxNow COVID-19 Ag Card were also positively associated with viral concentration, and the estimated limit of detection was consistent across variants," according to the study.
The findings "suggest that home-based rapid antigen testing programs may be an important intervention to reduce global SARS-CoV-2 transmission," the scientists concluded, although they called for additional clinical studies to address the limitations of their work, which include the appearance of new Omicron subvariants that were not included in their study.