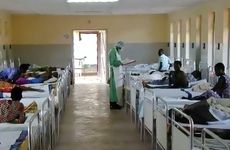 NEW YORK (360Dx) – Multiplexed and molecular platforms suitable for use at the point-of-care could play a vital role in helping healthcare providers manage highly infectious diseases during epidemics, according to speakers at the Next Generation Dx Summit held in Washington, DC last week.
A range of cleared multiplex platforms that currently perform whole blood analysis could be developed further to include assays suitable for diagnosing these high-risk diseases, said Gerald Kost, director of the point-of-care testing (POCT) center for teaching and research at the University of California Davis School of Medicine.
On a global scale, however, national governments, local communities, and healthcare industry participants are largely unprepared to effectively address the potential health consequences of epidemics and natural disasters, Kost said during a presentation at the conference.
"There's a desperate need throughout the world for inexpensive, point-of-care tests for infectious diseases, and I think there's a big market there as well," Kost said, adding, "Substantial increases in funding of new molecular diagnostics for highly infectious diseases could garner significant societal returns on investment."
However, business models for sustained commercial development of these tests are not well established, and effective, fully developed POC tests deployable "at points of need in the hands of trained POC operators" are generally not yet available, he said.
An integrated approach toward the development of technologies for screening and diagnosis of high-risk infectious diseases doesn't exist, he noted.
"There are a lot of technologies available, but we still don't have our act together," he said, adding that there is also a lack of evidence that communities can rapidly respond and have enough resilience in the face of epidemics and natural disasters.
Kost and his colleagues have identified a range of test platforms currently used to perform whole blood analysis for a variety of conditions, which could be used to develop assays suitable for use in high-risk infectious disease settings, such as isolation centers outside but close to hospitals. Many of the identified platforms are currently FDA cleared, and some are used in hospital laboratories while others are used in clinics. They include, for example, the Abbott Alere i, the Roche Cobas Liat, T2 Biosystems' T2Dx, BioFire's FilmArray, and the Luminex Verigene I, among others that could be deployed for testing at the point of care in isolation centers.
Kost said that he would like to see some of these devices presented with Ebola and other high-risk infectious disease assays. However, IVD manufacturers tend to not see the potential for a revenue stream or immediate applicability, "so there is a gap in how we can move these technologies forward" in the context of testing for infectious diseases during epidemics, he said.
Many microbiology challenges emerge during epidemics and during natural disasters, he noted. Disaster victims typically have pneumonia, fractures, wounds, and multi-resistant polymicrobial infections. "Multiplexing is probably the right way to go" in addressing many of these needs, he said.
The global challenge of being well prepared for epidemics and natural disasters has taken on renewed urgency in the face of a recent outbreak and spread of the Ebola virus in a warzone in the Democratic Republic of the Congo, and in light of other threats such as the emerging zoonotic Nipah virus in Bangladesh, India, and the Philippines, which demand "reinvention of public health practice, global POCT preparedness, and substantially improved community resilience," Kost said.
On Aug. 1, the Ministry of Health of the Democratic Republic of Congo reported an outbreak of Ebola Virus Disease in North Kivu province, which is about 780 miles away from Equateur province where an earlier outbreak was reported in May. The more recent outbreak represents the 10th Ebola event in the DRC since the virus was discovered there in 1976.
Healthcare and diagnostic testing responses to recent Ebola outbreaks have been effective, according to the World Health Organization. But that has not always been the case. In a review of the FDA's emergency use authorization of Ebola virus diagnostics, published in Expert Review of Molecular Diagnostics in 2015, researchers at the US Army Medical Research Institute of Infectious Diseases and the Foundation for Innovative New Diagnostics noted that the Ebola outbreak that took hold in West Africa in 2014 outran the epidemic response capacity of many organizations.
"Five months after the epidemic was first declared, there were still only two laboratories in West Africa with the capacity to confirm Ebola virus infection," they wrote.
Overall, producing impactful medical outcomes while managing epidemics and the effects of natural disasters warrants anticipatory planning, comprehensive training, substantial funding, and development of POC coordinators needed to oversee the implementation and use of molecular and rapid response diagnostics in limited-resource countries, Kost said. "We really need countries to be motivated and enthusiastic to generate their own policy guidelines, so that the testing stream and industry supply chain is funded by national governments," he said.
During his Next Generation Dx Summit presentation, Kost presented results of his research recently published in ERMD about molecular and point-of-care diagnostics for Ebola and new threats.
He noted in the paper — an update of an earlier review completed around the time of the Ebola virus crisis — that point-of-care testing can help nations avoid large economic losses incurred during epidemics by enabling early detection and accurate diagnosis, and it can simultaneously prevent suffering and unnecessary loss of human life. Faster, multiplexed nucleic acid tests that have become more suitable to field use and cover a range of pathogens are particularly promising, he said in the paper.
For example, research into developing a multiplex real-time RT-qPCR assay for the detection of filoviruses, which are etiologic agents of emergent diseases with high mortality rates, has led to a prototype assay. The developers of the test noted in a research paper that the high specificity and sensitivity of the assay make it useful for clinical and epidemiologic investigations in the field of filovirus fever diseases and their etiological agents.
Separately, researchers at the University of Texas at Austin and the Chinese Academy of Sciences coupled nucleic acid amplification with commercial pregnancy test strips in an assay that detected 20 copies of Ebola virus templates in human serum and saliva. They said that their methods are generalizable to many nucleic acid biomarkers, and could be adapted to provide point-of-care diagnostics for a range of pathogens.
During his presentation, Kost cited a US Government Accountability Office study, published in August 2017, a review of molecular diagnostics for infectious diseases. In the report, the GAO evaluated tests with varying features such as physical size, number of diseases being tested at the same time, and throughput. The amount of time for the technologies to return results to users ranged from 20 minutes to 2 hours. Among available technologies offered by the eight developers that GAO visited, procurement costs ranged from $25,000 to $530,000 and per-test operational costs ranged from $20 to $200.
In a separate presentation at the conference, Hayden Huang, a senior engineer in the Center for Science Technology and Engineering at the US Government Accountability Office, said that the study found multiplexed point-of-care tests could lead to a better understanding of disease patterns, improve surveillance, and improve access in remote or low-resource settings.
However, barriers to multiplex point-of-care technology adoption include varying perspectives on the strength of evidence that the tests lead to improved patient outcomes, he said. User awareness and the level of comfort with emerging tests are also barriers, as is the lack of patients for some of the tests, he said.
CLIA-waiver applications required of these tests can sometimes demand better performance than is required of less complex tests, and diagnostic companies find the studies to be expensive, Huang noted.
Further, modifying multiplex assays poses challenges, according to the GAO report, because developers must consider possible new interactions based on the modification and go through FDA review before the modified test can be marketed. The report noted that there are also test design limitations related to the number of pathogen targets that can be detected.
Some regulatory initiatives are specifically designed to enable management of epidemic-related infectious diseases. Currently, no commercially available diagnostic tests have been cleared by the FDA for the detection of Zika virus. However, the agency said that it encourages commercial diagnostic developers and researchers developing laboratory-developed tests for Zika to submit Emergency Use Authorization requests, and the FDA has already granted EUAs for several in vitro diagnostic devices to detect the virus.
In the summer of 2014, before the first case of imported Ebola occurred in the US, the FDA began issuing EUAs for Ebola virus IVDs to speed their availability. Diagnostics experts noted that the actions allowed nationwide deployment of Ebola virus testing capacity in the US.
Success in containing Ebola in the US proved unequivocally the need for point-of-care testing to contain infectious diseases, Kost said.