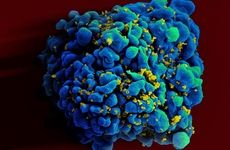 NEW YORK (360Dx) – Researchers at the University of Pittsburgh School of Medicine have developed a reporter cell-based assay for quantifying latent HIV-1 infections.
Detailed in a study published this week in Nature Medicine, the assay could enable more sensitive and streamlined testing for latent HIV-1 levels, which could in turn improve patient monitoring and treatment, said Phalguni Gupta, professor of infectious diseases and microbiology at UPSM and senior author on the paper.
Antiretroviral drugs are able to bring the viral load of many HIV-1 infected patients down to undetectable levels. However, Gupta noted, in many cases the virus remains present in CD4-positive T cells and can reassert itself if drug treatment is stopped.
A major area of focus for AIDS research is exploring treatments that could eliminate these reservoirs of latent disease. To conduct this work effectively, researchers need tests capable of detecting and accurately quantifying levels of HIV-1 present in resting CD4-positive T cells.
Currently, the gold standard for such measurements is the quantitative viral outgrown assay (Q-VOA). However, Gupta said, this assay is known to underestimate the amount of latent HIV present. It also requires large amounts of sample and can take weeks to complete.
PCR-based testing for HIV-1 nucleic acid presents an alternative to the Q-VOA approach, but Gupta said, this method can significantly overestimate the amount of HIV-1 present as it does not distinguish between viruses that are and are not replication competent.
"Most of the [HIV-1] viral genomes that are present in infected people are defective," he said. "Only around 10 percent of these genomes are replication competent."
To improve upon these methods, Gupta and his colleagues developed a reporter cell-based assay they have termed TZA. The assay uses the TZM-bl cell line, which expresses the HIV-1 receptor CD4, and, the authors wrote, "carries the β-galactosidase (β-gal) gene under control of an HIV-1 long terminal repeat (LTR) promoter." In the presence of inducible, replication competent HIV-1, the TZM-bl cells produce a positive β-gal signal that can be used to quantify the amount of virus present.
In a series of experiments, the researchers determined that replication-competent, but not replication-defective HIV-1 viruses, triggered β-gal production and developed a protocol using serial dilution of patient resting CD4-positive T cells stimulated with anti-CD3/CD28 antibody-coated microbeads (to induce HIV-1 replication) to quantify the levels of latent virus. Comparing the results of the TZA assay to Q-VOA-based measurements in the blood of 15 patients, they found that the TZA results determined that patient virus levels were nearly seventyfold higher than the Q-VOA measurements indicated.
Beyond the greater sensitivity, the assay was also considerably faster, taking seven days compared to 14 for the Q-VOA approach, and less expensive, costing around $350, compared to more than $1,000 for Q-VOA testing.
Gupta said that the assay's format lends itself to additional increases in throughput, which could further enhance its utility for things like clinical trials. He and his colleagues are currently using the test in a larger-scale study, he said. The results "will be compared with Q-VOA and other assays to really determine the robustness of this assay and its reliability."
Because of the smaller sample size required for the TZA assay compared to Q-VOA testing, the approach could also be useful in the pediatric population, where blood sample sizes can be limited, Gupta said.
The researchers also hope to expand the assay to testing for latent virus in patient tissue.
"We talk about the levels of the virus present in blood, but the majority of this virus is present in tissue," Gupta said. "We're expecting the total amount of virus present in the tissue will be at least equal to the blood or more, depending on which site you're picking — whether it's the gut, or in the rectal tissue, or the lymph node, depending on [the tissue], the levels could be much higher than the blood."
Q-VOA testing is not well suited to tissue-based testing, in part, because of the large amount of sample required, Gupta said. He added that in tests of a small number of tissue samples, the TZA assay appears to work well.
The assay has several potential uses in clinical research, Gupta said. One, which he and his colleagues are currently exploring, is for screening agents to identify those capable of reversing HIV-1 latency.
"We are looking into this, how, in vitro, different kinds of compounds alone or in combination [reverse latency] so that the virus can come out," he said.
Another potential use is monitoring latent disease in patients undergoing treatment to fully eradicate their infections.
While the TZA approach demonstrated significantly higher sensitivity than the Q-VOA method, the authors noted one factor that could partially account for the discrepancy between the two measurements. The Q-VOA test, they wrote, "employs multiple rounds of infection and direct quantitation of extracellular virion-associated HIV-1 RNA", while the TZA "is based on a single round of infection." This, they suggested, could lead to overcounting of truly replication-competent viruses by the TZA test as "there might be some virus particles that can efficiently undergo a single cycle of replication but are not capable of undergoing multiple rounds of infection."
The authors added that sequencing of HIV-1 virus particles detected during the TZA assay could help gauge the percentage of detected viruses that are only partially replication competent.
Provided the results hold up in larger studies of the assay, Gupta said he believed the assay has good commercial potential given its higher throughput and sensitivity and lower cost compared to existing methods. However, he said that he didn't believe it could be patented given that the methods involved have already been made public.