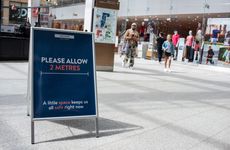 NEW YORK ─  Public Health England researchers are evaluating an Oxford Immunotec test that measures T-cell response to SARS-CoV-2 infection as part of a larger study that aims to also evaluate the potential for coronavirus testing in the home.
On Tuesday, Oxford Immunotec, known best for its tuberculosis tests, announced that it is part of a PHE-sponsored study that involves validating its laboratory-based T-Spot Discovery SARS-CoV-2 test alongside lateral flow immunoassays that are in development.
The study announcement comes at a time when new coronavirus cases in the UK are on the rise, edging close to an all-time daily high, and demand for testing has soared. The number of new cases exceeded 29,000 this past week in the UK, according to the Johns Hopkins University Coronavirus Resource Center, and the rise in new cases has prompted a tightening of restrictions across the region.
Against that backdrop, Oxford Immunotec's test may provide a much-needed alternative to serology tests, some of which have come under fire because of performance issues leading to false results.
Results of the UK study involving more than 2,800 participants, most of whom are high-risk healthcare workers, are expected in a few weeks. A successful outcome for Oxford Immunotec could pave the way for submissions for approval to the US Food and Drug Administration and for CE marking to enable its use in clinical settings, Peter Wrighton-Smith, the firm's CEO, said in an interview.
"We have the platform and the aspiration to go for IVD approval," he said. "We need [the kind of data being provided by the PHE study] to help us hone the use case and some of the finer points of the assay."
Measuring T cells in conjunction with other tests may help researchers and clinicians overcome some issues with antibody tests, the firm added.
The Oxford, UK-based company's T-Spot Discovery test allows SARS-CoV-2-specific T cells to be detected and enumerated. The optimized antigen mix used in the test is based on SARS-CoV-2 structural proteins, and sequences of high homology to other coronaviruses are removed, the firm said. That allows the maximum breadth of the immune response to be measured, while minimizing cross-reactivity, according to Oxford Immunotec.
"Many people working on serology testing are focused on detecting the virus spike protein, but other parts of the COVID-19 organism need exploring," Wrighton-Smith said. "T-cell testing enables you to detect different parts of the organism in parallel, and that gives you more shots on goal to find people who have been infected, as well as new insights into which parts of the virus trigger a response and how that correlates with protection."
He added that there is also evidence suggesting that vaccine companies "ought to be including T-cell testing in the enrollment criteria for their patients and probably in their outcomes, because T-cell immunity may be longer-lasting than antibody-based immunity."
His firm is not alone in its belief that T cells could provide answers when some antibody tests fall short. A growing body of research indicates components of the immune system in addition to antibody responses may be important, and multiple companies, including Waltham, Massachusetts-based PerkinElmer and Erlangen, Germany-based Siemens Healthineers, are developing tests to investigate T-cell response to the coronavirus. Further, Duke-NUS Medical School in Singapore is developing a test to measure patient T-cell response to SARS-CoV-2 that it plans to offer for clinical use.
Oxford Immunotec's T-Spot Discovery SARS-CoV-2 test is based on T.Spot interferon-gamma release assay (IGRA) technology used in latent TB tests, the firm's sole source of revenues. In August, the company reported a 70 percent decline in second-quarter revenues and said its quarter was adversely impacted by the pandemic.
However, in a research note on Tuesday, Chris Lin, a research analyst at Cowen, said that Oxford Immunotec's collaboration with Public Health England could give the firm a revenue boost. "It's possible that [Oxford Immunotec's] test addresses some limitations of serology tests," Lin said. "If proven, we believe T-Spot Discovery could generate meaningful longer-term revenue upside."
Trial and error
Amid the growing evidence that evaluating T-cell responses may address some limitations of antibody tests, the UK study's investigators added Oxford Immunotec's test not only to evaluate its performance, but also for use as a "tie-breaker" when antibody tests do not agree about a result, Wrighton-Smith said.
Overall, the EDSAB-HOME trial, named for the Evaluating and Detection of SARS-CoV-2 Antibodies using Home Test Kits, aims to evaluate the detection of SARS-CoV-2 antibodies using lateral flow immunoassays to detect antibodies against the SARS-CoV-2 virus using a finger prick of blood.
In a description of the study protocol, PHE said that the evaluation of home test kits will involve a few stages, driven in part by uncertainties surrounding such devices. Unknown factors include when such kits will become clinically available; how accurate they will be in detecting anti-SARS-CoV-2 antibodies; whether test results read by the general population agree with those read by a trained expert; whether all cases of SARS-CoV-2 infection lead to an antibody response;  and whether previous infection or antibody presence as measured by the home-test kits will translate into protection in the field.
"This rapid evaluation will aim to understand the potential limitations of the mass [home-test kit testing program] and provide a framework to maximize its value going forward," PHE said.
Home test kits for the study are being supplied by the UK Rapid Test Consortium, which includes the University of Oxford, Abingdon Health, Omega Diagnostics, BBI Solutions, and CIGA Healthcare. Other manufacturers, including Mologic, are producing products that may be included, PHE said.
Further, according to PHE, "the study aims to describe the number of coronavirus-responsive T cells in peripheral blood of subjects using [Oxford Immunotec's technology], and its relationship to serological tests for SARS-CoV-2 and to clinical risk factors for COVID-19."
PHE declined to comment for this article.