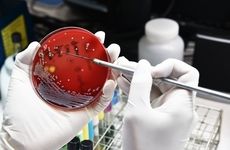 NEW YORK (360Dx) –The National Institute of Allergy and Infectious Diseases is sponsoring a clinical study to determine whether low levels of procalcitonin (PCT) can reliably reveal whether a person's lower respiratory tract infection (LRTI) will improve with antibiotics.
Investigators at the NIAID-supported Antibacterial Resistance Leadership Group are collaborating in the PCT study with researchers and medical experts from BioMérieux, the diagnostics company based in Marcy-l'Étoile, France.
To test the patients PCT levels in their blood samples, the investigators are using BioMérieux's BRAHMS PCT assay running on its Vidas immunoassay platform. In February 2017, the US Food and Drug Administration granted clearance for the expanded use of the Vidas Brahms PCT Assay to help healthcare providers determine if antibiotic treatment should be started or stopped in patients with lower respiratory tract infections, and stopped in patients with sepsis.
The FDA noted at the time that the PCT assay is the first test to use procalcitonin, a protein associated with the body's response to a bacterial infection, as a biomarker in helping make antibiotic management decisions in patients with LRTI.
"In this study, we are exploring the potential of a mechanism that could not only impact antibiotic use but help make sure that patients who need antibiotics get them, and patients who don't need antibiotics don't get them," Ephraim Tsalik, the study's principal investigator, said in an interview. He is also an associate professor of medicine at Duke University and a physician at the VA Health Care System in Durham, North Carolina.
Lower respiratory tract infections can cause a variety of symptoms, including persistent coughing, wheezing, chest pain, fever, and rapid or difficult breathing, and healthcare providers often prescribe a course of antibiotics as a standard treatment without knowing for certain whether an infection is bacterial or viral. Taking antibiotics for viral infections is not only ineffective but can also introduce potential side effects and promote antimicrobial resistance.
The overuse of antibiotics continues to be a serious global issue, and there are severe consequences to "imprudent overuse of these vital drugs," Mark Miller, chief medical officer of BioMérieux, said in an interview.
Citing US Centers for Disease Control and Prevention statistics, Miller noted that about 30 percent of antibiotics, or 47 million prescriptions issued in doctors' offices and emergency departments in the US, are unnecessary. "This enormous overuse can lead to medication side effects and is also the primary factor driving the emergence and rapid spread of resistant organisms," he added.
Tsalik noted that in addition to the FDA providing clearance, the new study adds a new dimension to question of when a clinician should prescribe antibiotics for LRTI. "Studies that have been done up until now, and especially those that led to the expanded indication, were conducted in a different way than this one," he said.
Previous studies presented an algorithm to the provider, he said, that stated that if patients' procalcitonin levels are low, antibiotics should not be prescribed, and if their levels are high, antibiotics should be prescribed. "An important point here is that in each of those studies, the provider was free to overrule that protocol," Tsalik said.
By contrast, in the current study, the investigators are holding discussions with physicians prior to their patients' being enrolled. If the physician believes she needs to administer an antibiotic regardless of whether the procalcitonin level is low or high, the patient is not included in the study, Tsalik said.
The study's investigators have begun enrolling patients 18 or older with suspected LRTIs and low PCT blood levels of 0.25 ng/mL or less.
After their PCT levels have been confirmed, the investigators administer a five-day regimen of the oral antibiotic azithromycin to a selection of 420 patients randomized to receive either a placebo or 500 mg of azithromycin as a single dose on the first day and then 250 mg once daily for four days.
When patients' symptoms worsen, the investigators refer them for immediate care. On the fifth day following the start of treatment, the investigators evaluate the patients' symptoms, and they evaluate them again on days 11 and 28. 
If at the end of the study the investigators find no significant difference between patients treated with azithromycin and those receiving placebos, it demonstrates that low PCT levels could identify patients who are unlikely to benefit from antibiotic treatment, Tsalik said.
On the other hand, if the volunteers given antibiotics tend to recover faster or in a better way than those given placebos, the results indicate that low PCT levels are not a reliable biomarker to guide the use of antibiotics for this indication.
BioMérieux's Miller said that the firm's introduction of PCT testing to reduce antibiotic overuse in the hospital setting almost 10 years ago was a "pioneering step" forward, and that "it is our hope that this new trial could help achieve the same goal when evaluating and treating LRTI."
The data derived from the earlier algorithm-driven studies are compelling but it's not certain that they will prove the NIH study's hypothesis. "It could be that you can reduce antibiotic use and do it safely, but [it's also possible that] you shouldn't use it by itself as a biomarker in making that determination," Tsalik said. "If the study does not confirm the hypothesis that PCT can be used to identify a group of patients that can safely be treated without an antibiotic, there will be questions about when it is appropriate to use procalcitonin."
The Antibacterial Resistance Leadership Group is sponsoring a separate study Rapid Diagnostics in Categorizing Acute Lung Infection, or RADICAL, for which Tsalik is also the lead investigator. The researchers are using the study to look at alternate biomarkers to PCT to determine whether they can differentiate among patients that have bacterial or viral infections, or none.
In that study, the investigators are looking into whether gene expression signatures can provide this kind of analysis, Tsalik said. The researchers are collaborating with BioMérieux's BioFire Diagnostics business and enrolling patients with acute respiratory illnesses in an observational but non-interventional way.
In parallel, they are developing and finalizing a gene expression test for that indication, and they expect to use the results of the study to support an application for clearance to the FDA. A decision on that is probably "a couple of years off," Tsalik said.
He and his colleagues have also has formed a company, Host Response, that is developing gene expression test for this same indication. The company, a spinout from Duke University, has been operating in stealth mode for the past couple of years.
"Procalcitonin is a great marker and it is better than anything else that we currently have but it's not perfect; no test is perfect," Tsalik said. "There has been a number of studies, ours included, that show that gene expression is better than procalcitonin, so we are excited about the potential to be able to take something that works as well as procalcitonin and improve upon it."
Host Response is "forging relationships" with diagnostic companies, he said, to take this principle and apply it not only to the question of whether an infection is bacterial or viral, but also to how a patient responds to a disease. He said the company is looking to apply genetic signatures "to a variety of platforms, so that could, in theory, reach patients at every possible point of care, including a CVS clinic, doctor's office, or hospital."
Burlingame, California-based Inflammatix, a spinout from Stanford University, is also conducting gene expression studies for disease diagnostics. Inflammatix, similar to Tsalik's Host Response, is using gene expression markers to develop diagnostic tests that could enable physicians to quickly decide whether to prescribe or withhold antibiotics.
Inflammatix CEO and Cofounder Timothy Sweeney said in an interview that the National Institutes of Health's procalcitonin study is greatly needed.  "I'm encouraged to see Dr. Tsalik and his team put this together," said Sweeney, who is not involved in the NIH PCT study.
"The key point here," he said, "is that currently we really don't know who has a bacterial or viral infection. In general, the use of biomarkers to guide antibiotic therapy is gaining acceptance, and with more clinical evidence for that general idea, more physicians will be willing to follow biomarker-based treatment guidelines."
Similar to Tsalik, he does not see procalcitonin as a perfect marker. "It is certainly the best known of the host-response biomarkers, but its ability is limited while ruling out bacterial infections, especially when a single reading is completed at the point of care and the clinician does not follow the marker longitudinally over days," he said.
Sweeney also said that PCT's accuracy is not as good as most clinicians want in being sure that a patient does not have a bacterial infection. "That is really the key," he said, "identifying that the patient does not have a bacterial infection so that you can be safe in not treating with antibiotics when the default has been to treat."