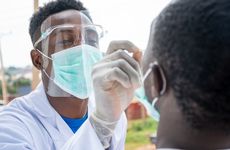 NEW YORK ─ In line with its new status as a nonprofit organization focused on global health, point-of-care diagnostic developer Mologic is accelerating commercialization of tests for neglected diseases primarily affecting people living in low- and middle-income countries.
The Bedford, UK-based developer of antigen and antibody tests, along with its sister company Global Access Diagnostics, recently became part of Global Access Health (GAH), which was acquired by a group of investors led by the Soros Economic Development Fund with support from the Bill & Melinda Gates Foundation.
With the transaction, which involved an investment of $40 million in GAH, Mologic became a social enterprise with an opportunity to commercialize lateral flow prototype tests it has been developing for measles, Ebola, yellow fever, and other diseases neglected by most IVD manufacturers, Joseph Fitchett, Mologic board member and former chief medical officer, said in an interview.
Mologic and Global Access Diagnostics remain separate entities within GAH, but they continue to work closely. Mologic conducts R&D while Global Access Diagnostics focuses on manufacturing and supply chain operations.
Once part of Abbott's Alere, Mologic plans to reinvest all future profits into initiatives to accelerate development, commercialization, and deployment of point-of-care lateral flow diagnostic tests in low- and middle-income countries, said Fitchett, who is also a senior advisor to the CEO for Biotechnology Institut Pasteur de Dakar, Senegal, an ongoing collaborator with Mologic and Global Access Diagnostics.
Mologic has ongoing projects with the Institut Pasteur de Dakar including one to develop a low-cost, high-performance rapid diagnostic test for the Ebola virus. Mologic is applying testing technology developed at its Centre for Advanced Rapid Diagnostics and leading product development and manufacturing. Institut Pasteur de Dakar is leading test validation in collaboration with the Institut National de Recherche en Biologie in Kinshasa, Democratic Republic of the Congo. Fitchett said he is relocating from the UK to Senegal next week to lead the next phase of test development and production.
He noted Mologic has been involved in numerous programs to develop lateral flow diagnostic tests for low- and middle-income countries with grants from organizations such as the Bill & Melinda Gates Foundation and Wellcome Trust. It has also kicked off internal development programs to develop handheld tests for chronic obstructive pulmonary disease, sepsis, urinary tract infections, and women's health tests for bacterial vaginosis and candidiasis.
"This new setup allows us to support governments looking to implement epidemic controls, and continue to engage with commercial entities to support cutting-edge science for diagnostic testing," Fitchett said. "We're in a unique position where we can support the production of a test that might have gone to a high-income country. If it's relevant and important for a low-income setting, we have a system in place to support that."
Regardless of the clinical need for diagnostic tests for neglected conditions, plans to develop them are often shelved because the tests are seen as being unprofitable, Fitchett noted.
Mologic, whose founders helped develop lateral flow technology for home pregnancy testing in the 1980s, has always strived to develop such tests that it can now pursue, he said.
First, however, it is prioritizing the commercialization of disposable SARS-CoV-2 antigen tests it plans to sell for between $1 and $2 each.
One version of the test, Covios, which is performed and interpreted by a healthcare professional, has been evaluated in a study involving 665 participants by the Foundation for Innovative New Diagnostics and demonstrated 91 percent sensitivity and 100 percent specificity. The firm is awaiting a decision on its approval from the World Health Organization.
As part of the US National Institutes of Health Rapid Acceleration of Diagnostics (RADx) initiative, the company is developing a second version of the assay, called Covigo, for self-testing.
For that, the company has entered the second phase of the RADx program involving manufacturing scale-up. Fitchett said it is wrapping up a clinical trial and getting ready to apply to the US Food and Drug Administration for Emergency Use Authorization.
The self-test uses a nasal swab taken from the lower nostrils that detects the SARS-CoV-2 nucleoprotein in about 20 minutes. The swab is inserted into an hour-glass shaped vial that is inverted prior to displaying a result, Fitchett said.
A person without medical training can run the test at the point of need, and it can be used anywhere a self-test can be applied including at home, in a pharmacy, or a professional setting such as a physician's office, Fitchett said, adding that a person testing positive with a high viral load sees results almost instantly.
With its ease of use and low price, the test is suitable for deployment worldwide, he said.
Antigen tests are plentiful and available for free or at low prices in the UK and Germany, but prices in the US for antigen tests that have obtained FDA EUA for over-the-counter sales typically range from $20 to $30 for a two-pack of tests, and the tests can be difficult to find.
There's an especially urgent need for low-priced tests in low-income countries, Fitchett noted. The cost of reagents for molecular testing in Senegal and other parts of Africa have skyrocketed, he said, making antigen tests an even more attractive alternative.
While reagents can be purchased for about $5 per test in the UK, they cost up to $40 per test in Senegal. Such prices for reagents, even with low labor costs, means that for the average person in Senegal and other low-income settings, RT-PCR-based SARS-CoV-2 testing is unaffordable, Fitchett added.
Tests completed in laboratories, often leveraging RT-PCR technology, can provide high sensitivity, but according to some observers, sensitivity levels can be too high, meaning the tests detect trace amounts of the virus in an individual that is no longer infectious.
Fitchett noted that a recent study published in Clinical Epidemiology argues that the performance of lateral flow tests in validation studies is generally underestimated because the assays are validated relative to excessively sensitive RT-PCR.
With lower sensitivity than PCR, a lateral flow antigen test for COVID-19 showing a negative result isn't sufficient to rule out carrying the virus or being currently infectious. However, advocates of the testing modality believe that if used repeatedly the tests can achieve sensitivity that rivals molecular tests.
Further, if the demand for rapid antigen tests can be met, it can have a significant impact on curbing the pandemic, including in low- and middle-income countries that often have a limited availability of laboratories, Fitchett said.
With the recent change in corporate structure and associated ability to reinvest all of its profits, Mologic believes it will be better able to meet this demand. "We will ensure that any profit we might derive from this very difficult situation for many is reinvested into epidemics and the next pandemic," Fitchett said.
The expertise and capacity needed for lateral flow test production is largely limited to a few developed countries, and the majority of production capacity is currently devoted to COVID diagnostic testing, said Brendan O'Farrell, president and cofounder of Carlsbad, California-based DCN Dx, which provides contract development and manufacturing services for companies developing lateral flow tests.
With attention being diverted away from neglected diseases, new programs that enable the local development and manufacturing of lateral flow testing products in low- and middle-income countries are "an essential step in ensuring that appropriately priced, high-quality products" reach the people that need it, he said.
The Access to COVID-19 Tools Accelerator — a global collaboration to accelerate development, production, and equitable access to COVID-19 tests, treatments, and vaccines — is among the notable programs that aim to deploy expertise and high-quality lateral flow products at an appropriate cost in low- and middle-income countries, O'Farrell said.
"The approach taken by Mologic and its funders appears to be another very positive step … in that direction," said O'Farrell, who is not affiliated with the company. "A not-for-profit approach, properly supported, seems appropriate," he added.