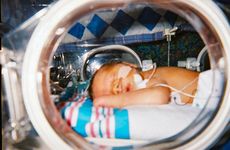 NEW YORK (GenomeWeb) – Medical University of Vienna researchers have shown that a Roche PCR test has superior sensitivity rates and can more rapidly identify pathogens in the blood of neonatal patients than traditional blood culture testing.
As a result, the researchers deemed the Roche SeptiFast Mgrade PCR test using a modified DNA extraction protocol acceptable for rapid detection of neonatal sepsis alongside conventional blood culture. The researchers published their findings last week in the journal PLOS One.
Sepsis is among the leading causes of neonatal mortality, and prematurely born neonates experience the highest incidence and mortality of sepsis among all age groups, according to a review published last year in Current Opinion in Pediatrics.
The review noted that in the US, 36 percent of neonates born before they have completed 28 weeks of gestation "suffer at least one episode of a bloodstream infection during their birth in hospitals, with up to a 50 percent associated mortality."
"Routinely, hospitals hold a low-birth-weight baby and start them on prophylactic antibiotic treatment while drawing cultures during the first 48 hours," Darshna Tanna, Roche's lifecycle leader for microbiology, said in an interview. "The quicker you can rule out a bacterial infection, the quicker you can get babies off empirical treatment and out of the neonatal intensive care unit."
The researchers in Vienna prospectively analyzed 212 episodes of suspected late-onset sepsis in neonatal patient samples using the SeptiFast diagnostic test with the modified DNA extraction protocol. They compared the results with those from blood culture, laboratory biomarkers, and clinical signs of sepsis.
Using a blood volume of 100 μL, the test demonstrated a sensitivity of 90.2 percent "for the diagnosis of blood-culture positive sepsis episodes; a moderately high number of positive test results in episodes without infection potentially due to contamination during blood drawing and processing; and an increased pathogen detection rate in patients with clinical sepsis," the researchers said.
"The most important message in this study is that there is great need for a rapid and adequate treatment of neonatal sepsis in order to reduce the leading causes of mortality of preterm babies," Tanna said. "Methods in the past have been based on adult requirements of blood, ranging from 5 to 10 mls per bottle, but this study has been able to show that a modified DNA extraction yielding 100 μL is sufficient for the rapid, molecular detection of bacterial pathogens."  
The time to detection for the Roche test is within 5 to 6 hours, and traditional cultures require at least 48 to 120 hours to yield a positive result, Tanna said. She noted that other PCR technologies offer targeted panels but don't offer the level of multiplexing and pathogen spectrum that is available on the SeptiFast test, which detects and identifies the 25 most common pathogens known to cause to bloodstream infections and is designed to be run on the company's LightCycler 2.0 qPCR platform.
In neonatal sepsis testing, the gold standard for many years has been traditional blood culture testing, which takes longer and requires more blood than physicians would like, Tanna said.
"You can imagine that a tiny, premature baby has a limited amount of blood to offer and there is the added difficulty of a peripheral venipuncture on such a tiny individual," Tanna noted. "A routine sepsis workup requires sampling of blood for cultures, hematology, and clinical chemistry. Therefore, any method that offers the possibility of collecting less blood is welcome to these patients." 
The study by the Vienna researchers recommends that blood culture be used along with PCR in testing neonates for sepsis.
"In this study, clinicians are using SeptiFast as an additive test, so they are continuing to use blood culture testing, the gold standard, but when they add the use of SeptiFast the sensitivity of the test rises from 50 percent to 90 percent," Tanna noted.
SeptiFast has received CE marking and is available in Europe and other countries that accept the mark, but it is not commercially available in the US. Roche said it doesn't have plans to seek US Food and Drug Administration clearance for the test, but that SeptiFast is one among a portfolio of diagnostic products it is offering and developing to combat the growing rate of sepsis infections and to combat antimicrobial resistance that can occur from over prescription of antibiotics.
The firm markets assays for its fully automated Cobas 4800 real-time PCR system that target and identify antibiotic resistant organisms such as MRSA, C. difficile, and vancomycin-resistant organisms. Additionally, the company provides sepsis biomarker tests that run on its Elecsys electrochemical analyzer, including c-reactive protein, interleukin-6, lactate, and procalcitonin, which is perhaps the most important marker according to Tanna and "has a very high negative predictive value and sensitivity to bacterial infections."
The Vienna researchers in their study cautioned that the benefit of rapid pathogen detection "has to be balanced against the considerable risk of contamination, loss of information on antibiotic sensitivity pattern, and increased costs."
PCR and other molecular technologies are likely to be most effective in neonatal sepsis and general sepsis diagnosis and treatment when they are paired with a phenotypic antibiotic sensitivity analysis tools that analyzes the sensitivity of a pathogen to an antibiotic treatment, Tanna noted. "To identify the correct pathogen and get the right drug-bug combination, you want to know what type of antibiotic to use, its concentration for the patient, and the length of time it should be administered," she said.
For that, Roche is developing Smarticles technology that consists of DNA-delivery bioparticles combined with custom-designed DNA molecules that cause live bacteria to produce light. In the presence of antibiotics, susceptible bacteria targeted by bioparticles will remain dark, while drug-resistant bacteria produce light quickly and efficiently, Roche said.
The firm purchased Smarticles technology with the acquisition of GeneWeave BioSciences in 2015. The technology is not yet commercially available, and Roche did not provide a timeline for its expected release.
In the market for sepsis testing, Roche has several competitors that offer a combination of molecular and immunochemistry assays, including established companies such as BioMérieux and Thermo Fisher Scientific, and emerging firms such as T2 Biosystems and Accelerate Diagnostics.
In September, T2 said it had filed a 510(k) premarket submission for its T2Bacteria Panel with the US Food and Drug Administration. The panel runs on the FDA-cleared T2Dx instrument and identifies pathogens associated with sepsis within hours instead of days, T2 Biosystems said at the time of its submission.
In February, the FDA cleared Accelerate Diagnostics' test kit and instrument platform for identifying organisms that cause bloodstream infections. Similar to Roche's Smarticles technology, the kit provides information about antibiotic sensitivity. It can identify bacteria or yeast from a positive blood culture in about 1.5 hours.
Roche is "looking internally at several technologies to do direct-from-sample identification of pathogens," in the context of sepsis diagnosis and treatment, Tanna said.
She also noted that the firm had recently inked an R&D agreement with Inotrem to collaborate on developing a companion diagnostic test for a septic shock treatment in clinical trials.
Under the terms of the agreement, Roche and Inotrem will develop a prototype assay for quantitative measurement of soluble plasma circulating protein (sTREM-1) in septic shock patient samples. The test would run on Roche's Elecsys immunochemistry platform.