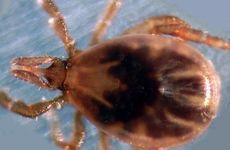 NEW YORK (GenomeWeb) – Researchers led by Colorado State University have identified a new way to distinguish Lyme disease from similar conditions, a finding that could  lay the groundwork for other studies that could lead to better early testing for Lyme Disease, they said.
According to the study, published earlier on Wednesday in Science Translational Medicine, the team used mass spectrometry to identify biomarkers of metabolic differences in Lyme disease and southern tick-associated rash illness (STARI), two conditions that may present similar symptoms.
Lyme disease is transmitted when blacklegged ticks infected with Borrelia burgdorferi bite people. Untreated, the patients may develop a fever, rash, facial paralysis, and arthritis. While Lyme disease is the most frequently reported vector-borne illness in the US, laboratory tests aren't currently sensitive enough to identify infection with pinpoint accuracy in the first stage of the illness.
To further complicate the issue, researchers are still attempting to identify what pathogen causes STARI, a similar tick-borne disease. STARI's common characteristics, not including a scarlet rash indistinguishable from those seen on patients with Lyme disease, are possible fatigue, fever headache, and muscle pains.
The CSU team, which also included scientists from the Centers for Disease Control and Prevention, used mass spectrometry to develop a metabolic biosignature consisting of 261 molecular features that revealed that altered N-acyl ethanolamine and primary fatty acid amide metabolism discriminated early Lyme disease from STARI. Researchers reported they were able to differentiate early Lyme disease from STARI with an accuracy of up to 98 percent.   
In a statement, John Belisle, a CSU professor and senior author on the study, said the findings are important in "helping to more accurately detect early Lyme disease, which is crucial because the longer people wait for Lyme disease treatment, the higher the potential risk for having more severe symptoms."
While he focuses his research mainly on tuberculosis and leprosy, the approach that his team has used — developing biomarkers or biosignatures for diagnosing a disease — could be implemented to develop diagnostic tests for STARI and improve Lyme disease diagnostic tests, he said.
"We found that all of these infections and diseases are associated with an inflammatory response, but the alteration of the immune response, and the metabolic profiles aren't all the same," Belisle added. 
The focus of the team's efforts is to develop a test that has much greater sensitivity and maintains that same level of specificity that could be used to help guide clinical diagnosis and patient treatment. In the future, Belisle and his researchers plan to monitor how patients respond to treatment.