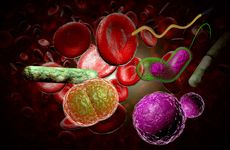 NEW YORK (360Dx) –Bruker has developed a new workflow for its MALDI Biotyper clinical microbiology platform aimed at speeding identification and treatment selection of bloodstream infections.
Named the Bologna workflow after the University Hospital, Policlinico Sant'Orsola-Malpighi, Bologna, where it was developed and initially implemented, the method combines microbial identification from positive blood cultures with testing for resistance to cephalosporin and carbapenem antibiotics.
According to Miriam Cordovana, a researcher in the hospital's department of bacteriology and mycobacteriology, implementation of the workflow has significantly accelerated and streamlined the facility's ability to detect antibiotic-resistant blood infections while maintaining the same levels of accuracy as existing methods, and at either equivalent or reduced cost.
The workflow emerged from recent efforts by Bruker to extend its MALDI Biotyper platform beyond microbe identification and into detection of antibiotic resistance. This is widely viewed as the next frontier for MALDI-based clinical microbiology platforms like the Biotyper and BioMérieux's competing Vitek MS system, which over the last half-decade have seen substantial uptake by clinicians for microbial ID.
Both the Biotyper and Vitek MS platforms identify microbes by matching the protein profiles of sample organisms generated via MALDI mass spec to profiles contained in a proprietary database. Compared to traditional biochemical methods of microbe detection, MALDI-based systems can offer significant improvements in speed, price, and accuracy.
With antibiotic resistance a growing problem, a variety of researchers and companies are working to improve on existing methods for antibiotic susceptibility testing. Last year Bruker introduced a CE-IVD kit for testing for resistance to carbapenemase antibiotics using the Biotyper. With the release of the new workflow the company has added a CE-IVD kit for testing for resistance against third-generation cephalosporins.
"The intention with the Bologna Workflow was to provide fast blood culture analysis, with a very broad species coverage, which enables the analysis of multiple samples in parallel, which is cost-effective for the laboratory and which covers the most important [antibiotic] resistance mechanisms for gram-negative bacteria," said Wolfgang Pusch, Bruker's executive vice president for microbiology and diagnostics.
One MALDI-based approach researchers have explored for detecting antibiotic resistance, particularly to carbapenems, is detection of a peak specific to the pKpQIL_p019 protein, which is often present on the same plasmid as the bkaKPC gene. The bkaKPC gene produces the protein carbapenemase KPC, which can confer resistance to carbapenems.
For its current CE-IVD kits, Bruker has taken a different approach, using the Biotyper instead to detect the hydrolysis products generated by resistant enterobacteria, like resistant strains of Klebsiella pneumoniae (KPC), when they break down a carbapenem.
This has the advantage of being able to detect other carbapeneme-resistance mechanisms in gram-negative bacteria, for example, NDM1 and OXA 48, Pusch said. Additionally, in contrast to nucleic acid testing, such a functional approach can potentially detect carbapenem-resistance based on yet-to-be-discovered mechanisms, he added.
"KPC is only one such mechanism that can lead to carbapenem resistance," he said. "There are also other genes and mechanisms involved, and a MALDI Biotyper-based functional test helps to detect all of them."
The company's cephalosporin-resistance testing kit uses a similar approach, he added.
Bruker does offer automated early detection of carbapenem-resistant KPC by using the Biotyper to look for peaks associated with the blaKPC protein. This is done with an optional subtyping software module that performs KPC-subtyping simultaneously with the microbial ID and displays a warning if such a peak is detected. This module is currently for research use only, but it has been validated by University Hospital, Policlinico Sant'Orsola-Malpighi for internal use.
Pusch said that in addition to introducing cephalosporin-resistance testing, the Bologna workflow offers a more streamlined process compared to the previous Biotyper blood infection workflows, removing around 15 minutes of hands-on steps.
Cordovana likewise said that she and her colleagues have found the workflow "extremely robust and easy to handle."
"It doesn't require any special skills by the operators or any special equipment [beyond the Biotyper] by the lab," she said, adding that it also fits easily within the hospital's larger clinical workflows. "It has a minimal impact on the total work load of a normal routine day."
Cordovana said the hospital began implementing the workflow in February as part of its standard process for treating suspected bloodstream infections. Data collected on patients managed using the workflow thus far indicate that it reduces the time required to make an ID and determine carbapenem and cephalosporin resistance from between two to 48 hours to between 30 minutes and two hours.
This improved turnaround time allows clinicians to more quickly determine the ideal antibiotic regimen for a given patient.
Typically, in the case of suspected sepsis, patients are started immediately on a broad-spectrum antibiotic.
"The MALDI Biotyper workflow allows [us] to confirm or to exclude the presence of the most threatening pathogens, enabling the optimization of the antibiotic therapy a very short time after the blood culture is flagged as positive," Cordovana said. She noted that the rapid identification of the microbe, even independent of any antibiotic susceptibility information, can be valuable in that it allows clinicians to evaluate the likely resistance profile based on the local epidemiology.
"For instance, if it is K. pneumoniae, it's rather probable that we are dealing with a carbapenemase-producing strain, while if it is, for example, P. mirabilis, we can be almost sure that it is not a carbapenemase producer," she said.
Being able to gather resistance information as part of the workflow can "turn this high probability into a certainty," Cordovana added. "And the further possibility to verify the presence or absence of a carbapenemase activity in all the strains allows the delivery of an exhaustive result that can [point] the therapy in one direction — addition of antibiotics for carbapenemase producing strains — or in the other — de-escalation to a less potent drug, or one with a narrower activity spectrum."
Cordovana said that the hospital currently uses the Bologna workflow for bloodstream infections only "as they are the most severe, worrying, and challenging." However, it could potentially be applied to a variety of different sample types, she said, noting that she and her colleagues have achieved "very satisfying results" in cerebrospinal fluid.
Going forward "we are going to exploit the strength of this workflow [as much as] we can, applying it in any cases where it can be used," she said.
Several components of the Bruker workflow, including the rapid Sepsityper solution for bloodstream infections, as well as the carbapenem and cephalosporin resistance kits, are not yet cleared by the US Food & Drug Administration for clinical use. Pusch said Bruker is currently pursuing FDA clearance of these portions of the workflow and expects an FDA-cleared version of the rapid Sepsityper kit to be available next year.