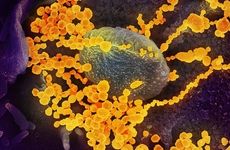 NEW YORK ─ Mount Sinai Health System researchers said on Monday that they have identified cytokine protein inflammation markers that predict the severity of COVID-19 and the likelihood that a coronavirus patient will survive.
The findings provide a foundation for a diagnostic platform and therapeutic targets, the group said in a study published in Nature Medicine. 
The Mount Sinai researchers investigated four cytokine proteins commonly associated with infections that circulate in the blood: interleukin-6 (IL-6), interleukin-8 (IL-8), tumor necrosis factor-α (TNF-α), and interleukin-1β (IL-1β). They found that IL-6 and TNF-α levels were elevated in serum samples from patients who fared the worst, and the finding was independent of other underlying medical conditions; demographics such as age and sex; and other standard clinical biomarkers of disease severity.
The risk of death in patients with elevated IL-6 or TNF-α was twofold or higher than that of patients without the elevated biomarkers, Mount Sinai said in a statement.
In March, the Mount Sinai group began using the Ella research-use-only multiplex immunoassay platform developed by Minneapolis-based Bio-Techne as a rapid cytokine detection system. The platform uses four parallel single-plex microfluidics-based ELISA assays run in triplicate within cartridges, the researchers noted.
An emergency authorization from the New York State Department of Health enabled connecting the test to the electronic medical record, which doctors used to order standard blood tests and medicines for patients.
The researchers said in their study that they selected the platform because of the rapid turnaround time of assay results, which make the results "potentially actionable." Test results were available in three hours, meaning the test could be implemented in a clinical setting to stratify patients and quickly determine treatments, Mount Sinai said.
Mount Sinai had announced in March that it was using the Ella Cytokine Storm Panel to determine when someone infected with COVID-19 is entering a critical point in their disease. A burst of cytokines, called cytokine release syndrome or a cytokine storm, contributes to the severity of COVID-19, Mount Sinai noted, adding that the cytokines attack patients' organs and can cause fatalities.
Over one month, the clinical team used Ella to capture the cytokine blood levels of 1,484 patients admitted to Mount Sinai Health System's hospitals with suspected or confirmed COVID-19, and they tracked the progress of the patients to the day of discharge or death. The group validated its findings in a separate cohort of 231 hospitalized COVID-19 patients, and as a result of the study proposed that "serum IL-6 and TNF-α levels should be considered in the management and treatment of patients with COVID-19 to stratify prospective clinical trials, guide resource allocation, and inform therapeutic options."
Lead researcher Sacha Gnjatic, associate director of the Human Immune Monitoring Center at Mount Sinai, said in a statement, "We also propose that patients with high IL-6 and TNF-α levels should be assessed for combinatorial blockade of pathogenic inflammation in this disease. Drugs blocking these cytokines are either [US Food and Drug Administration]-approved or in clinical trials."
The Mount Sinai researchers looked at how various treatments for a subset of their patients affected the cytokines they measured. They found that treatments recently found to benefit COVID-19 patients, such as the antiviral remdesivir (Gilead Sciences' Veklury) or the corticosteroid dexamethasone, could lower the levels of the cytokines, Mount Sinai said.
Based on these results, the researchers proposed that a treatment could be administered in the context of cytokine measurements. They also said that their findings call for drugs targeting IL-6 and TNF-α, by themselves or combined, to be tested for their potential benefit based on elevated biomarker starting levels.
Monitoring the levels of IL-6 and TNF-α before and during the administration of experimental treatments such as anti-cytokine antibodies or corticosteroids will be useful in establishing a predictive and prognostic value for these potential biomarkers, Mount Sinai said.