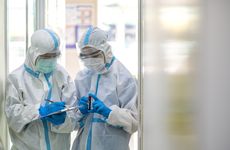 NEW YORK ─ Since the beginning of the COVID-19 pandemic, people working in the in vitro diagnostic industry have encountered a myriad of challenges that, while daunting, provided lessons about how to better prepare for future disease outbreaks, epidemics, and pandemics.
The lessons learned from the current pandemic are numerous, according to industry stakeholders, and include the need for increased reliance on hospital laboratories; better collaboration among in vitro diagnostic manufacturers, laboratories, and government agencies; the recruitment and training of laboratory staff in multiple testing modalities; and a national stockpile of supplies for future testing supply chains.
"This has been a once in a lifetime experience for many healthcare and laboratory workers and has made all of us aware that we have to be more prepared for the next pandemic, epidemic, or outbreak," said Jennifer Dien Bard, director of the clinical microbiology and virology laboratory at Children's Hospital Los Angeles. "We really need to learn from this one."
Right from the outset of the pandemic, her hospital and others like it were left to fend for themselves as they tried to test for COVID-19 while maneuvering to get the reagents and other testing supplies to validate their laboratory-developed tests, Dien Bard said. Testing, she added, required "collaboration across clinical labs and working with colleagues that we knew who were really helpful," and many of her colleagues working in other hospital laboratories "really struggled to go live with testing by well into April."
She and other lab directors said to avoid a similar scenario moving forward, protocols are needed to ensure hospital laboratories become involved in testing earlier, particularly protocols to guide the allocation, sharing, and distribution of samples among laboratories. Responsibility to develop and implement such protocols, Dien Bard said, should lie with an independent public authority such as the US Centers for Disease Control and Prevention.
Additionally, in future pandemics, different types of laboratories should be leveraged "based on the value they bring to a pandemic response," said Jordan Laser, chief laboratory officer at Everly Health.
He said a communications infrastructure is needed that enables the three core laboratory groups ─ public health labs, reference laboratories, and clinical laboratories ─ "to better work together, better engage with government agencies, better engage with manufacturers, and be able to identify in real time where the needs are, what resources are available, and how we can leverage areas of capacity in real time during a pandemic."
Meanwhile, a regulatory process that enables the rapid development of laboratory-developed tests in response to a pandemic can alleviate some of the supply chain challenges, but for future outbreaks the process has to be more efficient, said Laser, who is also vice chairman of the Association for Molecular Pathology Professional Relations Committee, the primary liaison between the association and other IVD organizations.
An AMP survey of its members in April 2020 showed there "was some confusion and shifting sands related to the testing that various types of laboratories were allowed to run to meet demand," Laser said, adding, "Specifically, I'm referring to the [Emergency Use Authorization] process and who was allowed to submit for an EUA and develop tests or not."
The US Food and Drug Administration, which grants EUAs, came under scrutiny for lack of clear communication early in the pandemic. In April 2020, US lawmakers called on the agency to provide information about the accuracy of the various SARS-CoV-2 diagnostic testing being used in response to the pandemic.
Additionally, some public health and lab industry experts blamed the agency for over-regulating labs and hampering early efforts to track how the SARS-CoV-2 virus spread throughout communities.
However, according to an official at the FDA who requested anonymity, many laboratories also contributed to early delays in testing. An agency analysis of the first 125 Emergency Use Authorization applications the FDA received for laboratory-developed tests found that 66 percent "had a problem either with design or validation," he said, adding that in the future "you need to have tests reviewed before they are released for clinical use."
In February 2020, the FDA announced a policy with a goal of getting more tests into the market quickly. A developer could launch a test after sending an email notification to the agency and then provide validation data and an Emergency Use Authorization application within 15 days of the notification.
The tests for which the agency received notification "were out the door in clinical use and some of them were missing lots of people [who were positive for SARS-CoV-2]," the FDA official said.
Further, in an article published in the New England Journal of Medicine in October 2020, Jeffrey Shuren, director of the FDA's Center for Devices and Radiological Health, and Timothy Stenzel, director of the agency's Office of In Vitro Diagnostics and Radiological Health, noted that early in the pandemic "some developers and healthcare professionals were unfamiliar with the EUA process, which created misunderstandings and confusion."
The FDA official told 360Dx the agency plans to soon collaborate with IVD manufacturers and laboratories to jointly develop a new framework to validate diagnostic tests during an outbreak.
Unrelated to regulatory authorizations, hospital laboratories would find it easier to collaborate and manage testing demand during a future outbreak if they had better results-reporting systems, said Erin Graf, director of clinical microbiology at Mayo Clinic.
Collaboration among hospital laboratories to manage testing demand during the current pandemic was stymied by the need to report results using fax machines, which creates "a bottleneck, when you're talking about testing thousands of samples a day," Graf said.
HIPAA-compliant data management systems and portals need to be built and implemented to enable more efficient transfer of patient data, she said, adding that an early and clear path to reimbursement for testing would also encourage collaboration and remove confusion about how tests are billed and paid.
Insurance payments from private payors for SARS-CoV-2 and other testing claims "have been messy for a long time," noted healthcare consultant Bruce Quinn. Though the path to reimbursement for Medicare patients seeking SARS-CoV-2 testing was established early during the pandemic, "some labs have said that they're getting paid pretty well by [private] insurers while other labs have said they're getting paid horribly," he said.
Equally important, said the FDA official, are strategies to ensure that the supply of tests will meet the demand, and the government has a role in that. During the start of the pandemic, and during different waves of surges in infection rates, demand for molecular and, more often, rapid antigen tests, have outstripped supplies.
The US government has reacted by implementing an initiative to guarantee purchases of some over-the-counter tests. In September, for example, the US Department of Defense in coordination with the US Department of Health and Human Services awarded four procurement contracts totaling $647 million to four companies to purchase COVID-19 test kits.
Additionally, going forward, selecting specific commercial manufacturers that can develop "applicable diagnostic tests quickly and in large numbers" could become an important component of future pandemic preparedness, the FDA official said. Selected manufacturers would need to have point-of-care or lab-based testing platforms that could be quickly modified to detect an emerging pathogen, he added.
There is also value in having an independent, government authority involved in validating tests developed during a pandemic, the FDA official said, adding that such a process ensures that manufacturers get access to potentially scarce patient specimens needed for validation. He noted that numerous countries ran such centralized validation systems to evaluate, authorize, and even remove some tests from the market during this pandemic.
In the US, for example, a National Cancer Institute-sponsored validation pointed to problems with a Chembio Diagnostics COVID-19 serology test that lead to its FDA EUA being revoked.
Further, during the US National Institutes of Health's Rapid Acceleration of Diagnostics (RADx) initiative to support the development and launch of home-use tests, design-locked products are being validated with live virus by a third-party lab at Emory University.
A centralized validation process removes procedural barriers during a pandemic and can provide "an appropriate filter system to avoid poor quality from entering markets, while allowing competition to ensure tests are affordable by those who need them," said Christoph Pedain, head of point-of-care diagnostics at Siemens Healthineers. He noted that centralized validation initiatives can help "secure quality, maintain oversight, and support the availability of products to the public … especially in situations where samples are scarce and we are dealing with fast-changing requirements due to variants of the pathogen."
Aside from such an independent validation authority, IVD manufacturers have an important role in communications with laboratories to ensure tests reach the places of greatest need during an outbreak, said Nathan Ledeboer, medical director of the clinical microbiology and molecular diagnostics laboratories at Medical College of Wisconsin.
 To provide a clearer picture of how well supply and capacity is matching demand, manufacturers, in general, need to take the lead in communicating their findings about capacities, allocations, and demand not only to their laboratory customers but also to the federal government, which can support decisions about regulations and funding, Ledeboer said.
Qiagen also sees a need for better communications among IVD industry stakeholders, Davide Manissero, chief medical officer at the firm, said, because "for the first time direct interaction with the public, clinicians, and public health agencies became a key component in launching and maintaining products on the market at an unprecedented rate and volume.
"Such situations warrant a flow of information and knowledge-building with stakeholders, ranging from interpretation of different operational characteristics to selection of most appropriate test solution [to meet] fluctuating infection incidence and prevalence as well as different patient populations," Manissero said.
For example, education about matching test characteristics to specific testing needs is an ongoing IVD industry requirement and cannot easily be rolled out in the middle of an evolving pandemic, he noted.
Even before the pandemic, there was already a shortage of qualified laboratorians, which has only intensified during the past year and a half.
"We knew we were eventually going to face a major workforce shortage in clinical labs," Mayo's Graf said. "It just happened faster than we expected."
She attributed part of the problem to how underpaid the field is. According to ZipRecruiter, the average salary for a US-based laboratory technician varies by state and ranges from $17.88 to $26.97 per hour. 
"We need more awareness of this career path just as we need more awareness of the importance of laboratory testing in medicine and patient care," Graf added, and for the future, programs also need to be developed and launched to teach laboratorians broad skillsets and help them retain them.
One of the key takeaways from the pandemic is the lack of molecular and NGS training received by clinical laboratory science students, Graf said, adding that during a pandemic, laboratories need to be able to draw on people who have the broad skills and expertise to execute tasks that are not part of their daily work routines.
During the current pandemic, a shortage of manufacturing staff, as well, continue to challenge IVD manufacturers, forcing company executives to find ways to work around it.  
In a recent call to discuss OraSure Technologies' third quarter financial results, its President and CEO Stephen Tang said the company is encountering a tight labor market, particularly for manufacturing, in Lehigh Valley, Pennsylvania, where it is looking to ramp up production of InteliSwab, a lateral flow antigen test that received FDA EUA for over-the-counter use without a prescription in June. The company is seeing success in hiring people referred by other employees, Tang said.
Quidel CEO Douglas Bryant said on the firm's Q3 call that the current demand for labor has prompted it to increase pay rates, and Chembio Diagnostics CEO Richard Eberly said on the firm's Q3 call said that its future financial viability and ability to deliver tests in time associated with a $28.3 million purchase order were partly due to IVD supply chain and manufacturing staff issues.
Shoring up supply chains for the remainder of the current pandemic and to prepare for future outbreaks will require a comprehensive national response, involving coordination and cooperation among a range of IVD industry stakeholders, including laboratories, manufacturers, and government agencies, Laser said, adding that an IVD industry stockpile may also be needed so that manufacturers can quickly access important components during a pandemic.
The US had not stockpiled diagnostic testing components prior to the current pandemic, but that may "change in the future," the FDA official said. A large accumulation of testing supplies used during an emergency does not have to be part of the strategic national stockpile, which includes the US national repository of antibiotics, vaccines, chemical antidotes, antitoxins, and other critical medical supplies. Under a new model, the US government could pay select IVD manufacturers to overproduce so they always have an extra amount of test supplies on hand, and sell those supplies before they reach their expiration dates, the FDA official said.
According to Graf, laboratories may also need to upgrade platforms that they have recently purchased to be better prepared for future pandemics. To meet testing demand during the current pandemic and reduce supply chain risk, many hospital laboratories invested in platforms from different manufacturers, Graf noted. These labs will need to continue to provide maintenance for the systems they have purchased and replace them when they are become outdated to be prepared for a future pandemic, Graf said.
However, hospitals generally want "to run lean and not pay for service contracts for equipment that is not being used" on an ongoing basis, she noted, adding that federal public health funding may be required to help laboratories maintain "that kind of frontline flexibility."