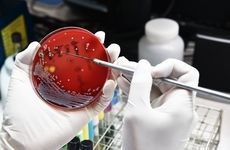 NEW YORK (360Dx) – A new European consortium plans to remake the way in vitro diagnostics are developed and used in treating infectious diseases in a bid to combat antimicrobial resistance.
The effort, called VALUE-Dx, commenced its activities this month with a kickoff meeting held in Madrid. Backed by the European Commission, the Wellcome Trust, and private companies, VALUE-Dx will run for four years with a total budget of €14 million ($15.8 million).
The private-public partnership involves six IVD companies and is being heralded by participants as an opportunity for competitors to work together to improve test adoption. It has numerous goals, including showcasing the benefits of using tests to combat AMR in upper respiratory tract infections, co-development of adaptive clinical trial platforms, generating economic models to determine the specific value of using diagnostics, and the creation of a surveillance platform to collect data from IVD devices worldwide.
"In vitro diagnostic companies are teaming-up to speak with one voice to raise awareness concerning the importance diagnostic tests to improve patient outcome and reduce inappropriate antimicrobial use," said Philippe Cleuziat, innovation program senior director at BioMérieux, the industry lead on the project. "The IVD industry wanted to join forces and speak with one voice in order to address the public health challenge of AMR," Cleuziat said.
In addition to BioMérieux, the other five industry partners in VALUE-Dx are Accelerate Diagnostics, Alere, Becton-Dickinson, Bio-Rad Laboratories France, and Janssen Diagnostics. The effort also involves nine European universities and 13 professional organizations and societies. The University of Antwerp, bioMérieux, and the Wellcome Trust are coordinating the project.
VALUE-Dx is backed by the Innovative Medicines Initiative (IMI), a European Commission-led, public-private partnership that supports pharmaceutical research.
"I hope we will demonstrate that you can no longer prescribe antibiotics blindly without finding out what the patient has, or looking at biomarkers to guide treatment," said Herman Goossens, a professor of microbiology at the University of Antwerp in Belgium and the academic lead on VALUE-Dx. "It's quite shocking that we still prescribe antibiotics without wondering what the patient has."
According to Goossens, VALUE-Dx has its origins in Drive-AB, another IMI-funded project with multiple aims, including the development of new economic models for better reimbursement of antibiotics. Drive-AB concluded in 2017. Goossens was a partner on the project.
"Afterwards, we had a lot of discussions with the Commission, with industry, with academia, and determined that the business model is broken for antibiotics," noted Goossens. "At the same time, these diagnostic tests do have a fantastic value for patients but also for society, as a public good," he said. "Therefore, we need to look at the real value of diagnostics, not just for the patients but for society."
Assessing the value of diagnostics used for testing patients and guiding antibiotic therapy selection is the main concept of VALUE-Dx. To do so will require some "very challenging, innovative studies," said Goossens. One immediate project will surveil how patients with community-acquired lower respiratory tract infections are treated, what kinds of tests are used, and what antibiotics are prescribed.
Though the study is focused specifically on respiratory tract infections, the hope is that the outcome of the work will be applicable to other common infections, such as urinary tract infections or bloodstream infections, Goossens noted.
VALUE-Dx participants will also carry out an adaptive platform trial where different clinical algorithms are compared, as well as at least five diagnostic tests over multiple years. The investigators want to identify what algorithms combined with what tests have the greatest impact on successfully prescribing therapies.
Goossens said that the tests have not yet been selected but would include offerings sold by industry partners taking part in the consortium, though not exclusively. "Of course, the companies involved will be included in the trial," he said. "We also have a budget to support small and medium-sized enterprises, and we will also look at what's in the market over the next few years," he said. "There may be diagnostics firms with fantastic tests that wish to join."
VALUE-Dx also involves the participation of economists, who will create economic models for clinical trials that can be used for other infectious diseases in the future, "so we can see the real value of diagnostics and how we can get better reimbursement," noted Goossens. The consortium also includes scientific leads that will "do a lot of quality research," he added.
Till Bachmann, deputy head of infection medicine at the University of Edinburgh, is taking part in VALUE-Dx, specifically in efforts around diagnostic algorithms, user requirement specifications, and creating a roadmap for the development and implementation of diagnostics.
"A huge issue in the past has been around absence of useful guidance for developers and users in this space," noted Bachmann. "Providing user requirement specifications would really help the development and implementation of diagnostic tests," he said.
"This project is not about developing new technologies," Bachmann added. "Before we develop new technologies, we need to understand what is required to implement them and get the evidence for that," he said. "That is why VALUE-Dx is important."
Another goal of VALUE-Dx is to develop a surveillance system capable of automatically obtaining antibiotic-resistance data from diagnostic devices. Information would be transmitted to a central database that could be used to inform future studies under the envisioned scheme.
"There are a lot of devices in labs, not only in Europe but worldwide, which means there is a lot of data that is not used or exploited," said Goossens. "We want to automatically download this kind of information."
VALUE-Dx also aims to make the project sustainable beyond its end date in 2023. "One of the problems in Europe is that we have a lot of project funding, and these projects are always ad hoc," said Goossens. "People build a consortium, they build a biobank, and after four years the whole thing collapses, the database is no longer used, and it's a huge waste of money," he said.
The consortium will engage a consultant — yet to be determined — that will help members build a business plan for sustaining a clinical trials network and administering a database and biobank.
By the time the project wraps up in four years, Goossens said, VALUE-Dx should deliver new algorithms and IT tools for clinical trials, as well as the platform for connecting devices for resistance data. It should also result in economic models that better show the value of diagnostics. "We will be able to show regulators that diagnostics should be reimbursed based on data other than clinical data," Goossens said. "We'll be able to show impact on public health, society, and diagnostics."
While the effort's immediate focus is on Europe, the results of VALUE-Dx could also impact adoption of tests to combat AMR in low-resource settings. The Foundation for Innovative New Diagnostics (FIND), a Swiss nonprofit focused on delivering new tests for poverty-related diseases, is taking part in VALUE-Dx. Cassandra Kelly-Cirino, director of emerging threats at FIND, said that the organization is interested in applying methods and tools developed within VALUE-Dx in low-resource settings.
"If we design and evaluate these tests properly from the beginning, those benefits will be immediately transferable into the low-resource setting," Kelly-Cirino said. "The adaptive clinical trial study design and modeling and cost effectiveness will look specifically at the EU," she noted, "but showing the cost of AMR, how we show impact of using these tests, that will be immediately transferable and expandable to low- to middle-income countries — not the data itself but the models."
Industry partnership
The fact that six IVD firms have agreed to work collaboratively in VALUE-Dx is unique for the industry, participants noted. While pharmaceutical companies often work together on projects, the IVD sector is considered to be competitive, and rivals are less keen on helping each other.
However, the companies involved recognize that in order to foster greater adoption of their tests, they have to show the benefits of using them.
"The reason the diagnostics industry is coming together is that they see there are massive barriers for implementation of these diagnostic tests," said the University of Edinburgh's Bachmann. "They are not taken up in a way that is satisfactory."
"If we look at history, the semiconductor industry started to work [together] 20 years ago, the pharma industry started to work together 10 years ago," commented BioMérieux's Cleuziat. "The IVD industry is a much smaller market than pharma," he noted. It is unusual that IVD companies are cooperating and teaming up to support adoption and raise awareness of tests at a global level and support their use in routine care.
According to Cleuziat, companies in the sector would like to be able to show the benefits of using these tests on their own. At the same time, one firm alone cannot change guidelines and the participating firms have recognized the benefits of joining forces.
"I think through the consortium we can make things change," Cleuziat said. "If every company tries to work independently, it will have less impact, less dissemination, less power
than if one sector is speaking with one voice."
Goossens acknowledged that the IVD industry "does not have that kind of tradition" of partnering in such efforts, but said he hoped VALUE-Dx would "build trust" among participants.
"There are many ways they can benefit, particular from economic models and platform trials," Goossens said. "We need to build tradition that they work together more closely." He noted that a number of IVD makers declined to join VALUE-Dx because they did not want to cooperate with competitors. "I think they are making a big mistake," he said, without naming those companies. "I hope they will join eventually."