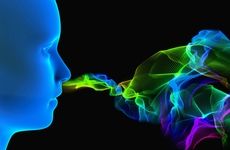 NEW YORK – Clinical investigators in the Netherlands reported that a breath test was highly accurate when they used it to identify whether or not lung cancer patients responded to the anti-PD-1 immunotherapies nivolumab (Bristol-Myers Squibb's Opdivo) and pembrolizumab (Merck's Keytruda).
In a study published on Wednesday in the Annals of Oncology, the test — an electronic nose called eNose — successfully detected volatile organic compound signatures reflective of response to immunotherapy that were emitted in the breath of patients. 
Such a test may provide clinicians and patients with an approach that eliminates the need for biopsies and is less invasive than use of immunohistochemistry (IHC) for selecting who will respond to anti-PD-1 immunotherapies, according to its developer, Reeuwijk, Netherlands-based Breathomix.
The eNose uses metal oxide semiconductor sensors to measure the mixture of molecules in exhaled breath and employs advanced signal processing to create individual breath profiles. These breath profiles, together with clinical patient characteristics, are stored in an online reference database. Using molecular pattern recognition and machine learning algorithms the breath profiles of new patients are compared to the reference database in order to achieve a diagnostic or phenotypic answer.
The test could help improve medical outcomes and more effectively manage lung cancer patient treatments, Mirte Muller, a researcher in the department of thoracic oncology at Netherlands Cancer Institute in Amsterdam, said in an interview.
Clinicians currently use IHC-based methods to detect the PD-L1 biomarker to determine the effectiveness of immunotherapies. However, the approach has its shortcomings, according to Muller, including a level of accuracy that needs improvement. IHC testing of PD-L1 has an estimated 75 percent accuracy at telling a clinician whether a patient is responding to a therapy and an estimated 66 percent accuracy at revealing whether a patient is not responding, she added.
In the recent study, which was conducted at the Netherlands Cancer Institute, Muller and her colleagues ran the eNose test before they initiated immunotherapy on patients.
Previous studies showed that using eNoses, lung cancer and the epidermal growth factor receptor mutation can be detected with high accuracy.  That led the researchers to pursue the current study.
The investigators had hypothesized that exhaled breath analysis by eNose could provide identification of responders and non-responders to anti-PD-1 therapy in patients with advanced non-small cell lung cancer. The study aimed to determine the accuracy of exhaled breath analysis at baseline for discrimination between responders and nonresponders to anti-PD-1 therapy in NSCLC patients using both a training and validation set. It also aimed to compare the predictive accuracy of the eNose in combination with the PD-L1 biomarker for nonresponse to the anti-PD-1 therapy.
In the prospective observational study, Muller and her colleagues divided advanced non-small cell lung cancer patients receiving the checkpoint inhibitor therapies into training and validation cohorts. In all, they recruited 143 patients with NSCLC between March 2016 and February 2018. They used the electronic nose to collect breath profiles of the patients before they began treatment with nivolumab or pembrolizumab. After three months the investigators used computed tomography scanning to assess whether the patients were responding to the treatment. The eNose platform contributed significantly at baseline in the differentiation of patients with different responses at three months of anti PD-1 treatment, Muller said.
The analysis of exhaled breath from patients with non-small cell lung cancer was 85 percent accurate in distinguishing between responders and non-responders to nivolumab or pembrolizumab.
During the study, the investigators used the eNose for breath analysis to avoid prescribing ineffective treatments with side effects, and the sensing platform correctly identified all of the patients that were found to be non-responders, which was 24 percent of the total tested patient population, Muller said.
A noninvasive test, such as the eNose, is important because it provides a result at the point of care within minutes, allowing interaction with a patient quickly after treatment. Additionally, it provides a method of allowing patients — who may not be able to undergo biopsies due to health issues — to be tested.  
The platform — which uses an instrument, computer, and online software, along with breathing equipment that hospitals already use — is inexpensive compared to other diagnostic tests used in lung cancer diagnostics, Muller noted.
Breathomix said it anticipates that a commercial version of its platform and test could be made available for a few thousand dollars, but it did not disclose specific pricing.
Breath Diagnostics
Rianne de Vries, a PhD student and technical physician at the Academic Medical Centres in Amsterdam, and Maurik van den Heuvel, managing director of Teknoworks Netherlands, a software services company, cofounded Breathomix last June. Van den Heuvel is now also Breathomix's CEO, and Teknoworks has a collaboration with Breathomix associated with its platform's software. De Vries is Breathomix's COO.
Prior to the release of results from the Annals of Oncology study, the Amsterdam University Medical Centres had collaborated with other clinical centers to demonstrate that the breath test can be used to accurately detect asthma, asthma subtypes, chronic obstructive pulmonary disease, and early lung cancer, de Vries said in an interview.
The test has detected asthma and COPD with accuracies greater than 90 percent, and lung cancers with accuracies greater than 95 percent, de Vries said. She added that the firm has also collaborated with various clinical research groups that have done preliminary studies using the platform to diagnose cystic fibrosis, diabetes, and liver disease.
By continuing to collect results using its sensor on more patients, the firm is building higher levels of accuracy and broadening the scope of conditions it can diagnose, she noted. Breathomix has results from more than 4,500 patients in a continuously growing database.
The convenience for patients associated with breath testing is motivating diagnostic companies to move their technologies toward commercialization. In August, Oakland, California-based Hound Labs closed a $30 million Series D financing round to support faster manufacturing and commercial availability of its alcohol and marijuana breathalyzer. Rapid Biosensor Systems, based in Cambridge, UK, is targeting the clinical need for more rapid and affordable tuberculosis screening by combining breath sampling with evanescent-wave optical sensing.
A Breath Biopsy system developed by Owlstone Medical, also based in the UK, requires breath samples to be sent to a laboratory for processing by mass spectrometry. Several clinical studies are under way to validate its breath biopsy platform, which analyzes volatile organic compounds but uses different technology to do so than the point-of-care Breathomix system, DeVries noted.
Breathomix, which is privately funded and continues to collaborate with the Amsterdam University Medical Centres, is continuing with clinical studies with a view to obtaining regulatory clearance to enable them to launch the product in Europe. The firm anticipates obtaining clearance in compliance with the new European Union Medical Device Regulations that will go into effect in 2020, DeVries said. The firm is in discussions with insurance companies in the Netherlands about getting reimbursements for patients using its tests, de Vries said. Eventually, obtaining US Food and Drug Administration clearance is among the firm's objectives.
The firm is also collaborating with Princess Margaret Cancer Centre in Canada; Antonie van Leeuwenhoek Hospital in the Netherlands; Imperial College London in the UK; and the Karolinska Institute in Sweden, among other clinical health centers. It is collaborating with Microsoft on its software platform.
To market the test in the future, Breathomix plans to establish relationships with distributors in different countries and will consider hiring its own sales and marketing team, de Vries said.
The results of the Annals of Oncology study are a steppingstone to potential adoption of eNose as part of clinical practice in hospitals, Muller said, and it provides a foundation for a large prospective multicenter study to validate the current findings that it currently being planned.
"We need to analyze more patients because the landscape of immunotherapy is changing fast," she said. "In this trial, we gathered a lot of data for second-line immunotherapy patients and some for first-line patients, but for now we lack data for patients who are treated with the combination of chemotherapy and immunotherapy."