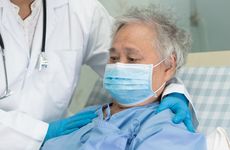 NEW YORK – While recent actions by the federal government directed at nursing homes could increase the need for SARS-CoV-2 tests to nearly unheard-of volumes, the industry said it is ready and will meet the anticipated demand.
Specifically, the developers and manufacturers of rapid antigen tests for the coronavirus said that they are prepared for what could be an enormous demand for such tests, which detect protein antigens, rather than viral antigens as with PCR-based tests. 
As the country continues trying to meet an ongoing demand for testing for COVID-19, rapid antigen tests are being seen as a potentially crucial tool to getting more people tested more frequently, particularly in the nursing home setting, where the federal government has taken recent action to provide more testing of staff and residents.
For example, at the end of August, the US Centers for Medicare and Medicaid Services announced a final rule requiring nursing homes to test all residents and staff for COVID-19 at least once a month for routine testing, depending on the county's positivity rate, and more frequently if an outbreak has occurred or a patient or employee has symptoms. CMS has recommended nursing homes use PCR as well as point-of-care diagnostic tests for the testing, including rapid antigen tests like those released by Abbott, Becton Dickinson, LumiraDx, and Quidel and announced by Roche.    
The CMS final rule follows purchases by the US Department of Health and Human Services of rapid antigen tests from Quidel and BD to help nursing homes detect the coronavirus. Both Quidel and BD said they are fulfilling all of the obligations under their deals with HHS, with BD saying it has supplied instruments and tests to more than 11,000 nursing homes. However, a recent report from the Wall Street Journal said some nursing homes are receiving false positives from BD's rapid test. 
These new demands from the federal government have led to concerns about whether nursing homes will be able to receive results in a timely manner and about testing and manufacturing capacity and whether it's possible for diagnostic firms to produce diagnostic tests at these volumes, especially rapid antigen tests.
Representatives from Abbott, LumiraDx, Quidel, and Roche, however, said they're not concerned about meeting capacity and that they have plans to continue scaling up to meet the demand as it increases. A spokesperson from Quidel said via email the firm is currently manufacturing and shipping 1.9 million tests with swabs per week and it expects to reach 2.8 million Sofia 2 SARS Antigen FIA test cartridges by January. The company said it plans to get to a yearly manufacturing run rate in excess of 220 million tests by the middle of 2021.
Quidel is also expanding its instrument manufacturing of the Sofia 2 analyzer from 2,000 units per month to approximately 10,000 units per month in October, the firm said.
LumiraDx, similarly, is on track to increase its testing capacity from 2 million tests in September to 10 million tests in December, a spokesperson for the company said via email. 
Roche, meanwhile, said when it launches its rapid test at the end of September, it will have 40 million tests available per month, which will then more than double by the end of the year. To ensure tests are going where they're most needed, the company said it has set up a product allocation strategy to take into account local testing capacity, local COVID-19 disease burden and population, local demand, and additional allocation to areas where laboratory testing capacity is lower.
Abbott's previous announcement of regulatory approval for the instrument-free BinaxNow test said it will ship "tens of millions" of tests in September, ramping up to 50 million tests per month in October.
Becton Dickinson said it has produced 10 million tests total between July and September, ramping up to 8 million per month in October and then 12 million per month in March.
In spite of the assurances from the companies, though, meeting the demand will not be easy. Many of these companies didn't have excess capacity in their manufacturing lines to handle the COVID-19 surge, said Tony Lemmo, CEO of diagnostic manufacturing firm BioDot. "This industry is not an 'If you build it, they will come' [industry] as far as capacity," he said. "So, then they have all had to reinvest on their own in order to expand." 
And expanding capacity at these levels requires significant advanced planning, he continued. "Companies have had to go find building space and hire personnel," he said. "The facility requires a lot of planning and probably takes six months of effort for somebody to get that going unless they were very aggressive. It can't happen overnight."
But he noted "It's not at all impossible or inconceivable for companies to be producing 50 million tests per month to as much as 100 million tests per month," especially for big in vitro diagnostics firms like Abbott, Becton Dickinson, and Roche that have global infrastructure. 
Even that volume might not be enough to get a handle on the pandemic, however. A report released last week from Duke University's Margolis Center for Health Policy funded by the Rockefeller Foundation said a nationwide screening strategy in the US will require about 200 million tests per month. Mara Aspinall, the managing director and co-founder of life sciences venture capital fund BlueStone Venture Partners, worked on the report and noted some of the potential concerns for companies. 
She said she believes companies in the field are experienced but said they will "need to execute flawlessly with high quality" to ensure the testing demand is met. Companies with tests requiring instruments need to understand the planned maintenance of those instruments, considering many labs are running the platforms up to 18 hours a day, Aspinall continued.
Another serious concern for meeting the demand is the ongoing supply shortages that have occurred throughout the COVID-19 pandemic. Emily Volk, president-elect of the College of American Pathologists said there is a worldwide shortage of laboratory-quality plastic that has impacted how tests are allocated at different laboratories, which also affects whether tests can be used for asymptomatic screening. The significant symptom overlap between COVID-19 and influenza and increased demand for testing because of the flu season will also add "more stressors on the system, not just from nursing home need to meet these new demands, but also just from the need for more testing in general," she said.
David Grenache, the American Association of Clinical Chemistry's president, also noted the supply chain issues. A survey conducted in August by the organization found 67 percent of labs are having issues getting reagents and test kits for COVID-19 assays, the highest number since monthly surveying began in May. Meanwhile, 32 percent of labs are also having trouble getting supplies for non-COVID-19 tests. Grenache called the results "very concerning," saying "many labs are already struggling to meet testing demands and increasing the number of tests due to nursing home testing could be a challenge." 
The American Health Care Association/National Center for Assisted Living said CMS must factor delays in test results into its enforcement of its final rule, and Volk noted that beyond the labs themselves, the burden would also be on the nursing home staff who have to run the test and get the results.
Despite her concerns, Volk emphasized the impressiveness with which diagnostic firms have worked to meet demand. "We have a huge demand to meet to get testing for everyone who needs it and wants it," she said. "Truly, it has been a Herculean effort to set up lab testing in the volume that we've been able to in the United States."
Adam Bonislawski contributed to the article.