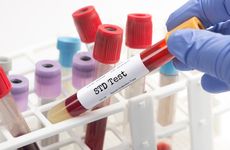 NEW YORK – Even as the COVID-19 pandemic has taken center stage during the past two years, sexually transmitted diseases have also run rampant, particularly in marginalized populations, raising concerns among public healthcare advocates.
To stem the rise in cases, they said a greater emphasis needs to be placed on testing.
The US Centers for Disease Control and Prevention noted in a report about the impact of COVID-19 on STDs that the number of reported STDs "rapidly fell" during initial COVID-19 lockdowns in March and April 2020, but that before the lockdowns, weekly numbers of chlamydia, gonorrhea, and syphilis were all higher in 2020 compared to 2019. However, the pandemic had a sizable impact on STD rates, largely due to reduced screening, limited resources, and social distancing measures, the CDC said.
That being said, according to 2020 data — the most recent year available — from the CDC, rates of reported cases of gonorrhea in the US increased 10 percent compared to 2019, and rates of primary and secondary syphilis increased 7 percent. Congenital syphilis, meantime, increased 15 percent year over year in 2020.
Although rates of chlamydia decreased 13 percent over the same time period, the CDC noted in its 2020 data report that the decline is "unlikely due to a reduction in new infections," but rather due to a decrease in screening, as people were largely unable to visit healthcare clinics during the COVID-19 pandemic. Because chlamydia infections are often asymptomatic, "case rates are heavily influenced by screening coverage," the CDC said. In its separate COVID-19 impact report, the agency said that many health departments prioritized the diagnosis and treatment of syphilis and gonorrhea during the pandemic due to reduced staffing, which "likely further reduced the number of chlamydia cases processed and reported."
Yukari Manabe, a professor in the infectious diseases division in Johns Hopkins University's department of medicine, noted that being unable to access public health clinics due to pandemic lockdowns also impacted the opportunity to receive preventive treatment for STDs.
STDs are not spread equally across different populations, either. The CDC noted that in 2020, 32 percent of all cases of chlamydia, gonorrhea, and primary and secondary syphilis — the three STDs with federally funded control programs — were among non-Hispanic Black people, although they comprise only 12 percent of the US population.
Men who have sex with men (MSM) are also disproportionately affected by STDs, although there's generally less data on sexual behavior, making it harder to determine the exact numbers of the population. Data from the CDC's STD Surveillance Network found that approximately one-third of gonorrhea cases occurred among the MSM population, and while primary and secondary syphilis cases among that group decreased 2 percent in 2020, MSM accounted for 53 percent of all male primary and secondary syphilis cases in that year. In states with complete data on sex partners for male cases, rates of primary and secondary syphilis among MSM increased in 18 states in 2020.
Philip Chan, an associate professor of medicine at Brown University and chief medical officer of LGBTQ-centered clinic Open Door Health, said there are "multifactorial" causes for disparities in STD rates among people from marginalized groups. The disproportionality, he added, is the result of social determinants of health, such as more limited access to healthcare in general and less awareness about STDs and how to address them.
Those factors likely mean that true case rates are even higher than what the CDC reports, Chan said, as many underserved populations are probably testing less because they can't access tests or may not be aware of certain STD symptoms.
There are also logistical challenges that can impact a person's access to care and testing, such as the ability to take time off work to go to a healthcare provider and get tested, as well as the transportation needed to get there, Chan said. Telemedicine is one possible option to improve access to care, since there is no need for transportation, but samples still have to be collected and tested, so it's not a be-all and end-all solution, he said.
The CDC Director of the Division of STD Prevention Leandro Mena echoed Chan's assessment of the obstacles facing underserved communities in accessing STD testing and treatment. There are "many social and economic conditions that really make it more difficult for some populations to stay healthy," including poverty and unstable housing, which disproportionately affect marginalized populations, he said. Stigma surrounding STD testing and sexual behavior can also be a deterrent, particularly for LGBTQ patients who are worried they will face homophobia and discrimination when seeking care.
Role of diagnostics
Chan emphasized the importance of diagnostic testing in providing accurate data about STDs and in aiding treatment for infected patients. Yet, he also noted that there are still obstacles in providing that testing, as STD testing is "stigmatized," and confidentiality is a major concern for patients who are seeking testing.
To help alleviate some of that discomfort, he mentioned that diagnostic companies and providers need to think about the patient experience when undergoing STD testing, such as how the tests can be run in community or nonclinical settings and "what can be done to make the testing experience as person-centered," simple, and convenient as possible.
According to one expert, healthcare providers need to be particularly mindful of the stigmatization surrounding STD testing. Especially in patients with no symptoms, testing is "not always going to be driven by the patient asking" for it, said Barbara Van Der Pol, a professor of medicine and public health at the University of Alabama at Birmingham. There's "a lot of provider hesitancy," as doctors may feel awkward or invasive asking about sexual activity or don't want to offend patients.
"In a four-year medical training curriculum, people get about four hours of sexual health training," Van Der Pol said. "We can't expect providers who've had no training" to ask about sexual health and STDs. At the same time, patients with low healthcare literacy or limited knowledge about STDs may not know what to ask. "We need education and attitude shifts at both ends," she said.
Chan echoed the need for an attitude adjustment, saying that "we have to normalize these discussions and conversations in clinical care and, frankly, elsewhere, so that people can be educated about their sexual health and then can feel comfortable going into a clinic or wherever to ask their questions and get STI tested if needed."
Cost is another concern for many patients with the out-of-pocket cost for testing "a barrier that we see every day," Chan said. "It's not to say that companies should take a loss on these tests, but [it] is to say that we … need to figure out systems and approaches that … can still provide accessible STI testing even for people who can't afford out-of-pocket costs."
While the federal government does fund "safety net" STD testing services through state health departments, those programs "tend to be limited in scope" and should instead serve as models from which broader funding and partnerships between private industry and public health can be built, Chan said. The COVID-19 pandemic showed that there is a need to "shore up" public health and community clinics, and "we need to take [the] lessons learned" from the pandemic to "provide more resources and infrastructure so they can be used for other health topics of public health importance like STIs," Chan said.
Van Der Pol also noted the difficulties when it comes to reimbursement, which "doesn't look super good right now." Insurance companies "don't seem to have any real interest" in paying for STD testing, she said.
Free STD tests are available in public health clinics or at health departments as an option for people without insurance, said Johns Hopkins' Manabe, but the issues of access are still present since many clinics are only open during business hours.
Nonprofits also offer STD testing and can be an option for patients belonging to marginalized groups, Manabe said. She runs the I Want the Kit program at Johns Hopkins, which provides free at-home self-collection kits for chlamydia and gonorrhea to be sent for testing at her laboratory. However, users still need to go online to access the results, which requires a certain amount of "personal infrastructure," she said.
Similarly, the cost to providers to offer testing can be an obstacle, Chan said. Laboratories and clinics are "the ones who write off these costs" when a patient can't pay. Many community clinics like Open Door Health use federal safety net funding, such as money provided through the Health Resources and Services Administration's 340B program, to offset the cost of STD testing for those who can't afford it, but Chan said that his clinic loses money on its STD testing program for LGBTQ patients. "We have to look at ways to make it sustainable," he said, and one possibility may be to involve private industry in the conversation.
Post-COVID potential
The CDC's Mena noted that the increased collaboration between public health and private organizations that arose because of COVID-19 could serve as a jumping-off point for improved STD testing technologies. The agency aims to "support and promote the kind of innovation and discovery that would help us to approach these issues in a different way," such as through its STI Impact Research Consortium, a collaboration between public health and academia wherein the CDC will fund studies aimed at reversing trends in STD cases.
But different STD programs and the CDC can't solve the issues with STD testing on their own — the private sector can play an important role to "develop and deliver … innovations," Mena said.
Many diagnostic companies already have STD testing businesses — industry behemoths like Roche, Quest Diagnostics, and Becton Dickinson all have prominent and growing STD testing businesses — but the options for testing have changed as a result of the COVID-19 pandemic, which could be a good sign for STD testing.
Both point-of-care testing and at-home testing have exploded in popularity during the pandemic and could provide solutions to some of the obstacles faced by marginalized groups attempting to get tested for STDs. Self-testing, telemedicine, and home sample collection kits could be a way to overcome concerns around confidentiality, Chan said, since there's no need to come into a doctor's office and request an STD test.
One "silver lining of COVID-19" is the increased focus on point-of-care and at-home testing, which "hopefully will roll over" to STDs, Van Der Pol said. People were already working on point-of-care testing for STDs before the pandemic, but the technological advances resulting from the pandemic could speed things up, she said.
But home-collection kits and telemedicine are not cure-alls, Van Der Pol cautioned, since a patient must still know they need testing and have access to the internet to order the tests. The cost is also prohibitive — direct-to-consumer STD testing kits can run from about $75 to $400 depending on the brand and disease, which is "not affordable to … people who need it the most."
For example, the LetsGetChecked Standard 5 STD Test, which tests for chlamydia, gonorrhea, HIV, syphilis, and trichomoniasis, costs $149. The firm offers another assay that screens only for chlamydia and gonorrhea for $99, or a more extensive panel for eight STDs that costs $249. Everlywell Health's self-collection kit for seven STDs, meantime, costs $149, while myLAB Box's eight-panel kit totals $199.
In a significant step forward, a recently instituted California law — Senate Bill 306 — requires reimbursement for home STD testing when ordered by a healthcare provider, but a loophole in the language may make implementation difficult, Van Der Pol said. The law requires reimbursement when a test is medically necessary or appropriate, leaving it up to a payor's interpretation whether a test was necessary. 
Johns Hopkins' Manabe noted that use of direct-to-consumer kits can be "problematic" because they're not being ordered by a healthcare provider. A user that purchases one of the panel tests may be testing for something they don't need, and many of these companies aren't offering the same level of results interpretation you'd get with a healthcare provider. As a result, it's "not clear" whether users are getting what they need, she said.
And all of these home-collection kits still require a sample to be sent to a lab for testing. The only true at-home test for an STD that doesn't require a prescription is OraSure Technologies' OraQuick In-Home HIV Test. Many diagnostic companies have said they plan to create at-home STD tests, but thus far none have made it to market.
Damian Alagia, senior medical director for advanced diagnostics and women's health at Quest, said that the firm currently offers molecular tests for chlamydia, gonorrhea, Trichomonas vaginalis, and Mycoplasma genitalium and is looking into developing home-based STD tests. However, he noted that there are many hurdles to getting a home test to commercialization, namely regulatory approval and payment models with insurers. "It goes beyond just offering the test," he said. "The technology to offer the test is there, but then we have to validate it, and then we have to go through the regulatory process to make sure it's a safe test, it's accurate, and then we look at pricing."
"I'd say we have a clear path to get there … it's really a matter of going through the different stage gates to complete the process."
The pandemic "showed us that home testing can be done … on millions of patients with a very short ramp-up time," Alagia said. "With that as a paradigm or an example of what home testing looks like, people are more likely to understand how that works."
He also noted the need for someone who tests positive for an STD to receive care quickly. During the pandemic, some have pushed for the greater use of telemedicine, but while home-based STD testing partnered with telemedicine could shorten the time to treatment by a healthcare provider, that would not be true for all patients. Those without access to the internet would still need to go to a clinic or doctors' office for treatment and would face the same concerns about transportation and time off from work, as Chan noted.
Meantime, Jeff Andrews, VP of medical and scientific affairs at Becton Dickinson, said that the firm is in the early development stages of home tests for chlamydia and gonorrhea. It currently offers multiple microbiology tests for chlamydia, gonorrhea, trichomoniasis, human papillomavirus, and HIV, including a multiplex test for chlamydia, gonorrhea, and trichomoniasis. BD also offers a vaginal panel for the causes of vaginitis, he said.
BD has been very active in the self-collection market, receiving CE marking last year for an HPV self-collection kit that has also been approved in Australia and pre-submitted to the FDA. That self-collection kit will be used in a National Cancer Institute-led clinical trial for underserved and underscreened women that will begin in January 2023, Andrews noted, and the NCI is working with the FDA to make sure the study will satisfy the FDA's validation requirements, he said.
The company also has a self-collection kit for its multiplex chlamydia, gonorrhea, and trichomoniasis test, as well as one for its vaginal panel. BD is pursuing self-collection kits for blood, as well, so it could eventually expand its self-sampling options further. "The idea is to make it easier for patients to get tested or screened if they want to by having diverse ways of sampling … and different instruments depending on where they want to be tested," he said.
The firm is working to expand the demographics of its validation studies as well, Andrews said. While there's not typically a requirement for a certain number of people from different races or different sexual orientations, the firm "intentionally look[s] for a variety of sites that will give us a cross-section of people," when validating its tests.
Roche is also aware of the disparities in STD rates and testing among marginalized groups and is working to make testing more available, said Roche Molecular Systems Head of Clinical Science Paul Baum. The company offers STD testing on multiple platforms, including its PCR-based Cobas instruments and its Elecsys clinical chemistry analyzers, and like BD, Roche has an HPV self-sampling kit available in countries accepting the CE mark.
Self-sampling kits could play an important role in reducing stigma around STD testing, Baum said. "Being able to collect a sample privately on their own might make enough of a difference" for someone to get STD testing who otherwise wouldn't have, which is "a really important thing in terms of expanding access to testing," he said.
Baum added the company's role to help reduce disparities is to develop technology that can be applied to different analytes and in different healthcare settings and regions that can give people options. By doing "whatever we can do to make that testing accessible in different locations and potentially accessible directly to patients," patients may also have fewer logistical obstacles to deal with, encouraging further STD testing, Baum said.
Getting STD testing to marginalized populations is essential to reducing disparities in STD rates and getting people treated, University of Alabama at Birmingham's Van Der Pol emphasized. "Until you're really reaching those populations and offering some sort of testing services, you're just always going to have disparities," she said.
"Access to care right now for STIs equals access to testing because we don't have good settings where we have testing services that are disentangled from healthcare settings."