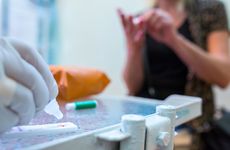 NEW YORK — A new comparison of 10 commercial SARS-CoV-2 antibody tests revealed significant variation in accuracy between different assays, with rapid lateral flow immunoassays (LFIAs) among the best performers.
The study, led by a team in the UK and appearing in PLOS Pathogens on Thursday, also found that the accuracy of all the tests was highest when they used samples obtained from COVID-19 patients more than 20 days after the onset of symptoms. In addition, antibody levels were higher in patients with more severe disease than in those with mild disease or without symptoms. 
Antibody tests, used to identify people who have previously been infected with SARS-CoV-2, have become a key part of efforts to control the ongoing pandemic by aiding public health planning based on disease susceptibility and herd immunity. Additionally, they have aided in the diagnosis of patients with pediatric inflammatory multisystem syndrome and other hyperimmune reactions associated with the virus.
"However, with an incomplete knowledge of the immunology of COVID-19, evaluating tests with the assumption that antibodies 'should' be there, and comparatively to RT-PCR, is problematic," wrote the study's authors, which included researchers from King's College London and Guy's and St Thomas' NHS Foundation Trust.
As such, the investigators developed their own highly specific, semiquantitative ELISAs for the detection of immunoglobulin G, M, and A antibodies against the SARS-CoV-2 spike, receptor binding domain, and nucleocapsid proteins, using them to cross-evaluate 10 commercial antibody tests on an identical panel of 110 SARS-CoV-2-positive blood samples and 50 pre-pandemic negatives.
The study examined LFIAs including AccuBiotech's Accu-Tell COVID-19 IgG/IgM Cassette; Anhui DeepBlue Medical Technology's COVID-19 (SARS-CoV-2) Antibody Test Kit; Biohit Healthcare's SARS-CoV-2 IgM/IgG Antibody Test Kit; GenBody's GenBody COVID-19 IgM/IgG; Spring Healthcare Services COVID-19 SPRING IgM/IgG Rapid Test Cassette; SureScreen Diagnostics' COVID-19 IgG/IgM Rapid Test Cassette; and Jiangsu Medomics Medical Technology's Rapid IgM-IgG Combined Antibody Test Kit for SARS-CoV-2.
The researchers also evaluated Shenzen Watmind Medical's chemiluminescence-based SARS-CoV-2 Ab Diagnostic Test Kit and two ELISAs, detecting IgA or IgG, from Euroimmun Medizinische Labordiagnostika.
Overall, the scientists found wide variation in the performance of the different immunoassays, with specificity ranging from 82 percent to 100 percent and overall sensitivity from roughly 61 percent to 87 percent. Notably, all 10 tests demonstrated the highest sensitivity, with narrowest confidence limits, in samples taken 20 days post onset of symptoms.
In line with previous studies pointing to a relationship between COVID-19 severity and antibody titers, the PLOS Pathogens study also found a significant increase in the detection of antibodies with increased symptom severity.
When all the tests were compared, the LFIAs from AccuBiotech, SureScreen, and Spring Healthcare demonstrated the highest sensitivity at earlier timepoints, while maintaining specificities of 98 percent or above. These tests also offered the best cross-assay agreement with each other and with the in-house ELISAs.
"Next-generation antibody tests may improve on those currently being trialed, but our results demonstrate the LFIAs may have utility in a hospital setting as of now, particularly if deployed where a rapid result could aid a clinical pathway or decision in real time," the researchers wrote. "The ease of use and affordability of the LFIAs weighs heavily in their favor, especially for potential in resource-poor settings or as point-of-care solutions in hospitals."