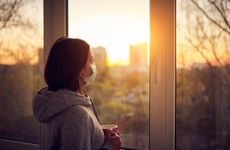 NEW YORK — The US Centers for Disease Control and Prevention's five-day recommended isolation period for SARS-CoV-2 infection may be too short to sufficiently curb the ongoing spread of COVID-19, according to a new study appearing this week in JAMA Network Open.
In December 2021, the CDC shortened the length of its recommended isolation period for people who test positive for SARS-CoV-2 to five days from 10 days, followed by five days of wearing a well-fitting mask. While the change was based on data pointing to a transmission risk two to three days before and eight days after symptom onset, the highly contagious Omicron variant had yet to establish itself as the predominant strain of the virus.
Aiming to evaluate the CDC's updated isolation guidance, a group of Stanford University scientists conducted a study that included 268 college-level student athletes who tested positive for SARS-CoV-2 via PCR or antigen testing between Jan. 3 and May 6, 2022. All of the study participants had received either two doses of Moderna's or Pfizer-BioNTech's SARS-CoV-2 vaccine or one dose of Janssen's vaccine at least two weeks prior.
The student athletes were placed in isolation for at least seven days from the date of their positive test and could leave isolation with a negative result from a rapid antigen test (RAT) beginning on day seven. The tests used in the study were QuidelOrtho's Sofia SARS Antigen FIA and Acon Laboratories' Flowflex, both of which have received Emergency Use Authorization from the US Food and Drug Administration.
The researchers found that of the 248 postpositive day-seven RATs performed, 67 — or 27 percent — were positive. Meanwhile, the rate of persistent positivity was higher in patients with symptomatic infection versus asymptomatic study participants, with 34 percent testing positive. Notably, those infected with the Omicron BA.2 variant were found to be significantly more likely to test positive on day seven compared with those with the BA.1 variant.
"These findings," the study's authors write, "could call into question the current guidelines allowing for exit of isolation after five days without requiring additional testing to prevent further spread, particularly in the setting of newer variants such as BA.4 and BA.5."
The researchers noted certain limitations of their study, including that all the participants were college-aged, fully vaccinated, and had received boosters if eligible. This limits the generalizability of the findings to unvaccinated or partially vaccinated people and to the general population. "We were also unable to assess whether individuals had any persistent symptoms at the time of their RAT, which has previously been associated with a positive RAT," they added.
Still, the study results indicate that a substantial number of SARS-CoV-2-infected individuals may still be contagious after completing the CDC-recommended five-day isolation period. "Further studies are needed to determine whether these findings are present in a more heterogeneous population and in subsequent variants," the authors concluded.