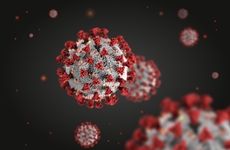 NEW YORK ─ Leveraging synthesized DNA antibodies, Atom Bioworks is developing a test for detecting active coronavirus that would cost a few dollars per kit and could be used at home to help broaden the scale of testing during the pandemic.
The test being developed by the Cary, North Carolina-based startup operates by recognizing a SARS-CoV-2 surface epitope pattern using nanoprobes based on the synthesized DNA antibodies, and according to its CEO Sherwood Yao, could become available in about six months for use in point-of-care settings.
"The device targets the surface of the virus rather than going inside to extract RNA, as is done by RT-PCR," he said. Eliminating RNA extraction and amplification saves time in conducting the test, and along with other aspects of its design, contributes to the platform providing a result in about two minutes, Yao said.
In designing its SARS-CoV-2 antigen test, Atom Bioworks' investigators used artificial intelligence to identify surface patterns specific to the SARS-CoV-2 virus and developed a net consisting of DNA antibody probes that folds over the surface of a viral particle. The probes generate "super strong" bonds with the spike protein targets, Yao said. By attaching to up to 20 spikes on the surface of each virus particle, the probes produce diagnostic signals 1,000 times stronger than is possible by binding to a single spike on the virus particle, he added.
In preliminary testing of the platform using inactivated virus samples, the firm is seeing levels of sensitivity and specificity equivalent to RT-PCR testing in detecting SARS-CoV-2. Atom Bio's platform is generating a signature reflective of whether the virus is present in a sample on the first or second day following the onset of infection, Yao said.
According to the firm, the device could be used for the identification of infection where large numbers of tests need to be completed quickly. The firm anticipates its tests may be used in settings such as airports and sports arenas, as well as long-term care homes and other settings where access to convenient, ongoing, and affordable tests are critical.
Yao noted that most tests currently being developed for use in the home are antibody assays that reflect an immune response to past infection and cannot be directly compared with its technology. Further, the highest performing RT-PCR tests used at the point of care are too expensive for use in the home, which opens a need for antigen tests and his firm's platform, he said.
Still, PCR is the accepted testing method for active disease detection, and though Atom Bio is seeing similar levels of performance, it doesn't intend to compete with PCR testing. If a person tests positive using one of Atom Bio's tests, he or she should still look to obtain a confirmatory result using laboratory-based RT-PCR, Yao said.
"People around the world are exploring DNA molecules for use in platforms for medical diagnostic sensing," said Chengde Mao, a professor and researcher of DNA nanostructures at Purdue University. The Atom Bioworks approach could be "extremely sensitive, robust, and fast," making it "very important for SARS-CoV-2 testing," said Mao, who is not involved in the development of Atom Bio's test.
Antigen testing
Though new coronavirus cases are surging in many US states, the US Food and Drug Administration has not authorized a test that can be completed from start to finish by the user in the home, largely because of concerns over accuracy.  
The agency has stated, however, that it supports at-home testing for COVID-19 provided data and science associated with such devices support consumer safety and test accuracy.
For at-home use, Atom Bio anticipates supplying a small kit that enables the user to collect a saliva sample and run the test in a lateral-flow format in the home from start to finish. For other settings outside the home, such as long-term care facilities, the company is developing a small point-of-care test cartridge and collaborating with an undisclosed company that provides a reader. Yao said he anticipates that the reader will cost about $2,500, far less expensive than a point-of-care RT-PCR test. The benchtop instrument would be operated by users with minimal training, and each test would be priced at a few dollars.
Atom Bio is also developing a future higher-throughput version of its platform that would automatically test 96 samples at a time for about $1 per test, but the potential cost of that instrument is at present unknown because it is at an early stage of development, Yao said.
Of the tests available to detect the coronavirus, Atom Bio's designer DNA platform aligns best with rapid antigen tests. Protein-based antigen testing has received less attention than RT-PCR and antibody tests for the coronavirus, but their proponents believe that antigen tests could prove valuable for addressing the pandemic given their rapid turnaround time, ease of use, and amenability to large-scale production.
So far, the FDA has granted EUA for two such antigen tests ─ to Franklin Lakes, New Jersey-based Becton Dickinson for a test used on its BD Veritor System and to San Diego-based Quidel for its Sofia SARS Antigen FIA test.
Though neither one can be used for testing at home from start to finish, the Quidel device in early May became the first protein-based antigen test to receive EUA.
In a research note on Wednesday, William Blair analyst Brian Weinstein noted some investors are wary of whether sensitivity could be an issue with antigen tests. Performance values listed in documents posted to the FDA's website state that the sensitivity for the Quidel test is 87.5 percent and for the Becton Dickinson test is 84 percent, Weinstein noted. However, the Quidel test could see a boost to its sensitivity given it is part of a post-EUA study on 30, or more, confirmed positive samples, he added, and that could "represent an important evolution for how people view these [antigen] tests." 
The US Department of Health and Human Services on Tuesday announced an initiative aimed at slowing the spread of SARS-CoV-2 inside the nation's nursing home facilities and elsewhere by purchasing Quidel and Becton Dickinson point-of-care diagnostic instruments and antigen tests.
Additionally, 3M and researchers from Massachusetts Institute of Technology announced Tuesday that they are developing a rapid antigen diagnostic test for SARS-CoV-2.
Meanwhile, Atom Bio has been awarded a $248,000 grant for the development of its diagnostic platform under the National Science Foundation's Rapid Response Research program.
To bring its technology to market, the company must prove that the preliminary results it is seeing can be replicated in a larger cohort, and to that end, the firm has just kicked off a clinical validation study to test its platform in about 100 patient samples, Yao said. If the results can be validated, the firm anticipates the level of performance of the test will be high enough to convince the FDA to issue an Emergency Use Authorization.
Xing Wang, who cofounded Atom Bio with Yao, said in an interview that challenges associated with current antigen and at-home tests are solvable. These challenges stem, in part, from the lot-to-lot inconsistencies associated with antibody production, he said. Antibodies, which are derived from animals, can further cross-react with other coronaviruses, such as the common cold, and generate false-positive results, he said.
Purdue's Mao added that Atom Bio's synthesized DNA approach and multi-point binding strategy should mitigate problems associated with the use of traditional antibodies. "Synthesized DNA nanostructures can be easily produced in large quantities," he said. "They have excellent thermal and chemical stability and can be stored and handled at ambient temperatures."
Atom Bio's DNA probes are designed to work synergistically, and "such multivalent binding can greatly increase the binding affinity, leading to high sensitivity," Mao said.
Yao noted he and his colleagues have already used the firm's artificial intelligence- and nanotechnology-based approach to develop a five-pointed DNA star structure to test for dengue fever and other mosquito-borne viruses. They reported the results last year in Nature Chemistry.
"This is something we have done with multiple viruses, including dengue, Zika, and influenza," Yao said. "The dengue virus is different than the virus that causes COVID-19 because it doesn't have viral spikes, but the principle of operation for the testing platform is the same."
In addition to its use for diagnostic testing, the platform also has the potential to be developed as part of a treatment that could immobilize viral particles, according to Atom Bio.