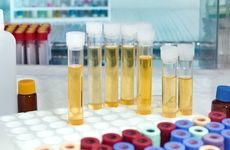 NEW YORK (360Dx) – Emerging from stealth mode, Aperture Bio recently announced that it is developing a diagnostic system to detect urinary tract infections in about 10 minutes.
The firm said that its automated platform, Rapid-B, incorporates flow cytometry, proprietary chemistry, and customized plating to identify and count specific cell content and discriminate live uropathogen bacteria from those that are dead or damaged.
The test has been designed to enable clinicians to decide on the most effective antibiotic treatment on the day testing is initiated, David Potenza, president of the Williston, Vermont-based startup, said in an interview.
Aperture Bio's platform and first assay, the EmpiriStat-UTI, has been designed for the diagnosis of uncomplicated urinary tract infections, in which there is no functional anomaly in the urinary tract, no renal functional impairment, and no concomitant disease that promotes the infection.
Uncomplicated UTIs are among the most frequently encountered infections in outpatient settings, and contribute to hospital-acquired infections, Potenza said.
To stay ahead of continuously emerging antibiotic resistance, many diagnostic companies are seeking to develop more rapid tests that can indicate the presence or absence of bacteria in clinical specimens, including blood and urine. A number of them employ molecular platforms and assays to detect infectious diseases, but Aperture Bio's platform uses flow cytometry.
Potenza said that the platform has performed well in clinical studies completed during the past two years, and the firm is poised to start another trial that it anticipates will lead to an application for marketing clearance with the US Food and Drug Administration. The study will include 400 patients in each of three undisclosed hospital sites in the US. The firm anticipates submitting its application for regulatory clearance in one year, or less.
According to Christina Wojewoda, director of microbiology at the University of Vermont Medical Center, the assay provides a diagnosis of UTI more rapidly than a traditional culture "and can direct or confirm appropriate treatment more rapidly than phenotypic susceptibility testing."  Wojewoda provided urine samples and antibiotic susceptibility testing results used to evaluate the UTI assay in clinical settings.
Using the Rapid-B platform and its test, a clinician could short-circuit the process of starting or stopping antibiotics and not have to wait from 24 to 48 hours for results from traditional culture testing, Wojewoda said in an interview, adding, "Since the assay detects white blood cells as well as bacteria, it could differentiate bacterial contamination [or] colonization versus true infection to help cut down on inappropriate treatment of bacteria."
Aperture Bio's system uses lasers and detectors as part of the flow cytometry system to enumerate viable bacteria and white blood cells and provide an assessment of the correct antibiotic to treat the infection, a process the firm calls antibiotic predictive profiling.
Flow cytometry is an effective tool to find bacterial populations of interest, and Aperture Bio has optimized its technology to find and enumerate those bacteria, Matthew Gombrich, the firm's chief medical officer, said in an interview.
He said that the firm has been working with an undisclosed flow cytometry vendor, using its hardware and some of its software in the Rapid-B platform. "We have developed and applied proprietary chemistry that tags bacteria and differentiates viable bacteria from injured or dead bacteria," he said, adding that the firm has also developed an accurate method to quantify the volume of urine entering the instrument, and it compensates for any fluctuations in volume.
The system confirms or rules-out an infection and then incubates the specimens that are confirmed to have an infection. The resulting phenotypic antibiotic profiling process, which takes about two to three hours, assesses the antibiotic's effectiveness by evaluating whether the number of bacteria in the sample has increased. The test uses enterobacteriaciae breakpoints for antibiotics prescribed to the majority of outpatients presenting with uncomplicated urinary tract infections, Gombrich said, adding, "Because the test does not determine species….we didn't want to give the FDA the impression we were attempting to displace antimicrobial susceptibility testing when it's needed."
The overall sensitivity of the test for uncomplicated UTIs was between 97 percent and 98 percent in studies comparing it to the performance of traditional culture testing. Its specificity, measured using samples that contain high levels of contaminants, is about 88 percent, and its accuracy in guiding antibiotic treatments is between 94 percent and 95 percent, Gombrich said.
The firm obtained the data during two years in which it conducted clinical evaluations at medical centers in Northwestern University in Chicago, Washington University in St. Louis, University Hospitals in Cleveland, and the University of Vermont. It is preparing to publish the results in a peer-reviewed journal.
Gombrich said that the firm used its system to evaluate urine samples from about 1,000 patients prior to locking down the design, and it then tested 1,600 samples during a two-year clinical validation phase.
Aperture Bio intends to position its test as an alternative to culture-based testing frequently used to diagnose UTIs, a process that normally takes a few days to complete. Physicians who suspect a patient has a urinary tract infection often quickly prescribe broad-spectrum antibiotics and sometimes avoid doing any testing because of the delay in obtaining a culture result, Potenza said. As a result, they frequently don't know whether they are prescribing an antibiotic that's resistant to the bacteria it is trying to kill.
The firm anticipates marketing its platform and test to health systems that have microbiology labs, and targeting commercial laboratories interested in using the technology as a laboratory-developed test. Using its test, Aperture Bio expects that commercial labs could fulfill same-day requests for testing from urgent-care facilities, primary-care offices, and surgery centers who would provide patient urine samples.
As a component of its business model, the firm anticipates providing instruments to its customers and charging them for use of the proprietary plates, chemistry, and reagents that enable testing. Customers looking to receive reimbursement can use an existing CPT code that enables payment at an average rate of about $30 per test, the firm said.
Funding
Founded in 2015, Aperture Bio purchased intellectual property as a basis for developing its platform for an undisclosed amount from food-pathogen testing firm Vivione Biosciences. Since then, Aperture Bio has adapted the platform for clinical applications, said Gombrich, who was the chief medical officer of Vivione prior to joining Aperture Bio.
Funding so far has come from a select group of investors, but the firm is now seeking $15 million to support commercialization of its platform and assay. About $5 million of the funds would go to supporting a submission to the FDA for regulatory clearance of the platform and UTI test. The rest of the funds will be dedicated to capital expenditures in support of overall sales and marketing initiatives, expanding indications detected by its platform, and developing market opportunities outside the US, the firm said.
Aperture Bio recently inked an agreement with NuView Life Sciences to evaluate NuView's NV-VPAC1 urogenital cancer test on the Rapid-B platform. Park City, Utah-based NuView's test uses peptide analogs to detect overexpression of NV-VPAC1 in urine or blood samples.
"We believe that by using the NuView test for cancer diagnostics, we can identify cancer cells with the same speed and accuracy as for bacteria," Gombrich said. The collaboration provides the potential for supplying a single platform that may be able to assess patients with cancers and bacteria infections, he said.
Aperture Bio is also developing a version of its platform to detect bacteremia in blood and that clinicians could use to diagnose bloodstream infections.
More near term, as the firm's executives contemplate entering the market for UTI diagnostic testing, they see Sysmex, based in Kobe, Japan, as an indirect competitor. According to Sysmex, its UF1000i automated urine particle analyzer detects UTIs within minutes. However, the analyzer does not provide antibiotic predictive profiling, Gombrich said.
BacterioScan, based in Saint Louis, Missouri, is also marketing a test for UTIs. Rhonda Soest, chief operating officer of BacterioScan, said in an interview that the firm has seen "strong interest from the market" since receiving FDA clearance for its test in 2018. Its 216Dx instrument, which counts and analyzes particles using laser scatter patterns, does bacterial identification and antimicrobial susceptibility testing using a number of specimen types, including blood, positive blood cultures, and respiratory specimens, she said. The price per test is competitive at about $5, and the system is "very affordable" and practical to adopt clinically, Soest said.
Meanwhile, MDx startup GeneCapture recently presented data on its assay's ability to predict antibiotic resistance in several strains of bacterial pathogens that cause UTIs. The assay identifies RNA from bacterial or fungal pathogens in liquid samples, including blood, urine, and saliva.