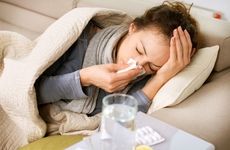 NEW YORK (GenomeWeb) – Using a Quidel Sofia influenza immunoassay as an initial screening tool saved Tufts Medical Center approximately $36,000 during the 2014 winter flu season, researchers at the center have reported.
In a retrospective analysis of a respiratory illness testing algorithm using the Quidel assay prior to syndromic testing with the BioFire FilmArray respiratory panel, clinicians and laboratorians at Tufts said the $36,000 was saved in comparison to a summer period in which the 20-target FilmArray panel test was used alone as the first-line assay.
Brad Gardiner, an infectious diseases clinician and coauthor on a Diagnostic Microbiology and Infectious Disease study describing the algorithm, said Tufts had previously been using viral culture before adopting the FilmArray respiratory panel. The lab had also been running antigen tests while waiting for viral cultures and decided to incorporate these as a screen when introducing the FilmArray panel.
"Then, the crazy flu season of 2014 hit." Gardiner said in an interview., "I was seeing patients … and I could see in real time the advantages of this two-stage approach."
Combining the speed and high specificity of an antigen test with the backup of a highly-sensitive multiplex PCR assay was "basically the best of both worlds," he said, adding that at the same time it saved a bit of money.
"In the peak of flu season, if you get all the positives out as quickly as possible, you can save your [syndromic test] for the negatives," he explained.
Specifically, 1,814 samples were processed with the two-stage method during the winter flu season. The protocol was then compared to 1,162 samples processed by FilmArray alone in the summer months.
The lab was able to diagnose 282 cases of influenza with the Quidel Sofia influenza immunoassay using the two-stage approach. It then tested all nasopharyngeal specimens that were shown to be negative for flu by immunoassay with the FilmArray panel, picking up an additional 163 influenza cases that would otherwise have been missed by immunoassay alone.
The two-stage approach also included a respiratory syncytial virus immunoassay test in children under age 5 and in adults upon physician request, testing 363 patients. Approximately 28 percent of samples were Sofia RSV negative but FilmArray RSV positive, and an additional 71 RSV cases were discovered by FilmArray in patients who did not have the immunoassay.
Beyond influenza diagnosis, 580 of the patient samples who tested negative with the Sofia flu test who then went on to FilmArray RP testing were positive for one of the 20 viruses or bacteria in the multiplex panel. And, combining the winter and summer FilmArray test results, there were a total of 77 cases in which more than one pathogen was detected, particularly the viral targets.
The median time to result using the two-stage protocol was just over one hour, compared to almost three and a half hours with FilmArray alone, even though that test technically runs in about one hour. This was due to the fact that the lab had access to only two FilmArray instruments during the study period, Gardiner noted, so queueing could be a problem at peak times, nullifying the on-demand benefit of the system. Although the lab now has four instruments, it has also expanded its menu and runs the FilmArray blood culture and gastrointestinal panels on these instruments as well, Gardiner said.
Importantly, although the Sofia immunoassay can be a point-of-care test, the Tufts group chose to use it as a lab-based assay to avoid having to train staff throughout the hospital and to better manage quality control. This strategy was enabled by the fact that the Tufts hospital system is located on a single campus, with all facilities closely situated. Additionally, a rapid tube transport system can get specimens to lab in a few minutes, Gardiner said. This allowed the lab to perform the two-stage process on a single specimen, saving time and eliminating the inconvenience of collecting a second nasopharyngeal swab.
Overall, the strategy allowed the lab to process almost twice as many specimens in the busy winter months without delaying results, Gardiner said. It also saved the lab $36,353, based on the cost to the lab of $15.75 for the Quidel Sofia immunoassays and $129 for the BioFire FilmArray RP.
The total costs to the hospital and patients were not evaluated in the study, nor was the clinical significance of the additional panel diagnoses, generally, and clinical impact or outcomes analyses need to be studied further, Gardiner said.
For example, FilmArray detects human metapneumovirus or adenovirus, but it remains to be seen whether these diagnoses ultimately result in earlier discharge or less antibiotic utilization. "If you make a diagnosis that changes the patient's outcome, that's money well spent, but if you are diagnosing people with rhinovirus and it makes no difference, perhaps that money could have been spent better elsewhere," Gardiner said. Reimbursement is also highly variable, and Gardiner pointed out that some patients have been charged large sums by their insurance companies for the panel tests.
On the other hand, rapid flu diagnosis is believed to reduce the time to antivirals, and Gardiner himself had this experience when he contracted the flu during the study period. "I was diagnosed by Sofia and I knew within 20 minutes of my swab being taken that I had the flu—I was able to get antivirals straight away and put a mask on to stop infecting my colleagues, rather than having to wait for three hours."
A panel maker weighs in
As long as labs follow the test's parameters, they can use the FilmArray RP assay in any testing algorithm or approach which is validated and makes health economic sense, Mark Miller, CMO of BioFire parent company BioMérieux said in an interview.
But, Miller added that upfront screening tests for the detection of any infectious disease should be highly sensitive. Such is the case with rule-out tests for Clostridium difficile for example. But Gardiner pointed out that, unfortunately, immunoassays for respiratory viruses tend to have sensitivities in the 50 percent range.
In fact, this low sensitivity of rapid influenza diagnostic tests, or RIDTs, was one of the motives for the US Food and Drug Administration reclassifying them from class I to class II medical devices, requiring manufacturers to have tests reevaluated by the agency.
In the Tufts study — which was done prior to reclassification — the Sofia flu immunoassay picked up 63 percent of the total flu cases diagnosed, while Sofia RSV detected 72 percent of cases. The Sofia flu test was also among the first to meet the FDA's more stringent standards when it was reclassified earlier this year.
However, a negative immunoassay required secondary confirmatory testing due to low sensitivity.
"By using an insensitive upfront test for flu A, B and RSV, like the immunoassay, further delays and workload are produced — not to mention the mistrust of clinicians in a negative result," Miller asserted.
Gardiner, however, explained that real-world time-to-result was similar with the two-stage approach despite processing many more samples, in part due to the lab's queuing issues for its FilmArray system. The Tufts lab also chose not to release a negative Sofia result to clinicians, but, instead, held it as "testing in progress" until final PCR results were available to avoid the potential problems from reporting false negative results.
Miller noted that four patients in the Tufts study who tested negative for flu were subsequently discovered to have Mycoplasma pneumoniae by the FilmArray panel, so testing with the panel first would have resulted in more prompt therapy with a targeted antibiotic in these cases.
The other targets in the FilmArray test can also provide patients and parents with a definitive diagnosis, even if a non-influenza virus is found, as well as provide "important information for infection control, patient reassurance, less unnecessary antibiotic use, and optimal patient management for admissions" Miller said.
Arthur Rabson, a coauthor on the study and director of the Tufts tissue typing and molecular pathology, clinical immunology, and microbiology laboratories, emphasized that it made sense to use the immunoassay system first. "This gave a result in 30 minutes and we were able to diagnose 63 percent of flu cases very rapidly," he said in an email.
Practically speaking, the majority of samples sent for respiratory pathogen testing are sent to eliminate flu, Rabson said. "They are not sent with the primary aim of deciding [whether] the cause of the problem rhino/entero or corona or adenovirus. Patients resent receiving a bill for hundreds of dollars simply to be told that they had a 'cold'."
Cassandra Parker, also a coauthor on the study and a senior medical technologist at Tufts, pointed out that the Tufts antimicrobial therapy and infectious disease teams have found that identification of a virus often does not result in withdrawal of antibiotic treatment, since bacterial co-infection is not uncommon. And, she said, "Patient reassurance, especially with the high price tag that some patients are being asked to cover themselves, is also not a good enough reason to perform the BioFire routinely."
One caveat to this argument may be that a 2015 study — which looked at a pediatric patient population — suggested patient satisfaction, or in this case parent satisfaction, achieved by identifying a pathogen was an important factor when treating children, even if it did not ultimately alter treatment.
Miller stressed that the syndromic approach has taken hold globally and has received broad acceptance. He attributed this in part to clinicians recognizing that they do not know what infectious agent is causing most of the cases of influenza-like illnesses. "A broad panel of pathogens can give accurate results the first time, with no additional testing, and with no guessing," he said.
In the US, FilmArray RP panels are restricted to CLIA labs of at least moderate complexity. That is also the case for BioFire's newer RP2 and RP2plus panels. However, satellite CLIA labs can be located near emergency departments or intensive care units, and FilmArray assays in these locations would bring them physically closer to the patient. Outside of the US, regulations differ, and panels can be run in other hospital areas or even in community settings, Miller said. BioFire also makes the CLIA-waived RP-EZ panel, which can be run outside of CLIA labs and by non-laboratory personnel.
The firm believes that the BioFire FilmArray system has set the global standard for syndromic testing for upper respiratory infections, as well as for gastrointestinal and meningoencephalitis infections. As reported in the firm's 2017 financial results, the installed base continues to expand and now stands at approximately 6,100 units. Sales outside the US almost doubled and represent nearly 14 percent of total FilmArray sales. Overall, BioFire FilmArray sales in 2017 reached €368 million ($452 million), representing growth of over 50 percent from the previous year.
Targeting panel use
Although there is a paucity of published literature on the subject, some other laboratorians seem to be on board with using upfront immunoassays in conjunction with syndromic panel testing.
Rick Nolte, director of clinical laboratories and a professor of pathology at the Medical University of South Carolina, said in a recent interview that his lab uses Becton Dickinson's BD Veritor digital immunoassays for flu testing at the point of care prior to lab-based FilmArray RP. Nolte's lab also prefers this two-stage algorithm over point-of-care molecular testing for now, and he noted that the turnaround time for lab-based testing in the real world is not so much longer than POC testing alone, in many instances.
However, more studies need to be done on these workflows. Matthew Binnicker, coauthor of a recent paper in Clinical Microbiology Reviews on syndromic panels, noted that panels have only been used routinely in clinical microbiology labs for the past five or six years, so data on their overall cost-effectiveness has yet to accumulate.
Binnicker, who is director of clinical virology in the department of laboratory medicine and pathology at the Mayo Clinic, said that although it isn't entirely clear whether the use of syndromic panels can reduce overall health care costs, there are several published studies that have shown that the routine use of syndromic panels can reduce length of stay in the hospital, impact patient management and infection-control decisions, and reduce the use of antibiotics. Reducing antibiotic use can in turn have immediate benefits of lower costs associated with prescription and side-effects of treatment, and play a role in curbing the development of antibiotic resistance.
Binnicker highlighted that while there are certain situations in which the use of first-line rapid tests prior to more costly testing makes sense, prevalence in a given patient population is a very important consideration.
"Rapid antigen tests perform best in terms of sensitivity and specificity when the disease is highly prevalent in a community, but their performance suffers when the incidence is low," he explained.
There are also certain clinical situations in which targeted molecular tests may be recommended over starting with a syndromic panel.
For example, considering a hospitalized patient who has been on antibiotics and develops diarrhea, a targeted molecular test for C. diff would make sense because that is the most likely pathogen, Binnicker said.
Or, if a patient presents in January with a high fever, headache, and severe body aches, and there is also a high prevalence of influenza in the community, then a targeted test for influenza would be appropriate. "In those situations, starting with a broad, multiplex panel may not be needed," he said.
Along similar lines, a group at Yale Medical Center argued in a 2016 study that, for adult outpatients with uncomplicated upper respiratory infections, targeted influenza virus testing alone may be more cost-effective than syndromic panel testing. That study also found that diagnosing respiratory pathogens other than influenza did not impact therapeutic management and suggested implementation of multiplex testing should also involve provider education and antimicrobial stewardship to discourage the use of antibiotics for otherwise healthy adult outpatients.
Binnicker also pointed out that for all tests, healthcare providers need to ask themselves, "What are we going to do with the result?" If the result isn't going to be used to change patient management, then the test may not need to be performed.
For example, in an otherwise healthy patient with flu-like symptoms in peak flu season, the main question that needs to be asked is, "Does this patient need Tamiflu, or not?" On the other hand, if the patient is a bone-marrow transplant recipient and hospitalized with a respiratory illness, performing a syndromic panel as the first-line test makes a lot of sense, Binnicker said. "In that situation, we need to know what is causing the illness as fast as possible. We may not be able to wait for rounds and rounds of targeted immunoassay or molecular testing," he said.
Furthermore, Binnicker noted that with the increasing use of multiplex panels, it is important for clinical laboratorians to be actively involved in the development of test-utilization strategies, focusing on the use and interpretation of test results.
Diagnostic stewardship, or utilization management, which can involve physicians and laboratory directors meeting to discuss how new and existing lab tests should be used, is "especially important in this era of high-cost molecular and genetic testing, when 'more' is not always better," he said.