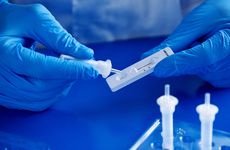 NEW YORK ─ In a presentation at the 28th International Molecular Med Tri-Con Virtual Conference & Expo on Tuesday, Michael Mina, associate medical director in clinical microbiology at Brigham and Women's Hospital, continued to push for more, and more frequent, rapid antigen testing to help curb the coronavirus pandemic.
Testing half the community two or three times a week with a rapid antigen test could lead to a drop in the reproductive rate of the virus, the R number, "way below 1," said Mina, who is also an assistant professor of epidemiology at Harvard TH Chan School of Public Health. Cases could be reduced to a "very manageable number" within months, he added.
Without broad and frequent use of rapid testing, most of the diagnostic testing completed so far during the coronavirus pandemic has done "almost nothing to curb the spread of this virus," Mina said, noting that despite the use of highly sensitive PCR-based testing, they have not had enough of an effect on impeding the spread of SARS-CoV-2, while an associated shortage of reagents needed for lab-based MDx testing has also constrained testing.
In contrast, the broad use of rapid screening tests could not only help boost testing volumes, he said, but they could also provide the performance needed to help quickly stem the pandemic, even as cases drop with the advent of vaccines.
Mina noted during his presentation that home-based and point-of-care tests are needed to screen people so that they can isolate quickly and prevent transmission of the virus to others, a strategy he calls public health testing.
However, during the pandemic so far, that strategy has taken a back seat to medical testing of individuals to diagnose SARS-CoV-2, he said.
Such an approach, which relies on assays running on laboratory-based PCR platforms, "could only go so far, and to this day we still have a fairly limited number of tests that we can perform each day," Mina said. "For a country of [almost] 330 million people with a raging [pandemic], we're still at between 1 and 2 million tests per day," and the volume of overall testing has not increased much "since essentially this [past] summer."
PCR testing has become the go-to modality for detecting active infection during the pandemic, though the US Food and Drug Administration has also granted Emergency Use Authorizations for rapid antigen tests that provide results for active infection, sometimes in under 30 minutes.
"Despite surveillance and screening being two of the most powerful forms of testing, we still have not really deployed them with any real strategy in the United States and in most of the world, leaning instead almost entirely on personal health and diagnostic testing with some expectation that it would help us to control this pandemic," Mina said. "Almost all of the regulatory landscape surrounding testing is focused solely on diagnostic medicine," which plays a limited role in stemming the pandemic.
Mina has been one of the main proponents for the use of rapid antigen tests for regular, repeat testing and mass testing to take better control of the pandemic and return society to some degree of normalcy.
To date, the FDA has authorized 14 rapid antigen tests for COVID-19, including tests from Quidel, Abbott, and Becton Dickinson. But some in the health and medical community remain skeptical about such tests, which typically use a lateral flow format, because of their lower sensitivities compared to PCR tests.
Mina said that perception has "been a problem. Certainly, they are less sensitive than a molecular test, but do they have poor sensitivity for the purpose of public health testing?"
The sensitivity of antigen tests can start out at 80 percent upon detecting a SARS-CoV-2 infection, he said, but rise to almost 100 percent sensitivity as the viral load quickly increases and the infection becomes more contagious. Because of the increase in viral load, which makes it easier to detect an infection, the sensitivity of an antigen test to detecting SARS-CoV-2 can rise to that of a PCR test within a couple of days, the amount of time it can take for a laboratory-based test to provide a result under a send-out model, he said.  
Public health screening of people entering locations such as workplaces, schools, and other venues where people congregate represents an ideal application for antigen tests, he noted, and added that such testing is vital for alerting people that they may be infected so that they can isolate quickly.
Regulators are leaning toward greater use of rapid tests for detecting SARS-CoV-2. FDA has stated that it is placing a priority on rapid tests in the EUA process and in some cases has deprioritized tests based on other modalities.
For example, Luminex said recently the agency has placed the company's EUA submission for its Verigene I SARS-CoV-2 assay toward the back of the line to put more resources to review applications for rapid at-home and point-of-care tests for COVID-19. Luminex's Verigene system uses automation and gold nanoparticle probe chemistry to enable sample-to-result detection of nucleic acid and protein targets.
The US could have implemented a rapid testing strategy early in the course of the pandemic, Mina said, and now, "even with vaccines on the way, we still need a way to keep transmission down … if for no other reason than to ensure that we can do the best we can to stop mutations from arising," he added.
At Tri-Con, Mina also presented the outlines of a plan to address future pandemics using rapid screening as an early warning system of outbreaks, named the Global Immunological Observatory. He noted that the next generation of instrument-free molecular diagnostic platforms, with potential for use at home from the start to finish of testing, is near at hand.
"We're going to start seeing a whole new era … over the next year," he said, that involves doing testing for "medical purposes and for public health in the future."