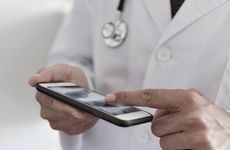 NEW YORK (360Dx) – Researchers at the University of South Florida (USF) are developing a mobile point-of-care version of a laboratory-based enzyme linked immunosorbent assay (ELISA) that potentially could broaden the type of testing that can be done in a doctor's office.
The testing platform could eventually open access in doctors' offices to a range of testing that can only be done currently by sending samples to labs and awaiting their return, Anna Pyayt, one of the test's developers and an assistant professor at the University of South Florida, said in an interview.
Standard ELISA platforms are important for biochemical analysis of proteins and hormones and critical for the diagnosis of many diseases, including infectious diseases such as HIV, Lyme, and many more. Traditional ELISAs are frequently used by lab personnel that process blood samples that they receive from doctors and then return after processing, but they are expensive, and they require incubators, readers, and other bulky components, Pyayt said.  
The USF system, MELISA for mobile ELISA, is a lightweight, miniature device being designed to enable patients to receive testing at the point of care either in a doctors' office or at a remote field office location.
In a paper published recently in Biosensors and Bioelectronics, the developers described the new mobile platform and its use to measure progesterone, a hormone that impacts female fertility and that is indicative of some cancers.
The new platform, used with whole blood samples, demonstrated a similar level of performance to that of a standard ELISA, the researchers said.
This is significant because the group has shown that it could "reduce all of the cost of overhead and equipment required of using standard equipment to the price of a cellphone and a 3-D printed apparatus," Lennox Hoyte, a surgeon and Ob/Gyn at the Pelvic Floor Institute who has evaluated the USF group's testing prototypes, said in an interview.
They have "done the hard work of creating a test for the point of care that could be accessible to millions," he said, adding, "It takes something that's mostly available to people in developed countries and makes it available to almost anyone."
Brian Cunningham, who leads a team developing a smartphone-based diagnostic test and is director of the micro and nanotechnology laboratory at the University of Illinois, said in an interview that he believes there is "a substantial market opportunity for mobile health applications, where a test can be initiated and performed by the patient, and the results can be shared with a smartphone app and service system that puts the patient in contact with a doctor who interprets the results and immediately prescribes treatment."
Routine healthcare tasks can become cheaper and more convenient, and many in-person visits to health clinics can potentially be avoided, he said. "In addition to in-home tests, we can also envision these types of systems being useful in parts of the world that lack sophisticated diagnostic labs."
The researchers designed the device with a view to making biomedical testing "simple and affordable," Pyayt said. Integrating low-cost testing with routine clinic visits could "greatly improve the quality of healthcare and detect worrisome signs earlier," she said. And the portable device, which weighs about one pound, could help older patients or others suffering from chronic conditions in both developed and low-resource settings.
Demonstrating that a portable device has a level of performance similar to standard ELISAs in a relatively small number of clinical samples is an achievement, but Hoyte and Pyayt separately said that creating a commercial test will likely require conducting large clinical validation studies prior to applying for regulatory approvals as needed. To get regulatory approvals the team will need to validate that the test is as sensitive and specific as a standard ELISA in clinical studies, but the USF team has "a good chance" of being able to initiate trials now that they have proven the concept, Hoyte said.
A standard ELISA system uses a solid-phase enzyme immunoassay to detect the presence of a substance, usually an antigen, in a liquid sample. Antibodies specific to a disease or condition bind to antigens in a sample and a subsequent reaction produces a detectable signal, usually a color change.
The USF platform consists of a water bath heater that incubates samples at a targeted temperature and connects to a smartphone that takes images and analyzes them. The device uses color analysis to determine the red, green, and blue color components of each sample, and in measuring progesterone, it performs additional analysis of the blue color, which is particularly sensitive to changes in concentration, the researchers said.
"We use a smartphone in the platform because it has really high-quality cameras and good processing power so that we can do image analysis," Pyayt said. The USF group used an inexpensive open-source electronics and software platform, Arduino, that enabled them to create controllers for different components, such as device sensors, and to integrate an incubator into the platform.
The electronics and software platform also enabled low-cost prototyping as the researchers tried out various versions of the test.
Using 3-D printing, they built a platform that attaches to a smartphone for around $40, she said, adding that by comparison, a standard ELISA costs several thousand dollars and weighs at least 10 pounds.
"The main innovation is that we combined the mobile and Arduino platforms," Pyayt said.
The team intends to pursue additional clinical testing and eventually commercialize the platform for multiple tests. Pyayt noted that in collaboration with researchers at nearby Moffitt Cancer Center, the group is evaluating the device in detecting cancers, work that is in its early stages. Besides testing for progesterone and cancers, the group is calibrating the miniature ELISA to measure levels of cortisol in blood, she said. To keep costs low, the group would use injection molding for production of the smartphone companion, she noted.
Hoyte said that being able to use a 3-D printer to build the test platform could come in handy in low-resource settings, because the printer would need only a computer file to make the system.  
In the future, Pyayt noted, the group intends to apply for US Food and Drug Administration clearance or approval, if needed, so that clinics can start using the device, but at present she is not certain of the most optimal path for regulatory approval.
Hoyte added that although the device is noninvasive and would operate from a simple blood draw, launching it the US could require more complicated regulatory approvals than launching it in low-resource settings. "There's a humanitarian component to testing," he said. "If you demonstrate that something solves problems that can't be resolved in other ways, and at the same time, you can make a significant difference in people's lives, there could be an accelerated approval," in some countries, he said.
The device has the potential to test for all indications currently covered by commercial ELISAs.
"We are currently comparing every component in our system with the gold standard to make sure that under different conditions, including different temperatures and levels of humidity, for example, the platform is going to operate reliably," Pyayt said. The group is also conducting research to identify and prioritize market segments, she said.
USF is not alone in its interest in using smartphones as diagnostic companies and researchers have become more interested in their use in clinical testing.
Brigham and Women's Hospital researchers are developing a platform in which a cell phone accessory analyzes sperm concentration and motility with 98 percent accuracy, a level that competes with computer-assisted testing and is better than manual testing, according to the BWH researchers.
Further, with an eye toward low-resource settings, a research team from the University of Illinois at Urbana-Champaign has developed smartphone-enabled diagnostic technology that can perform many of the same tests performed with laboratory-based immunoassays.
The University of Illinois's Cunningham said that the USF paper describes an alternative approach to the spectroscopy method that his group is developing, but the goal is similar — to use a smartphone as a detection instrument to determine the outcome of a diagnostic test where the liquid changes color.
In general, smartphone-based diagnostic tests face similar challenges to adoption as other point-of-care tests. "It will be important for the tests themselves to be extremely simple to perform, so that the reagents can be incorporated into a microfluidic cassette, and the user can be instructed through just a few simple steps," Cunningham said.