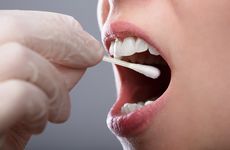 NEW YORK ─ Test developers are looking to provide evidence of the potential for saliva-based SARS-CoV-2 antibody assays in the belief that such tests are a critical part of a global response to the coronavirus pandemic.
In a recent study published on the MedRxiv preprint server, researchers from Johns Hopkins University, the National Institutes of Health, Emory University, and the University of California, Irvine, compared the performance of a newly developed saliva-based test that targets antibodies against 12 SARS-CoV-2 antigens with that of a serum-based assay targeting the same viral antigens.
The group believes that its saliva assay and others like it have the potential to enable broader surveillance for past exposure to SARS-CoV-2 than is possible by blood-based testing alone.
"The most important finding is that there was evidence that the performance of a salivary SARS-CoV-2 antibody assay showed equivalence to that of a serum-based multiplex assay," said Christopher Heaney, one of the study's authors and an associate professor at Johns Hopkins Bloomberg School of Public Health. "A tool that is minimally invasive and enables individuals to collect saliva from the comfort of their own home with the ability to monitor changes and antibody levels could prove to be very important."
In the study, the saliva-based immunoassay panel ran on a MagPlex microsphere bead platform from Austin, Texas-based Luminex to test 167 saliva and 324 serum samples. The beads produced fluorescence signals that revealed antibody levels specific to multiple viral antigens. Different antigens were associated with different immunologic characteristics of the antibody response to SARS-CoV-2, Heaney said, adding that as a result, the group could look at different antibody response profiles within the same saliva sample and determine the sensitivity and specificity for each profile.
The investigators found that "matched serum and saliva SARS-CoV-2 antigen-specific IgG responses were significantly correlated," and the temporal kinetics of IgG, IgA, and IgM in saliva were consistent with those observed in serum among people with SARS-CoV-2 infection confirmed with RT-PCR.
Eric Shapiro, senior vice president of global marketing at Luminex, said that the researchers provided a "great example of how multiplexed analyses can lead to more informative and actionable serology testing." He added that Luminex is "encouraged by the innovative tests and scientific studies developed on our platform during the pandemic."
Heaney and his colleagues are currently developing their assay for research use. However, Heaney said that in the future, it would be ideal to pursue the implementation of the saliva-based SARS-CoV-2 antibody assay for clinical testing, too. The prospect of a noninvasive sample type to monitor immunoconversion and temporal kinetics could help solve some critical knowledge gaps around SARS-CoV-2 infection, he said. Additionally, he added, saliva may contribute insights about the timing of the onset and disappearance of infection that blood might not contribute.
The study has not been peer-reviewed. However, Anne Wyllie, an associate research scientist at the Yale School of Public Health, said in an interview that it provides evidence that testing with saliva "can become a one-stop-shop" for RT-PCR tests to detect current SARS-CoV-2 infection and antibody screening for past exposure.
"Saliva also reduces the time and cost associated with obtaining a sample, and there is an aversion for some individuals toward blood draws," said Wyllie, who was not involved in the project.
The current study reflects the widely held belief that saliva has the potential to drive "much higher compliance" with testing than the use of nasopharyngeal swabs or whole blood, Wyllie said. It is being released at a time when "we are all looking at ways to be able to meet testing capacity for mass testing or screening options, including screening of people returning to colleges and to the workforce and to answer important questions about social distancing," she added.
In a separate study, Wyllie and her colleagues compared results from nasopharyngeal swabs and saliva samples from 44 COVID-19 patients with severe disease and found that virus titers were higher in the saliva samples. Saliva showed a much lower false-negative rate than nasopharyngeal swabs, they said.
The Yale group is continuing to validate and optimize saliva as a sampling method, Wyllie said, and it is looking into the potential for its use in test pooling and evaluating the stability of SARS-CoV-2 RNA in saliva for active disease testing.
Heaney noted that in developing an assay for antibody testing, striking a balance between sensitivity and specificity can be a challenge, and multiplexing helped the group overcome it. In its 10-plex panel, antibodies against the salivary anti-nucleocapsid (N) protein IgG response provided the highest sensitivity for detecting prior SARS-CoV-2 infection, with 100 percent sensitivity at 10 days, or more, post-SARS-CoV-2 symptom onset. Antibodies against a different antigen, the salivary anti-receptor binding domain, provided 100 percent specificity.
"If you are trying to optimize sensitivity to capture as many positives as you can, the concern is that you could be capturing false positives," Heaney said. "As we go down the list of antigens and look at the data we obtained, we were also able to determine which of the antigens led to the greatest specificity."
That gives the researchers the insights they need to maximize the assay's sensitivity and specificity, which is important because antigens with high specificity are needed to reduce the likelihood that the assay will produce false positives, Wyllie said.
Regulatory challenges
Research groups and companies continue to develop antibody tests for SARS-CoV-2 but getting assays approved for emergency use during the pandemic has been a challenge for some. The agency last week revoked an earlier EUA it had granted to Chembio Diagnostics because of concerns over the sensitivity and specificity of its blood-based antibody test.
On Friday, the agency issued a letter to US clinical laboratory staff and healthcare providers saying they shouldn't use certain SARS-CoV-2 antibody tests developed by a selection of developers. Timothy Stenzel, director of the FDA's Office of In Vitro Diagnostics and Radiological Health, has said in the past that the agency is seeing test performance variability from studies associated with saliva sampling for SARS-CoV-2 testing. "That doesn't mean saliva isn't a potentially good [sample type] for detection of the virus," he said during a town-hall meeting with industry participants in May. "It just means that there are variables we don't yet understand."
The agency has granted EUA for a saliva collection kit associated with P23 Labs' TaqPath SARS-CoV-2 PCR test and for an at-home saliva-based collection kit developed by Piscataway, New Jersey-based Rutgers University Cell and DNA Repository (RUCDR) Infinite Biologics.
OraSure Technologies recently announced that it has been awarded a $629,217 contract by the US Department of Health and Human Services' Biomedical Advanced Research and Development Authority to develop an ELISA test for detecting antibodies against SARS-CoV-2 in oral fluid specimens.
And last week, Sysmex said it has obtained marketing approval in Japan for the use of saliva with BGI Genomics' 2019-nCoV Fluorescence Detection Real-Time RT-PCR Kit.
"The big question at the moment is what antibodies mean" in the context of SARS-CoV-2 testing, Wyllie said. "We don't know whether antibodies are going to be protective, but we need broad antibody testing to help us get that answer. Knowing antibody levels can also tell us about past exposure, and as we learn more about what antibodies mean, we can go back to the data we've collected in the past and examine it in the context of that new information."