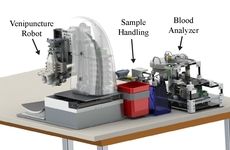 NEW YORK (360Dx) – A testing platform that uses a robot-guided needle to draw blood could be ready for the doctor's office in a few years, according to one of its developers.
Rutgers University researchers are developing the system, which is integrated with microfluidic chips for sample analysis. According to Martin Yarmush, a professor in the department of biomedical engineering at the university, clinicians could eventually use the system to test for any condition that currently uses protein antibody biomarkers for diagnosis.
In a study published earlier this month in the journal Technology, the researchers described the development of the image-guided venipuncture robot that addresses safety challenges associated with routine vein puncture for drawing blood in advance of testing. They integrated the blood-drawing robot with a centrifugal blood analyzer to obtain quantitative measurements for hematology testing.
The Rutgers team developed the robot system to address the challenges of routine venous access, with a microcentrifugation and optical detection platform that performs the diagnostic analysis. The device consists of three sub-systems — a robotic venipuncture device, sample handling module, and a centrifuge-based blood analyzer. The venipuncture robot uses near-infrared and ultrasound imaging to locate blood vessels, image analysis to reconstruct vessels in 3D, and miniaturized robotics to place a needle in the center of a vein.
The system then transfers the blood sample to an analysis unit that provides measurements on sample volumes of 25 μl using microcentrifugation and optical detection. The current prototype performs complete blood count and hemoglobin measurement.
"Our main goal, and the reason we began working on this was to make venipuncture easier for challenging patient populations," Yarmush said. "My sense is that if you can make headway with these challenging populations, the system could be expanded for broader use."
The device's automated venipuncture robot may be of particular use with the very young and the elderly whose veins are difficult to access, making blood drawing a challenge, he said. Executing a successful venipuncture depends not only on the ability to see a vein beneath a patient's skin, but also on a clinician's skills. Patients can get nerve injuries and hematomas from blood draw errors, and clinicians are exposed to possibly contracting infectious diseases from needle injuries, Yarmush said.
Of the 1.4 billion venipunctures done each year, most are guided by visual and tactile inspection. Estimates of failure rates are as high as 33 percent overall for blood draws, and up to 70 percent in populations that are especially challenging, the Rutgers researchers said. Repeated failure to start an intravenous line can significantly increase the chance of tissue damage and blood-borne disease transmission.
Needlestick injuries can expose workers to bloodborne pathogens that can cause serious or fatal infections, according to the National Institute for Occupational Safety and Health, with the hepatitis B virus, hepatitis C virus, and HIV posing the most serious health risks.
Estimates indicate that up to 800,000 needlestick injures occur each year, and about half of them go unreported. That number includes injuries from hypodermic needles, suture needles, and needles used in intravenous delivery systems, as well as blood collection needles.
In hospitals, inpatient blood draws occur nearly 500 million times a year in the US and inform more than 70 percent of all medical decisions, but 30 percent of the patient population is labeled as "difficult venous access" due to obesity, age, and disease, according to Intermountain Healthcare.
With the new robotic blood drawing and testing system, clinicians don't touch the needle and differences in the skills of clinicians are no longer a factor during testing, Yarmush said.
In their study, the Rutgers researchers demonstrated use of the platform with a white blood cell assay, using a blood mimicking fluid spiked with fluorescent microbeads. The group evaluated the pumping efficiency of the sample handling module and conducted studies on the integrated device using the blood vessel mimics to assess the resulting white blood cell assay.
Clinicians are already using new technology to address safety issues related to drawing blood. In July 2017, Intermountain Healthcare said that to improve patient care and safety, it had begun implementing a new needle-free technology, in its 22 hospitals. The system, called Pivo, was developed by San Francisco-based Velano Vascular. Velano received FDA clearance for its needle-free vascular access system in February 2017. It connects to a peripheral intravenous catheter commonly used in hospitalized patients and enables practitioners to extract blood from a vein.
Seeking funding
Partly because of its differentiating venipuncture component, the Rutgers researchers are upgrading a prototype that they have already developed with off-the-shelf components.
They are seeking $10 million to enable further development and clearance from the US Food and Drug Administration of their robot-guided system, and they intend to market the test by possibly employing a razor-razorblade business model whereby they would provide an instrument to customers and charge a fee for disposable assays, Yarmush said. This type of business model would likely increase adoption among people who are in a better position to pay for consumable materials than equipment, and it could provide a suitable way to enter and disrupt the market. Should the team decide to sell an instrument instead, they would price it at no more than $20,000, Yarmush said.
The group anticipates the instrument would be used in doctors' offices, emergency departments, ambulances, and care centers in shopping malls. Reference labs could use the platform to reduce headcount at manual blood extraction centers, he said.
If they are successful in getting funding, upgrading the system, and obtaining FDA clearance, a commercial device could be available within around three years, Yarmush said.
Though clinically implementing the blood drawing capability is the group's near-term goal, it is working on other test development activities in parallel. A company, VascuLogic, for which Yarmush is a scientific advisor, is collaborating with the research group and has a focus on the robot upgrade. Overall, the group is refining the design and manufacturing techniques in preparation for commercialization. They are looking into manufacturing techniques other than 3D printing, that the researchers have used in building parts of the current prototype, before they finalize the details of the commercial prototype, Yarmush said. From a business and marketing perspective, the prototype needs to be suitable for clinical trials and for clinical use after the trials, he noted.
From a testing perspective, the team expects to first pursue integrating assays that would enable routine testing, including complete blood counting and testing for liver and kidney functions. However, the researchers could later expand the portfolio to include infectious diseases and other segments of the in vitro diagnostics market, Yarmush said. The researchers noted that developing a broader panel of assays would involve redesigning an acrylic chip by modifying its channel geometries, and incorporating additional reagents. They intend to develop their own assays.
Further miniaturization of the integrated device, such as designing the pumping system and analyzer into the base of the venipuncture robot, would make the device more applicable to hospital and ambulatory settings, they said.
In a paper published in 2015 in the journal Microfluidics and Nanofluidics, Yarmush and his colleagues reported developing a microfluidic bead-based immunoassay that "can potentially detect any analyte or combination of analytes for which antibody-coated microbeads can be generated" using antibody-coated microbeads.
During the next year, the group will run preliminary clinical studies using its robotic testing system with blood from healthy volunteers. The researchers plan to send half of the volume of blood from a sample for testing to a reference laboratory, evaluate the other half with the venipuncture robot system, and then compare the results that they obtain.