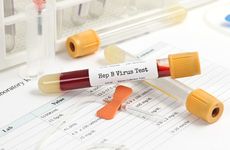 NEW YORK (GenomeWeb) ­– Quest Diagnostics has launched a new laboratory-developed assay to quantify hepatitis B surface antigen (HBsAg). Although quantitative HBsAg tests are widely used outside of the US, the test is the first to be offered stateside, potentially improving decision making for US physicians treating chronic HBV.
Hepatitis B virus infection, which affects up to 2.2 million people in the US, is typically detected and tracked in three ways: using viral DNA and two different viral surface proteins — HBsAg, and a surface protein called "e antigen," or HBeAg.
Hepatitis B DNA levels have been used as the major marker for monitoring efficacy of therapy, said Rick Pesano, vice-president of research and development at Quest Diagnostics.
But the DNA measurement estimates viral replication, while quantitative surface antigen testing, on the other hand, can reflect the amount and transcriptional activity of covalently closed circular DNA, or cccDNA, inside liver cells, Pesano said, which can be particularly useful in chronic infections.
The Quest HBsAg test is essentially an immunoassay, Pesano said, or an immunometric test. It is a straightforward assay using horseradish peroxidase and a fluorescent marker, with levels of light emission correlated with the quantity of antigen present.
Quest developed the test over the last year with input from various working groups as well as in consultation with the director of the viral hepatitis program at the US Centers for Disease Control and Prevention, Pesano said.
Companies such as Roche and Abbott offer similar quantitative tests internationally, he said, but the Quest test is the first in the US. The national limitation amount (NLA) of the test under the Centers for Medicare and Medicaid Services and other health plans is $19.37, Quest confirmed.
Generally, patients go through four stages while on therapy for HBV infection. Prior to the body mounting an immune response to the infection a patient is considered "immune tolerant." In this stage, tests can detect a rise in HBV DNA as well as a quantitative HBsAg.
The immune clearance stage, in which the body is clearing the infection, can be followed by a stage in which there is a low level of continuous replication. A patient at this stage is considered an "inactive carrier" of HBV, Pesano said. Finally, a patient can sometimes have reactivation of the HBV infection.
Notably, it is a patient's own immune response to infection that causes liver injury, especially in chronic cases. This can lead to liver fibrosis, cirrhosis, and liver cancer, so detecting and treating infection and reactivation is critical.
Typically, antibody to the e antigen is used to determine that someone is infected, and immune seroconversion in response to e antigen suggests that treatment is going in the right direction, Pesano said.
However, as the levels of HBV DNA become lower with treatment, there still is not a great way to decide when to stop therapy, he said. Patients can take antiviral medication or interferon alpha drugs for anywhere between 12 weeks and two years. These drugs cost money and have side effects, but "there's no real good stopping rules ... just based on HBV DNA," Pesano noted.
In particular, he referred to the National Institute for Health and Care Excellence, or NICE study of HBV in the UK. These guidelines suggest stopping treatment after 24 weeks if a patients HBV DNA levels have dropped 100-fold. But the guidelines also note that this recommendation is based on "low- to very low-quality" evidence.
On the other hand, there is stronger evidence for stopping goals using quantified HBsAg, Pesano said, and the Quest test could be useful in this case.
A second area where the test could be useful is for patients who are e antigen seroconverted and are being monitored after they have stopped therapy. During viral reactivation after a patient has reached the milestone of seroconversion, "There is a real fluctuation in the level of HBV DNA and e antigen," Pesano said. For example, a molecular test for HBV DNA could show no demonstrable levels. But a patient could still show quantifiable HBsAg in these cases, he said.
Liver function testing is also done in some cases, in particular using alanine aminotransferase, or ALT. Some protocols combine DNA levels with ALT measures, but Pesano suggested that these levels can fluctuate as well upon re-emergence of infection from a suppressed status into active replication. This may be particularly true in patients with transient virological and biochemical remission of chronic infections.
Serial testing for HBV DNA and ALT levels has been recommended, but, because of the aforementioned fluctuations, sometimes this testing will still miss cases of reactivation, Pesano said.
However, "If you do testing for HBV DNA combined with HBsAg quant levels, you will be able to detect ... that they are starting to reactivate their disease," he said.
Furthermore, research shows that HBsAg can be used to get a handle on prognosis, and levels that fail to decline after a certain amount of time can also indicate that treatment will not ultimately be successful. This provides "futility rules," which can reduce over-treatment and side effects for patients who are unlikely to see benefits.
"Monitoring somebody for efficacy goes beyond just economic benefits — which are really important to the healthcare sector — but for the patient individually, if you can help the decision-making to provide beneficial viral suppression and maintenance of suppression, that is a big issue," Pesano said.
Overall, high levels of HBsAg are consistent with the immune-tolerant phase in HBeAg-positive patients, and, for HBeAg-negative patients with certain genotypes low HBsAg levels combined with low HBV DNA levels are consistent with a higher likelihood of HBsAg clearance and lower risk of liver cirrhosis and hepatocellular carcinoma. Resolved chronic HBV, meanwhile, is defined by clearance of HBsAg, according to the American Association for the Study of Liver Diseases treatment guidelines.
The Quest quant test "is an important new resource for doctors and other caregivers" evaluating patients with chronic HBV, Timothy Block, president of the Hepatitis B Foundation and its Baruch S Blumberg Institute, said in an email.
"Quantitative HBsAg tests have been commercially available in Europe for some time, and it is therefore welcomed to finally have this available here," Block said, adding, "I am hopeful this test will be used, and that similar tests from other companies will also be made available."
Block highlighted the fact that HBsAg levels in the blood have been shown to be associated with the likelihood that a patient will respond to interferons. The levels could also be an important baseline measure to have because they could provide information on risk and treatment effectiveness.
Interestingly, Block and Pesano both noted that the testing could be useful for the clinical evaluation of new HBV therapeutics in development. There are a large number of drug development programs for HBV, Pesano said, based in part on success of pharmaceuticals to treat hepatitis C virus. "It is incumbent upon a company like ours to see what is needed to help clinicians understand how to use those drugs effectively and to monitor efficacy of the drug therapies," he said.
The HBsAg quant test is now available in Quest's CLIA labs, and the firm will now keep track of how the test is adopted and get responses from the medical community to understand its utility in the US market, Pesano said.