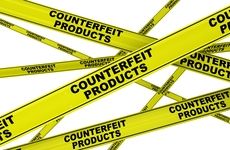 NEW YORK (360Dx) – In an effort to stem a rise in counterfeit diagnostic tests, precision diagnostics scientists at IBM have developed a method to embed security codes in lateral flow and microfluidic tests.
By integrating optical security codes that are deposited in the diagnostic test's flow pathway with a QR or patterned code on the device package, users of the new method could enable more secure supply chains for tracing and authenticating the tests, the IBM scientists said.
In a recent paper published in Analytical Chemistry, the scientists, based in IBM's research center in Zurich, described implementing optical security codes in silicon and nitrocellulose diagnostic flow paths and using a smartphone for device authentication. They created the codes by depositing ink spots directly on nitrocellulose, which is used in fabricating rapid lateral flow assays, such as pregnancy and HIV tests, and on silicon micropillars, which are used in microfluidic tests for emerging rapid testing applications.
The group anticipates licensing its technology to a test maker that may be interested in implementing greater security.
Big bucks in counterfeit testing
Counterfeit rapid diagnostic tests are non-functioning products that imitate genuine tests. They can also be genuine tests with falsified labels and expiration dates. And they are becoming a major global problem.
The counterfeiting and mishandling of point-of-care and rapid diagnostic tests is profitable and relatively easy to implement, and it can generate devastating consequences, said Emmanuel Delamarche, manager of precision diagnostics at IBM Research, one of the security code developers and a contributor to the paper. "If you think about infectious diseases, this issue is very dangerous," he said, "because fake tests can enable spreading the disease within a population."
Further, they can result in missed diagnoses and patients' deaths, while healthcare workers — unsure about whether the test they are using is a genuine or counterfeit — may ignore valid test results, the researchers said.
They noted that diagnostics counterfeiting is more widespread than is commonly thought and is getting progressively worse as counterfeit products can enter the market at numerous points in the distribution channel.
Fake drugs are the most common form of healthcare counterfeits, but phony medical devices and diagnostics is also prevalent, said Michael Deats, a group leader at the World Health Organization who is responsible for leading a team that tracks substandard and falsified medical products, including in vitro diagnostics.
"Forty percent of reported cases [including counterfeit diagnostics] come in from Africa, but no region of the world or subcategory of medical product, expensive or inexpensive, is untouched," Deats said. In high-income countries, his group is seeing more diagnostics and other medical products, especially drugs, being marketed through internet pharmacies that enable global distribution.
According to WHO estimates, more than 8 percent of the medical devices in circulation in 2010 were counterfeit. Deats said that of 193 WHO member states, 150 are staffed with people, mostly in regulatory organizations, who have been trained to identify and report counterfeiting incidents.
"It's fair to say that all categories, including medicines, medical devices, and diagnostics, are affected by either substandard manufacturing, storage and transportation in poor conditions that have led items to degrade, or intentional and deliberate falsification motivated by profit," said Deats, whose group receives reports about trouble with different types of diagnostic tests. There are frequent reports of counterfeit diabetes strips, for instance, and counterfeit and substandard tuberculosis, HIV, and malaria tests have also been reported.
Pregnancy tests labeled as HIV tests were sold to blood banks in the West Bengal region of India in 2006, and fake Ebola diagnostic kits appeared in Lagos during the 2014 outbreak before genuine Ebola rapid diagnostic tests existed.
In some instances, perpetrators alter the expiration date on diagnostic tests. At a recent diagnostics industry conference Delamarche was approached by a group who wanted his help: They were seeing an uptick in the reuse of disposable tests and were searching for ways to prevent it, he said.
Additionally, drug cartels are reportedly moving into the business of faking drugs and medical devices because it is more profitable than smuggling opioids or drugs, he said.
Vulnerability in the supply chain
Today's fragmented and complex global supply chains further challenge the viability of rapid diagnostic tests, which frequently experience mishandling during distribution and storage, the IBM researchers said. Their availability can be sporadic, swinging between under- and oversupply, and leading to tests that expire in storage.
The IBM technology can be applied to established lateral flow tests that are most vulnerable to counterfeiting, and microfluidics that are emerging as point-of-care tests and could therefore become vulnerable. The technology could, therefore, reduce counterfeiting and strengthen the diagnostics supply chain, Delamarche said.
The IBM method would prevent most diagnostic tests from being used after they have been falsified, he said. It combines use of a QR code, a standard pattern printed on the device package, with the optical security code, which is in the sample flow path of the diagnostic device.
"Creating a code on the package by itself is a low barrier to counterfeiting," Delamarche said. "When you have a colored optical code that can be complementary to the code on the package and is in the flow path of the sample, it is a far higher barrier."
The optical codes are easy to write with an inkjet spotter using low-cost dyes and easy to decode using a smartphone equipped with a macrolens, allowing authentication of rapid diagnostic tests with or without network connectivity, the researchers said.
An optical security code for lateral flow tests consists of two important components. First, the test sample running through the test by capillary forces erases removable colored ink spots that are part of the code. Second, colors also in the flow path but hidden from view are permanent on the device.
Static code elements are formed on nitrocellulose to create the hidden code using polyethylene glycol or glycerol additives to the inks.
To authenticate the code and test, physicians or patients use a cell phone app developed by IBM scientist Onur Gökçe. The optical systems and lenses on smartphones enable imaging of the secure optical code on the diagnostic test. By scanning the QR code on the device package, the user receives instructions on how to download the phone app and scan the optical code on the diagnostic test. "It's a matter of scanning the QR code, downloading software, and scanning the optical code on the device, and then the smartphone tells you whether the test is authentic," Delamarche said.
The code is only known by the test manufacturer, he said. "It's similar to purchasing a ticket to play the lotto. You scratch the ticket to reveal the numbers, but you can't manipulate the numbers and then authenticate them."
If any component of the kit is not genuine, the smartphone flags a code violation and alerts the user that the test cannot be authenticated.
The two-component coding system was designed specifically to prevent reuse of rapid diagnostic tests. Tiny colored signs or dark lines exhibit results when a test has been used, but a strong rinse and drying can remove these signals and trick the user into thinking that the test has never been used. When the visible code on the test has been deleted by the sample, the hidden code is available to reveal whether the test has been used, Delamarche said.
Lateral flow tests are particularly easy to fake, he said, because they use nitrocellulose that can be purchased inexpensively and shaped using a scissors. They also use plastic components that are easy to mold.
IBM is not a diagnostics company and, as a result, is interested in licensing the technology underpinning the optical security code to a diagnostic company. "Part of our mission is to innovate and license technology, and work on important problems that can make a difference," Delamarche said.
As an outcome of the IBM research, pharma companies have asked if the group can evaluate coding drugs, he said. The challenge in implementing security codes on drugs is greater than for diagnostics, he said, because of concerns over biocompatibility and economics. However, it's a very interesting challenge and the team "loves to work on tough problems."
The optical security code that they've developed for diagnostics can have billions of unique combinations, he said. A manufacturer can generate codes for classes of tests or go to the level of individual tests depending on the requirement and the supply-chain strategy.
"There is a tendency within industry to underestimate the problem of counterfeiting, because speaking too much about it could undermine the public trust in diagnostic technologies," Delamarche said. However, he noted that he doesn't think keeping quiet about it is a good approach.