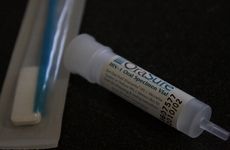 NEW YORK (360Dx) – At first blush, the news from OraSure Technologies' recent first quarter financial results was positive. Revenues were up a healthy 29 percent year over year, and the company beat the consensus Wall Street estimates on both the top and bottom lines. 
Those results came on top of a 46 percent improvement year over year in full-year 2017 revenues and top and bottom line results that surpassed the analysts' average estimates.
Yet amid the rosy numbers, OraSure is confronted with an unsettled future. The firm is in the midst of a strategic review of its operations, and since the start of the year, a new CEO and CFO has landed at the firm. Meanwhile, its HIV testing franchise, in particular its HIV self-test and overseas business, which have been a main driver of revenue growth, will likely face new competitive headwinds as the year progresses.
According to one analyst, when the dust settles, OraSure could become a very different company with underperforming parts of its business sold off, resulting in a slimmer, more focused company. Or, less likely but not impossible, it might get bought out by a larger outfit.
The backbone of OraSure
Part of the success OraSure has had is tied to its HIV testing business, particularly its international operations, which has seen sharp growth recently. During Q1 2018, international revenues from the OraQuick HIV product line reached $5.7 million, a 117 percent increase from the same period one year earlier. The spike was precipitated by the World Health Organization granting OraSure prequalification for its HIV self-test in July 2017.
According to the firm, WHO prequalification designation means its tests for high-burden diseases meet global standards of quality, safety, and efficacy. Prequalification, which entails an assessment of a product's technical performance, is used by the United Nations and other procurement agencies to make purchasing decisions regarding medical products. 
According to OraSure Senior Vice President Tony Zezzo, the company was the first manufacturer to receive prequalification from WHO for an HIV self-test, which allowed it to leap in front of competitors. 
But he also pointed out that OraSure's strategy to place OraQuick HIV products in selected countries remains largely dependent on the actions of local health ministries. The company, he noted, now distributes its tests in "40 countries now, many in sub-Sahara Africa, and we want to expand to South America, Latin America, and West Africa." 
The penetration in sub-Sahara Africa, in countries such as Malawi, Zambia, and Zimbabwe, has been by design. According to 2016 data, the most recent available from WHO, about 26 million people were infected with HIV in sub-Sahara Africa, accounting for nearly two-thirds of new HIV infections globally. In many African countries, the OraQuick saliva self-test is well suited for the high percentage of the HIV population who does not want to be tested at a public clinic, regardless of confidentiality promises, said Zezzo. The group includes adult men, adolescents, and female sex workers. 
Historically, diagnosing this group in Africa has been a challenge. To address the need, OraSure entered a $20 million agreement in June 2017 with the Gates Foundation, earmarked for subsidies and reimbursements for the OraQuick test. The $20 million is to be spent over four years to allow non-government agencies working in developing nations to buy OraQuick at reduced prices, in order to reach a broader population.
Another target geography for OraSure is Brazil. According to UNAIDS, 830,000 children and adults were living with HIV and AIDS in Brazil in 2016, up from 640,000 in 2010. Reaching the HIV infected population in Brazil would be a major step forward for OraQuick sales, but a study being conducted by the US Centers for Disease Control and Prevention in Brazil highlights the challenges facing OraQuick. First and foremost, the Brazilian Ministry of Health requires a confirmatory blood test after OraQuick is administered. 
In receiving the WHO prequalification, OraSure said the OraQuick test demonstrated sensitivity of 100 percent and specificity of more than 99 percent when it was compared with the performance of a fourth-generation laboratory test. Nonetheless, Brazilian regulators still require a confirmatory blood test for diagnosis, should an OraQuick self-test return positive, said Nena Lentini, director of CDC programs, Brazil. The CDC is conducting a study in the cities of Curitaba and Sao Paolo to assess voluntary response to the OraQuick test. 
OraSure also conducted its own study to demonstrate the performance of the OraQuick and submitted the results in January. The Ministry of Health has yet to respond to OraSure, but if the Ministry determines the OraQuick HIV self-test is equivalent to an HIV blood test, Brazil would buy 5 million OraQuick tests, said Lentini. 
OraSure declined to comment on the study or its future efforts in Brazil. 
The ongoing CDC study started three years ago also revealed curious results regarding the use of a self-test, Lentini said. The study was aimed at two populations in Brazil: Gay men and men having sex with men, the latter to include bisexual men and men in marriages with women. The study worked with NGOs to encourage self-testing by offering the test for free at bars and locations that were popular cruising spots. 
Lentini said the study sponsors found 42 positive results out of 6,000 tests distributed in Curitaba in the last three years. The sponsors referred the positive self-tests, which were sent in anonymously, to nearby clinics for confirmation. A code in the self-tests informed the sponsors if a confirmatory test was conducted. All 42 positives were confirmed, but in some instances when a person who tested positive informed an accompanying partner, the partner would choose a blood test rather than the OraQuick test, noted Lentini. 
Part of the issue, she said, is that using OraSure's test can be confusing for patients. Finger prick test instructions are visual and relatively simple, whereas OraSure has to provide detailed instructions for use of its test, as required by the Ministry of Health. Lentini said she is confident OraSure can provide clear instructions and expand use if OraQuick is approved by the government. 
Brazil and sub-Saharan Africa aside, Zezzo said that OraSure views Thailand, Vietnam, Cambodia, and Laos as promising potential new geographies for its HIV self-test although the company cannot predict when it may launch the test in those areas. The approval by a local health ministry "doesn't happen overnight, but it does move forward at a steady pace," he said. 
Competitive headwinds 
However, any advantage OraSure may have in the international HIV testing space could soon erode. Four competing HIV self-tests have received clearance from the Expert Review Panel for Diagnostics (ERPD). The ERPD is hosted by WHO at the request of the The Global Fund to advise The Global Fund and international aid groups on whether grant funds can be used for limited procurement of diagnostic tests for a specified time period. The ERPD assessment is a step toward a WHO PQ full review. 
Unlike OraSure's saliva-based test, though, the four tests — from Chembio Diagnostics Systems, Atomo Diagnostics, BioSure, and Biolytical Laboratories — are based on whole blood. OraSure believes its saliva-based technology will remain the preferred self-testing technology, Zezzo said. 
A spokesperson for Biolytical Lab, based in Richmond, Canada, said the company has completed its prequalification filing for its INSTI self-test and plans to enter new markets once it is approved. The company, however, is not sure if WHO will approve the test this year, said the spokesperson. 
Chembio declined to comment on the prequalification status of its test, but Mark Massaro, an analyst with Canaccord Genuity, said that based on conversations he's had, the Chembio test could be the next self-HIV test to receive WHO prequalification.
Australian firm Atomo said it submitted its HIV Self Test for WHO PQ evaluation during 2017 and the test has progressed through the evaluation process. It said that it hopes for a positive outcome before the end of 2018.
UK-based BioSure would say only that a WHO PQ is currently pending for its test.
In spite of its potential challengers, Massaro believes OraSure's HIV testing franchise is poised for sharp growth this year and projects international sales of OraQuick HIV tests to reach $15 million in 2018, which would represent 47 percent growth year over year. In 2019, that figure could increase to $16 million. 
Overall, OraSure's international OraQuick HIV business and its molecular collections business are the only two operating units that Canaccord forecasts will experience positive growth in 2018. 
The molecular collections business, which collects and stores consumer DNA from a saliva kit, is expected to bring in $34 million in revenue this year, an increase of 47 percent year over year. Late last year, OraSure said that its subsidiary, DNAG Genotek, inked a $143 million agreement to supply Oragene Dx saliva-based DNA collection devices to a leading consumer genomics customer, which OraSure has declined to identify.
OraSure combines its HIV and HCV testing businesses in one infectious disease unit. Unlike HIV, the HCV business is on the decline. Canaccord projects HCV sales will slide about 50 percent in 2018 to $12.4 million. Zezzo acknowledged a decline in HCV sales but noted that funding for HIV research in the last years of the Obama administration was more than $300 million while HCV grants received a small fraction of that sum. As a result, HCV testing technology, in general, has not advanced, which Zezzo said has negatively impacted OraSure's HCV business. 
New management, strategy review 
As OraSure sorts out its HIV and HCV businesses, it currently is also undergoing a strategic review. The company expects to disclose its findings by the summer. Changes at the company have already begun. In January Stephen Tang was named OraSure's new CEO, which took effect in April, and earlier this month, Roberto Cuca was appointed the company's new CFO, effective in June. 
A company spokesperson declined to discuss the strategic review in detail, but Massaro said the review could conclude that underperforming units at OraSure, such as the HCV and the cryosurgical businesses, should be divested so that the firm can spend more resources on growth businesses like molecular collections. As the HCV business is tied to HIV testing, Massaro said OraSure could combine the two and sell it to an individual bidder. 
"I like OraSure's chances in the international HIV self-test market," he said. "There are advantages to using a saliva test in many countries where people do not want to draw blood. The problem is the HIV self-test market is subject to [country and health organization] funding constraints and it's dilutive to gross margins. The more self-tests OraSure sells, the more the company dilutes its margins and cuts into profits." 
He added that OraSure's biggest competitor in the HIV market is Abbott, which now includes the HIV testing business it acquired as part of its $5.3 billion purchase of Alere. A bid by Abbott for OraSure's infectious disease business, or the entire company, could happen as Abbott seeks to expand its footprint, said Massaro, although such a deal could raise antitrust concerns.
Quidel, another point-of-care focused company, likewise could make a bid for OraSure, said Massaro. Part of the attraction of OraSure is the company's $184 million in cash and no debt, and an acquisition of OraSure could be completed cleanly, he further said. 
The company also could decide to sell the lower margin businesses and buy another company with its cash, he added.