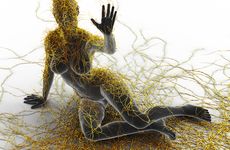 NEW YORK (360Dx) – Startup Octave Bioscience has closed a $14 million Series A round of financing, which will fund the firm's efforts to develop a platform for the management of patients with multiple sclerosis.
Launched two years ago by William Hagstrom, formerly the CEO of rheumatoid arthritis testing firm Crescendo Bioscience, Octave aims to integrate protein biomarker measurements, data from patient wearables, and imaging to improve management of MS.
Affecting around 400,000 patients in the US, MS is a chronic, complex, highly variable condition that commonly requires management over the course of decades.
"Patients have a lot of unique symptoms that can stack up over a period of time, ranging from mobility [issues] to pain, fatigue, sleep problems, issues with cognition… and so forth," Hagstrom said.
The cost of managing the disease can run as much as $2 million to $4 million over the course of a patient's lifetime, he added, and while there are more than a dozen therapies available to treat the disease, selecting the appropriate course of treatment is difficult and largely a matter of trial and error, Hagstrom said.
"They are expensive therapies at $60,000 to $80,000 per year," he said. "And their use is relatively unguided — nobody knows really which patient [will best respond to] which drug. And then it takes 12,18, 24 months to see whether the therapy is working or not, and there's a price to be paid in opportunity cost, if you will, if there is some disease progression during that process."
Another challenge is the shifting nature of MS, Hagstrom said, noting that this can make it difficult to monitor changes in symptoms and disease progression in between doctor visits and imaging studies (typically MRIs).
"The physician largely evaluates the patient by way of monitoring the symptoms of the disease in conjunction with occasional MRIs," he said. "That can be useful as it relates to damage that has occurred, but if you think about it, [MRI] is looking back over a period of time, and that damage might have occurred at any point over the last 12 to 18 months or so. As one neurologist said, 'It's like driving forward looking through the rearview mirror.'"
Additionally, he said, Octave determined in its discussions with neurologists that communication gaps between radiology and neurology can limit the usefulness of MRIs done to monitor the disease.
Taking these observations together, Octave has set out to build a three-part platform combining protein biomarker measurements for tracking the underlying biology of the disease, along with wearables data for better real-time assessment of changes in patient symptoms, and tools to make MRIs more useful for neurologists by providing better quantitative and serial information and improved integration with patient clinical data.
Hagstrom said the company has completed proof-of-concept work across these three areas and now plans to use the Series A funding to develop the platform for actual clinical use. He said the company aims to begin piloting the tools with "centers of excellence and select health plans" in the second half of 2019.
Hagstrom suggested several benefits the platform could provide were it to prove effective. By enabling better matching of drugs to patients and quicker determination of whether they were working, it could reduce drug spending while also slowing disease progression. Closer monitoring of patient symptoms could help prevent disease flare-ups or relapses, which can lead to expensive hospitalizations, he said.
Thus far, the company has publicly released data on the protein biomarker portion of its platform. In a presentation at the European Committee for Treatment and Research in Multiple Sclerosis (ECTRIMS) annual meeting last year, Robert Axtell, an MS researcher at the Oklahoma Medical Research Foundation, presented on MS biomarker development work funded by Octave.
Using Rules Based Medicine's immunoassay platform to look at 220 proteins in MS patients and healthy controls, the researchers identified roughly 80 proteins differentially regulated in MS patients. They then tested those markers in two groups of MS patients, one relapsing and one in remission, to identify proteins that could distinguish between the two and developed several models that performed with areas under the curve ranging from .83 to .87.
On the wearables front, Hagstrom said the company was neutral as to the specific technologies it planned to incorporate but that it was interested in collecting data on things like patient sleep habits and mobility. A number of parties have explored the use of wearables for monitoring, including MS advocacy group PatientsLikeMe, which partnered with Biogen on a 2015 study looking at the feasibility of using wearables for tracking MS patient walking activity, and medical sensor firm mc10, which has partnered with academic collaborators to assess the usefulness of its sensors for tracking MS patients' mobility.
According to Hagstrom, Menlo Park, California-based Octave currently has five employees. Concurrent with the close of the Series A round, George Scangos, CEO of Vir Biotechnology and former CEO of Biogen, and Foundation Medicine Chairman and former CEO Michael Pellini, also now a managing partner at venture capital firm Section 32, joined the company's board. The round was led by BCBS Venture Partners with participation from Echo Health Ventures, Section 32, and private investors. Previously, Octave raised $2.5 million in seed funding.
As the former CEO of Crescendo Bioscience, Hagstrom has more experience than most in the proteomics of autoimmune disease. Hagstrom led that company from 2007 until 2014 when it was acquired by Myriad Genetics for $270 million in what remains one of the largest deals to date for a clinical proteomics firm.
Crescendo's lead product is Vectra DA, a proteomic test for assessing rheumatoid arthritis, a disease that, like MS, comes with significant challenges around monitoring progression and response to treatment.