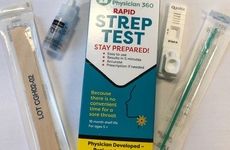 NEW YORK (GenomeWeb) – Several diagnostic test kits marketed for home use or at-home sample collection are raising the eyebrows of laboratory experts worried about their safety to consumers and questioning whether they may be violating US Food and Drug Administration regulations.
Such kits have not been cleared by the FDA for the indications they are being marketed to, and whether they are technically in violation FDA regulations is murky. For some in the industry, such tests may pose a risk to patients, yet the firms assert that they are compliant with all state and federal regulations, and other experts suggest that the telephone or video conferencing with physicians provided with the test kits may satisfy requirements for physician ordering and oversight of diagnostic testing.
For example, Physician 360, a Texas-based startup, sells rapid diagnostic tests over the counter in pharmacies in 30 states, including tests for urinary tract infections and anemia that seem to be straightforward FDA-cleared home use tests.
But the company also repackages and sells tests for influenza and Group A Streptococcus. In one example, the rapid influenza diagnostic test (RIDT) inside a Physician 360 kit was an assay co-branded with McKesson and Consult Diagnostics, while a Strep A test is from Quidel.
In addition, diagnostic tests for these targets made by various other vendors are also available online, in particular on Amazon. Judging by customer comments posted on the online retail giant, these tests are being purchased and used by patients in their homes with no physician oversight whatsoever.
While home collection of samples has been deployed for direct-to-consumer genetic testing for some time, some companies are applying this model to infectious disease testing, particularly for sexually transmitted infections. Companies such as myLab Box, LetsGetChecked, and Everlywell sell STI assay kits in places like Target and Walmart, as well as online.
These tests require patients to self-collect samples — including genital and oral swabs, vaginal samples, urine, and fingerstick blood samples, depending on the test kit purchased — and mail the samples to a lab for testing. Test kits are sold for individual STI targets as well as for panels of up to 14 tests.
Both instances — at-home use of CLIA-waived tests and at-home sample collection for STI testing — are not explicitly listed among the home use tests that have been evaluated and cleared by FDA. But both models also include a telemedicine consult with a physician, and in some states these physicians can provide the patient with a prescription to treat any infection detected.
The companies interviewed for this story did not wish to disclose trade secrets surrounding the regulatory compliance of their products and services. And, a number of experts in regulatory matters did not wish to speak on the record, as they also provide consulting services to test makers and work closely with the FDA.
However, there seems to be a consensus among experts that the crux of the matter lies in the use of the telemedicine model.
"It is possible that these companies would argue the tests are being provided pursuant to physician practice of medicine, which FDA does not regulate," said James Boiani, an IVD, drug, and medical device life sciences attorney at Epstein, Becker & Green in Washington, DC.
The companies might also argue that if a patient is performing the test "under the physician's observation and direction," such as through a telemedicine consult, then this might be compliant with that particular physician's Certificate of Waiver from CLIA for his or her office practice, Boiani said.
At-home flu and Strep A testing
At a pharmacy in Manhattan called New York Chemists the Physician 360 tests are kept behind the counter, but purchase of an influenza A/B test and Group A Streptococcus test required no particular justification or assessment.
The exterior packaging of the test is branded Physician 360. The test boxes do not contain the jargon-filled tissue paper package inserts typical of medical supplies, but rather a single sheet of paper with instructions for use and a phone number to call if the user needs guidance running the test and a link to obtain a physician consult after the patient runs the test.
The instructions direct a person to self-collect — or to perform the sample collection, if testing a child under 18 — a nasopharyngeal swab for the flu test or a throat swab for the Strep A test.
The flu A/B test is branded McKesson and Consult Diagnostics. The assay is in a sealed pouch that is labeled "CLIA waived for swab samples," and the test is "For professional and laboratory use." Another label said "Federal (USA) law restricts this device for sale by or on the order of a physician. Consult accompanying documents." However, there are no accompanying documents beyond the instructions for use.
The Strep A test, meanwhile, is in a sealed pouch branded Quidel. The particular test purchased at New York Chemists had no other marking on the test pouch indicating whether or not it had been cleared by the FDA in any way, nor is there any typical package insert. It is the Quidel QuickVue In-Line Strep test, which is one of 135 Group A Strep rapid tests that have been CLIA waived. That rapid immunoassay tests directly from throat swabs, and it was cleared in 1994 and CLIA waived in 2008.
A package insert found online for the QuickVue In-Line Strep A test stated it is "For use by healthcare professionals," and that additional follow-up testing using the culture method is recommended if the QuickVue test result is negative. Quidel also provides a guide to instruct users on how to apply for CLIA lab certification from the Centers for Medicare & Medicaid Services (CMS) along with its online QuickVue In-Line Strep A Test materials.
The guide notes that if "an entity" performs tests for the purposes of providing information for diagnosis, prevention, or treatment of any disease, or the assessment of the health of human beings, "it is considered under CLIA regulations to be a laboratory and must register with the CLIA program." This includes entities "that perform even one test," including waived tests, and these entities would be required to meet certain federal requirements, according to the Quidel guide.
At-home self-collection for STI lab testing
In the STI space, startups selling tests online and in pharmacies include myLab Box, LetsGetChecked, and Everlywell. Such firms have attracted contracts with large chain stores as well as the eye of investors. Last year, Los Angeles-based myLab Box raised $1.56 million in seed funding. Dublin-based LetsGetChecked, meanwhile, closed a $12 million Series A funding round last year and it closed $30 million in a Series B round last month.
An eight-target STI panel from myLab Box — that includes HIV 1 and 2, hepatitis C, herpes simplex virus-2, syphilis, chlamydia, gonorrhea, and Trichomoniasis — costs $269. A 14-target myLab Box panel costs $369 and expands the chlamydia and gonorrhea testing from just a urine test to also include rectal swab and throat swab samples. It also adds Mycoplasma genitallium and an option for an HPV genotyping test.
A five-target STI panel from LetsGetChecked called "Standard 5" costs $179 and includes testing for chlamydia, gonorrhea, syphilis, Trichomoniasis, and HIV targets including HIV-1, HIV-2, and p24 antigen. 
A 10-target kit called "Complete 10" retails at $299 and adds testing for Gardnerella, mycoplasma, ureaplasma, HSV-1 and HSV-2.
While myLab Box focuses on STI testing, LetsGetChecked also offers other wellness test kits — such as for vitamin deficiency, fertility, Lyme disease, and even a liver function panel — that require no physician ordering. The kits measuring blood-based targets include lancets and blood collection tubes, so the tests are presumably run using home-collected finger stick blood samples.
The myLab Box and LetsGetChecked tests are run in labs that the companies have contracted with. While the exact tests being used in each lab for each target is not publicly disclosed, there are only a few STI tests that have been cleared by FDA with a self-collection indication, but for patients to collect their own sample in the clinic, not at home.  
Concerns from experts
Such tests, and others like them, have some laboratorians troubled, including Kirsten St. George, the chief of viral diseases at the New York State Department of Health's Wadsworth Center.  
St. George, an expert on RIDT's in particular, coauthored a recent article explaining the rationale for FDA reclassifying flu tests to more complex devices in order to raise the performance requirements manufacturers would have to meet. The lengthy process requires companies to recertify that their RIDTs meet higher sensitivity and specificity thresholds, in part, because these types of tests notoriously had sensitivities as low as 50 percent, or essentially a coin flip.
According to her, in vitro diagnostic devices that have not been approved by the FDA for at-home testing have not undergone the types of clinical trials that are required for ensuring robust performance in that environment. "There is no doubt that there are situations where this mode of testing could be beneficial in streamlining health care services with regard to time and cost, as well as the potential for reduced exposure and transmission," she said in an email, but "Until the FDA assures the tests are appropriate for in-home use, we will continue to have concerns."
All diagnostic tests are subject to the risk of false negative and false positive results, St. George said, but the rate of these false results can vary depending on many factors, including nuances of sample collection — a nasal swab may have lower concentration of pathogen than a nasopharyngeal swab, for example — as well as prevalence of the pathogen, the currently circulating strains, and the particular type of test being used.
In the event of a negative result, clinicians need to decide if it is likely that the result is a false negative or if perhaps the patient is infected with another agent.
For example, if a patient decides to skip the telemedicine consult after a negative test Strep A test and his sore throat is actually caused by an oral infection of antimicrobial-resistant gonorrhea, he might miss out on treatment and continue to engage in practices that could spread superbugs.
As telemedicine is enhanced and expanded, it is possible that "patients could test themselves at home, in the virtual presence of a healthcare professional, and receive the appropriate level of care for their diagnosis," St. George said, adding that she and her colleagues "understand the convenience and do not disagree with the concept."
Instead, their concerns pertain to the lack of FDA approval and the inherent safeguards it provides.
And, with regard to STI at-home testing, "There are some additional concerns with the absence of any healthcare personnel to provide some immediate counseling for what might be an emotionally distressing result."
Charlotte Gaydos, director of the Center for Point-of-care Technologies Research for Sexually Transmitted Diseases at Johns Hopkins University, echoed some of St. George's worries.
"For a company to offer home collection, they have to do a validation, and I don't know that any of these online companies have done that," she said, adding that to her knowledge, home collection for STI testing has not been cleared by the FDA for any application.
In addition to publishing extensively on the topic, Gaydos' research lab helped developed a program called I Want The Kit which aims to remove the taboo and stigma from STI testing by allowing patients to collect sample at home. "When we set the program up, it was for teenagers who don't want to tell their mothers and fathers that they are sexually active," Gaydos, said in an interview. The IWTK program is currently offered as research-use program to patients in Maryland and Washington DC, and as a public health service in Alaska to encourage testing among native populations in remote settings.
Gaydos emphasized that the lab running the IWTK testing is HIPAA compliant, fully accredited, and is certified by CAP and CLIA. It is licensed by Maryland, and uses FDA-approved nucleic acid amplification testing — specifically the Aptima Combo 2 for CT/NG assay and the Aptima Trichomonas vaginalis assay.
Gaydos is concerned about the lack of transparency regarding certification of the testing labs being used by the commercial STI home-collection kits, as well as about the sourcing and regulatory status of the specific STI tests being run in these labs.
"The FDA does not regulate online home collection yet, but I wish they would," she said. "For all we know, these companies are just out to make a lot of money and could be doing the test in their garage or on their kitchen table."
Others also pointed out that a trained clinician considers conditions that masquerade as other illnesses in a differential diagnosis, and asks a patient about exposures and risk factors before ordering testing. When a patient orders their own tests without a consult they might waste time and money, and false-positive results could cause them unneeded anxiety.
Windel Stracener, a practicing family physician in Richmond, Indiana and a member of the American Association of Family Physicians (AAFP) noted in an interview that any testing that is ordered by a doctor is based on a clinical evaluation, including a physical exam and assessment of symptoms. He also reiterated concerns that inadequate self-sampling could lead to false negative results, and that patients might fail to follow directions correctly and get misinformation. 
At-home STI test sample collection with a telemedicine consult is also problematic from a family physician standpoint, Stracener said. Although he can see that some patients might not always be comfortable discussing intimate matters with a doctor, sample collection has to be done correctly for tests to be accurate. For example, some of the urine-based STI tests require samples to be from the first drops of urine excreted, he said, and if the sample is taken at a later point in the urine stream the targets the test is looking for will be diluted.
Patients with STIs getting false negative STI results and thinking they are not infected "could become a very large public health issue," Stracener said, depending on their lifestyle choices. 
While there may be a place for telemedicine in healthcare, there are also counseling and treatment opportunities that might be missed without a personal interaction and relationship, he added.
From the laboratorian perspective, Carmen Wiley, president of the American Association for Clinical Chemistry (AACC), said her organization is actually in favor of more direct-to-consumer testing, particularly at-home self-collection with samples sent to a lab. But these tests must have demonstrated analytical and clinical validity and clinical utility, and CMS certification of the lab through CAP accreditation is critical.
For home-use tests, Wiley said that having a CLIA waiver does mean that a test is "simple and carries low enough risk that an incorrect result would not have life-threatening consequences." In the case of Physician 360, Wiley speculated that the company might be skirting around the specifications that the tests need to be prescribed by a physician by asserting they are a "virtual doctor."
But a nasopharyngeal swab is not a comfortable swab to do, she said, adding, "I would be concerned that patients wouldn't even be collecting specimens from the right area of their anatomy." And the risks surrounding the ability of a layperson to follow directions precisely, including timing the test and interpreting the results, are also concerning, she said.
For tests that require a sample to be mailed, AACC wants companies to make it abundantly clear that the labs running the tests are CMS regulated. The directions given to the patient, and the interpretive comments, must also be "really clear and written in lay language," Wiley added.
Michael Klepser, a pharmacy professor at Ferris State University in Michigan and an advocate for adoption of in-pharmacy testing, asserted that CLIA waived tests can be performed by a layperson, but "The concern would be using these tests only when appropriate," he said. However, "Having a telemedicine consult to guide that decision satisfies this," he said in an email.
Klepser noted that there is nothing to prevent a pharmacy from selling the Physician 360 products, especially if there is a prescriber recommendation to use them. "You can buy CLIA-waived tests on Amazon," Klepser noted.
The FDA's position
So far, FDA has publicly adopted an opaque stand on tests such as those offered by Physician 360 and others.  
In an email, Stephanie Caccomo, a spokesperson for the FDA, asserted that "The FDA's responsibilities include regulating firms that manufacture, repackage, relabel medical devices commercially distributed in the United States or import medical devices into the United States."
The regulatory pathway for diagnostic testing depends on the intended use of the particular test, and the data needed to demonstrate analytical validity, clinical validity, and user performance and comprehension would also depend on the claims, she added.
Some tests have risks associated with sample collection, "such as the risk of esophageal spasm if a sample is collected incorrectly for a Strep A test," she said, but "The FDA considers the benefit-risk profile during a premarket review."
The agency does regulate the tests described in this story, whether indicated as over-the-counter or prescription use, including those "that are performed by the consumer at home, as well as tests, including the collection devices, where the consumer collects a sample at home and sends it to an appropriate laboratory for testing."
In general, tests that have been cleared by the FDA for home use are also then considered to be CLIA waived. Some home use tests are FDA cleared or approved for over-the-counter (OTC) use, and others are cleared or approved for use at home only with a prescription, or for prescription home use, Caccomo said.
Patients can be assured that tests the FDA has cleared or approved for home use have demonstrated that they are analytically and clinically valid for the indicated claims, she said, and that the consumer can perform the test well for accurate and reliable results, and the information provided is likely to be read and understood by consumers.
Tests that have not been reviewed by the FDA may not have these assurances, she said, and "the FDA advises patients to check whether the specific test they are using has been reviewed by the FDA, to provide assurance of its safety and effectiveness."
Caccomo also clarified that there are three tests for two different infectious disease targets that are authorized by the agency for home use in any capacity.
Specifically, the FDA has authorized HIV test and hepatitis C test kits that "contain the materials necessary to collect a specimen in the privacy of the user's home that is then sent to an appropriate laboratory for testing," Caccomo said. These include the OraSure HIV-1 Oral Specimen Collection Device from OraSure Technologies, and the Home Access HIV-1 Test System, Home Access Hepatitis C Check, and Hepatitis C Check Express from Home Access Health Corp, all of which use self-collected dried blood spots mailed to a lab.
Additionally, there is one FDA approved in-home test kit from OraSure that checks for antibodies to HIV from oral fluid does which does not require sending a sample to a laboratory for analysis, Caccomo explained.
"Without commenting on any particular online vendors or pharmacies, we note that parties in the business of selling devices generally have reason to ensure that those products satisfy applicable requirements because FDA's authorities under the FD&C Act allow us to take actions to seize or otherwise stop the distribution of adulterated or misbranded devices in interstate commerce," she said.
Caccomo noted that the FDA monitors promotional materials and claims for medical products for compliance with FDA regulations, as well as complaints and adverse events from the public, health care providers, and industry.  
"We also become aware of concerns about regulatory misconduct by third parties, for example, through our Allegations of Regulatory Misconduct webpage," she said, adding that "The FDA can and does take additional actions, including further investigation and enforcement actions, when appropriate."
As a matter of policy, the FDA does not comment on potential compliance matters, Caccomo said.
Regulatory hurdles for home use test authorization
The hurdles for approval of a home-use infectious disease diagnostic test are high, and to date only one test — the OraQuick In-Home HIV Test from OraSure Technologies — has met the requirements and been cleared by the FDA for patients to perform their own testing at home.
Jeanne Mell, OraSure's vice-president of corporate communications explained in an email that the company received approval for its test in July 2012 "for sale directly to consumers in the over-the-counter (OTC) market — making it the first and only rapid OTC HIV test approved in the US."
The home-use test is an OTC version of the firm's OraQuick ADVANCE HIV 1/2 Antibody Test, an oral swab rapid test sold in the professional market to doctors, hospitals, clinics, and other medical professionals, Mell said.
A 2012 summary of safety and effectiveness for the test details the changes to the clinical test that the FDA required in order to make it appropriate for patients to use themselves at home.
The test was evaluated by 427 users of varying demographic backgrounds to see if they could comprehend the test instructions, with the company then making changes that were subsequently evaluated by another set of 501 individuals.
After this, the test was evaluated by 1,031 patients with known HIV status who performed self-testing while being observed. Finally, there was an unobserved-use trail of 5,662 patients that required each patient to have four clinic visits.
This evaluation showed the test performed by patients at home had a sensitivity of approximately 92 percent and a specificity of nearly 100 percent when compared to blood-based testing performed in a lab.
The impact of the results on patients was also a critical issue to consider. "To ensure optimal support for individuals using the OraQuick In-Home HIV Test, OraSure set up available specialized resources, including live support and comprehensive referral services, 24 hours a day, seven days a week, every day of the year, through a toll-free support center and comprehensive consumer website," Mell said.
All told, the process to adapt the FDA-cleared clinical test into one authorized for patients to use in their homes took OraSure more than five years. And, in the ensuing seven years since it was cleared, no other company has since followed suit with another infectious disease test patients perform themselves at home.
Vendor responses and rebuttals
Angela Fusaro, a cofounder at Physician 360, declined to comment for this story except to say that the company's "business, products, and services are in full compliance with federal and state law including applicable FDA regulations."
According to its website, Physician 360 worked with NAMSA, a contract research and medical research organization that provides "compliance services to medical device and healthcare product manufacturers," according to the company's website.
A representative at NAMSA also declined to comment for this story.   
Upon being apprised of the rebranding of its tests, a representative at McKesson said the company has now "asked this customer (Physician 360) to discontinue the practice of repackaging and reselling our product for use as indicated on its website," and asserted that McKesson had not previously authorized this use of the product.
"We believe it is contrary to the product's instructions for use and infringes McKesson's intellectual property rights," the representative also said.
Quidel, meanwhile, did not reply to repeated requests for comment on this story.
Representatives for LetsGetChecked were unable to provide comments in time for this story, but the firm's website asserts that samples are processed "in the same labs used by primary care providers [and] hospitals." The laboratories are "CLIA approved and CAP accredited," and tests kits are "manufactured within our ISO 13485 accredited facility, the highest level of accreditation for medical devices."
Everlywell, on the other hand, notes on its website that "Each partner lab we choose to work with is CLIA certified," but makes no mention of any other accreditation.
The labs that myLab Box partners with are CLIA certified and CAP accredited, well established in the infectious disease testing space, and run tests that are FDA approved and obtained from US-based suppliers, CEO and cofounder Lora Ivanova said in an interview. 
She said that the company has worked with experts and attorneys to make sure its products and services are in compliance with current existing regulations. "That said, there are different interpretations and different opinions in any case," she said.
Many clinics and doctor's offices don't have in-house labs, so at-home sample collection is actually not that different from walking into a clinic, collecting a urine sample in the bathroom, for example, and having the clinic mail the sample to the lab.
"This really is not as confusing and risky as many would like to think," Ivanova said.
She sees Gaydos as a peer in the space who "just like us, cares extremely about making sure that we do this right," said Ivanonva, adding that the I Want the Kit testing process — mailing at-home self-collected sample to a lab for testing — "is the same model" myLab Box uses.
And the labs the company contracts with are selected through a stringent process, Ivanova said. "We're not doing the test in our garage by any means," she said. The labs compare tests run with samples collected in a clinic or collected at home, and although this data has not been published or publicly presented, the validation findings have been shared with regulators.
The firm also has a hotline staffed by STI counselors who reach out proactively to individuals who have positive tests to make sure they understand their results and can discuss next steps, Ivanova said. Patients can also opt in to a telemedicine consult, and get their prescriptions sent to their homes.
Ivanova is aware of "knock-off kits" sold online by other retailers, and said even some apparently reputable testing companies make statements that might not be accurate. Her company reports the disreputable kits it spots on Amazon, she said.
Over half of myLab Box's customers have never been tested for an STI before, Ivanova said, and many say they would not be comfortable going to a doctor's office for testing. "If a patient is not willing to have that interaction, I think denying them access to potentially lifesaving testing is not positive for anybody," she said.
Younger generations are dissatisfied with the healthcare system and are embracing digital health, she said, and changing our societal approach to testing needs to happen with a dialog between the startup community, the healthcare community, and regulators, and must include support and enthusiasm for new approaches. "We all need to see each other as allies, and people who have the same vested interest," Ivanova said, rather automatically being suspicious of commercial enterprises.
"We're here to solve the same problem and yet we are tripping each other trying to get to that finish line," she said.