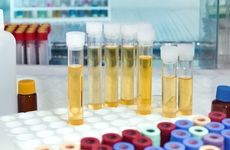 NEW YORK (GenomeWeb) – George Mason University researchers have developed an assay capable of detecting the tuberculosis (TB) marker lipoarabinomannan (LAM) in urine.
Detailed in a paper published this week in Science Translational Medicine, the assay could provide an inexpensive and straightforward test for diagnosing the disease, particularly in developing countries where it remains a significant health problem.
The assay uses nanoparticle technology developed at GMU to capture and concentrate LAM, an established marker for active TB that is shed into patient urine during active infections. However, except in the case of patients co-infected with HIV, the molecule is present in urine in concentrations too low to detect and quantify reproducibly, said Lance Liotta, co-director of GMU's Center for Applied Proteomics and Molecular Medicine and senior author on the study.
Using the hydrogel technology, Liotta and his colleagues were able to improve on the sensitivity of previous efforts to detect LAM in TB patient urine by more than 100-fold, allowing them to reproducibly quantify the marker in a concentration range of 14 to 2,000 picograms per milliliter. Looking at 101 subjects, including 48 microbiologically confirmed TB patients, 14 TB-negative patients with infections including pneumonia and meningitis, and 39 healthy subjects, the test was able to identify TB-positive patients with 95 percent sensitivity and 80 percent specificity.
The test was also able to detect active TB in eight of nine patients who were positive for the disease but tested negative using sputum smear microscopy, which is commonly used as an initial test for TB in developing countries.
Additionally, the researchers found that LAM levels were elevated in patients with higher TB burdens, suggesting that the assay might also be useful for monitoring patients being treated for the disease.
While TB is largely controlled in developed countries, it is still highly prevalent around the world with 9.6 million cases reported in 2014 along with 1.5 million deaths attributable to the disease, according to the study authors.
"A very high percentage of people with active disease are in underserved countries and it is not detected, and the prognosis is terrible," Liotta said. "Whereas, if they get treated, prognosis is pretty good. So, if we could just detect more people with active disease, it would help them get treated immediately and then it would also prevent them from coughing and spreading the disease."
A variety of tests for active TB exist, ranging from skin tests to sputum-based tests to PCR-based testing, but a urine-based LAM test offers an attractive level of simplicity and low cost, said Alessandra Luchini, an assistant professor at GMU and co-author on the STM study.
"Urine is a very easy biofluid to collect," she said. "It's noninvasive and can be obtained from patients and participants everywhere — in their homes, in their schools, at clinics. It is also a great benefit for patient populations that cannot produce sputum, such as children."
Luchini added that the simplicity of urine collection also makes the test well-suited to repeat sampling for monitoring purposes.
The nanoparticle technology used in the study consists of hydrogel particles functionalized with internal affinity reagents capture and enriched target analytes for downstream analysis by methods like immunoassay or mass spec. The technology uses chemical dyes to bind target molecules, concentrating them inside the nanoparticles and protecting them from enzymatic degradation, thereby improving the sensitivity of the ultimate clinical detection method.
The researchers screened a number of dyes to find one that would bind LAM effectively, Luchini said, adding that they also identified and employed dyes to two other known TB antigens (early secretory antigenic target 6 and culture filtrate protein 10, and three cytokines associated with active infections (interleukin-2, interferon-g, and tumor necrosis factor–α.)
These markers have, like LAM, traditionally been difficult to measure reproducibly in urine, the authors noted, adding that a panel of host and pathogen antigens like the six proteins measured in the STM study might prove useful for monitoring patients with latent TB to detect shifts to active disease.
With that and other potential applications in mind, the researchers are now using the nanoparticles and a range of chemical dye baits in discovery work to identify new potential urine markers for TB. While the measurements of the six analytes studied in the STM paper were done using immunoassays, the researchers are using mass spec for analysis of the discovery samples.
"Now that we have this tool and we have this new perspective, we have a new way to learn more," Luchini said. "Hopefully, we can generate a better understanding [of the disease process] and do better testing with antigens that maybe correlate to response with therapy, to multi-drug resistance, and maybe latent stages of the disease."
"We have identified a large number of dyes that have affinity to [a wide variety] of TB antigens," she said. So, we are currently testing these in a large cohort of patients."
She and her colleagues are also doing validation work on the markers identified in the study in urine samples from a new 1,200-patient cohort.
Ceres Nanosciences, a spin-out of GMU, has licensed the hydrogel nanoparticles used in the STM study and is using them to develop tests for a variety of infectious diseases, most prominently Lyme disease. The company, which counts Luchini as an advisor and GMU professor Emanuel Petricoin, co-author on the STM study, as a director, was not involved in the STM study, but, Liotta said, it has an ongoing effort researching TB testing.
In 2015, the company received $746,000 from the Bill & Melinda Gates Foundation to support work on developing a urine-based test for TB.