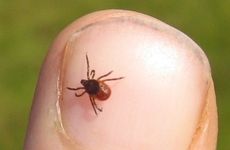 NEW YORK (360Dx) – Researchers from the US Centers for Disease Control and Prevention have evaluated a testing workflow for Lyme disease that appears to offer improved accuracy and sensitivity.
Current Lyme disease testing algorithms are two-tiered, involving an immunoassay test followed up with a Western blot for positive or equivocal results. However, blots require expertise to run and to read, and can be time consuming. The CDC researchers have now evaluated a workflow that obviates the need for Westerns, using a well-characterized repository of serum from patients with Lyme disease to demonstrate that two immunoassay tests instead of an immunoassay followed by a blot can lead to improved performance.
An estimated 300,000 people are infected with Lyme-causing spirochete bacteria from tick bites each year in the US. According to a recent CDC report, between 2004 and 2016, tick-borne diseases accounted for more than three quarters of all vector-borne disease cases, and the incidence of tick-borne disease doubled over this time. Lyme is a particular scourge of the Northeast and Upper Midwest, with 95 percent of cases in 2015 reported in just 14 US states. 
The two-tier testing recommendation was originally developed in 1994. About seven years ago, researchers suggested that a modified approach, using two immunoassay tests and dropping the Western blot, would be an improvement, and since then the field has undertaken the work to evaluate the modified workflow.
In the standard two-tier protocol, the first-tier tests are moderately complex immunoassays — enzyme immunoassays (EIA), immunofluorescence immunoassays, or chemiluminescence immunoassays — that can be done in most hospital labs. The second-tier Western blot element of the protocol is more difficult to perform, however, and typically requires sending out to specialized reference labs, resulting in delays and additional costs. There is also subjectivity in interpreting results of Westerns, especially when they are read manually.
The modified testing workflow, as described this month in the Journal of Clinical Microbiology,  instead incorporates a number of commercially available tests that have been cleared by the US Food and Drug Administration.
"Removing the Western blot component and replacing it with an EIA that gives a positive, equivocal, or negative [read-out] at the end of the test simplifies the process and removes the subjectivity, because now you are using two objective tests," Claudia Molins, the senior author on the JCM study and microbiologist at CDC, said in an interview.
 And, since both tests can be done in one place, "you can have an answer much faster," she said. 
The Division of Vector-Borne Diseases at the CDC has been evaluating Lyme diagnostics for quite some time, according to Molins. The agency occasionally runs diagnostics on patient samples, and it also works on developing new diagnostic tools.
Molins and her colleagues at DVBD also created and characterized the CDC Lyme Serum Repository, or LSR, a resource that the agency makes available to investigators. The repository consists of large volumes of serum samples from well-characterized patients with both acute and convalescent infections and from patients with the erythema migrans (EM) rash which occurs in roughly 70 percent to 80 percent of people infected with the disease. This resource has spawned "new testing and new methodology evaluations," Molins said.
"We captured their baseline, right when they came in and were sick, and then waited two to three weeks after infection to collect the convalescent sample," Molins said, "so, you can actually see the development of the immune response." The LSR also includes some disseminated early Lyme disease cases, such as Lyme neuroborreliosis and Lyme carditis, as well as late-stage samples from patients with Lyme arthritis.
"Testing novel methods with a well-characterized sample set is important," Molins said, especially since it allows for direct comparisons of tests and methods, and better informs the testing community.
DiaSorin provided Liason system reagents for the study, and the researchers also compared immunoassays from Immunetics and Trinity Biotech in various pair combinations. The Western blot assay was from Viramed. Molins noted that all the first-tier immunoassay tests yielded similar results when used in sequence, which nicely validated the method overall.
Whether a faster testing turnaround time will benefit patients is not entirely clear, however.
Laboratory diagnosis of Lyme depends on the accuracy of the tests, and, because tests tend to measure the host immune response, diagnosis is more challenging at very early stages of infection. Physicians are guided to start antibiotic treatment right away for patients with possible tick exposure and signs and symptoms of Lyme —particularly an EM rash in a bull's eye pattern — without waiting for laboratory test results. That is because the sensitivity of the standard two-tier testing is so low, Molins said.
Furthermore, a negative test result doesn't necessarily mean the patient does not have Lyme disease, due to the low sensitivity associated with very early testing.
The sensitivity and accuracy of the modified protocol was slightly higher than the standard two-tier protocol involving Western blots. Specifically, the overall sensitivity of each of the immunoassays evaluated was in the 75 percent range, and the researchers noted that this is good considering sensitivity of antibody-based tests increases with duration of illness and dissemination of spirochetes, and the LSR contains more early infections.
Testing samples from patients with other diseases, such as fibromyalgia and infectious mononucleosis, showed the modified protocol was also slightly more accurate than the Western blot workflow.
The DVBD is also working on developing new tools and evaluating new tests that are coming out, Molins said. "There is a lot of innovative and very exciting work that is happening in the field … a lot of new approaches trying to get away from antibody-based testing, which may show some promise," she said, but added that these are all still very novel and need to be evaluated more thoroughly.
Although she declined to highlight any technology in particular, Molins herself is part of a team that has developed a peptide microarray test for immune response to tick-borne diseases called TBD SeroChip. The technology brings tick-borne microbiology and virology together and could prove more sensitive and specific than serology-based testing.
A number of firms are also developing diagnostics to more quickly and effectively detect tick-borne diseases, including a recently cleared Lyme immunoassay from Quidel, a multiplex PCR-based tick-borne diseases test from Oxford Immunotec, a sequencing-based test from TGen, and a proteomics-based test from Ceres Nanosciences. Meanwhile, T2 Biosystems is developing the T2Lyme Panel based on its magnetic resonance technology through a partnership with Canon US Life Sciences.